The best mud running shoes 2023: for fell running and slippery trails
When you take on trails in wet and wild conditions, the best mud running shoes will help you stay on your feet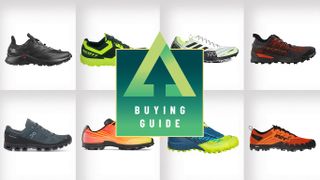 (Image credit: Future)
When the ground beneath your feet gets particularly gloopy or slippery, the best mud running shoes are an essential purchase to help keep you upright.
There's a lot of choice in terms of design features: tread pattern, heel-to-forefoot drop, cushioning, type of material, lacing system, weight, waterproofing – and that's all before you consider the price.
For us, the best mud running shoes all round are the Inov-8 X-Talon G 235 thanks to their aggressive tread that gives great grip, and doesn't wear out thanks to the graphene-reinforced rubber material. If you're on a budget, the La Sportiva Mutant also come highly recommended thanks to their integrated gaiter to keep out dirt, and comfortable cushioned midsole.
Our testing ground for the best mud running shoes was the wild, wet and magnificently muddy landscape of the Peak District in northern England, where we put each pair through its paces on long runs, short runs, fast runs, slow runs – across fells and along routes that all had one thing in common: muck.
The best mud running shoes
1. Inov-8 X-Talon G 235
Lightweight and flexible, with aggressive tread and and graphene-enhanced outsole
Specifications
Weight (per shoe):
235g/8.25oz
Upper material:
hard-wearing ballistic nylon
Compatibility:
Ideal for fast running in very muddy conditions
Reasons to buy
+
Lightweight
+
Fantastic grip
+
Durable tread
If you want to race through wet mud then the Inov-8 X-Talon G 235 are a great choice. The aggressive outsole is covered in 8mm lugs that bite into the deepest mud and offer great grip even whilst running fast. A heel to forefoot drop of 6mm brings you close to the ground whist a narrow fit ensures that your feet stay locked into position within the shoe. The revolutionary graphene-enhanced rubber means that the tread will resist wear for longer giving you great grip well into the life of the shoe. There isn't a great deal of cushioning, however, although a rockplate in the midsole offers protection on harder surfaces. Well suited to racing, the X-Talons are a popular choice with cross country runners and obstacle course racers.
2. Salomon Supercross Blast GTX
A waterproof upper, quick lacing and an aggressive tread pattern
Specifications
Weight (per shoe):
340g/12oz
Upper material:
Ripstop nylon with Gore-Tex lining
Colors:
Ebony black/Balsam green/Lunar rock
Compatibility:
Good grip, ideal for wet conditions
Reasons to buy
+
Waterproof upper
+
Well cushioned
+
Quick lacing
Reasons to avoid
-
Relatively heavy at 340g
The standout feature on the Salomon Supercross Blast GTX is the Gore-Tex membrane upper designed to keep your feet dry in wet conditions whilst still allowing them to breathe. The Quicklace system means no more struggling to undo muddy laces; a quick pull on the tab and they come loose and adjusting tightness mid run is quick and easy too. Chevron lugs cut into mud to give multi directional grip and a wide, well cushioned sole provides plenty of comfort. A sturdy toe bumper offers protection at the front of the shoe. This is not the lightest of shoes, and having more heel-to-forefoot drop than some others we feel the Supercross Blast are more suited to steady paced runs rather than fast racing.
3. Walsh PB Elite
Packed with traditional design features that have stood the test of time
Specifications
Weight (per shoe):
280g/9.88oz
Upper material:
Light-weight fast-drying water-resistant synthetics
Compatibility:
Made for muddy conditions
Reasons to buy
+
Inexpensive
+
Fantastic grip
+
Tried and tested design
Reasons to avoid
-
Rigid sole
-
Old-fashioned looks
If something isn't broke don't try to fix it! The PB Elite looks pretty much the same as it did 15 years ago, with Walsh sticking to a tried, tested and trusted design. The distinctive sole pattern with aggressive pyramid studs gives superb grip in muddy conditions, even at a fast pace. The heel to forefoot drop is 8mm but the overall ride height is low, giving the shoe a stable feel. The sole is rigid rather than flexible, which can take some getting used to. Fast drying and lightweight materials, and a traditional lacing system make up the upper. One thing that Walsh have changed in line with modern ethics is avoiding animal products in their shoes and this is a vegan design. There are no frills with this shoe, it doesn't look the most fashionable and while that might not suit everyone, you can't argue against its performance. The Walsh PB Elite simply still does what it was designed to do years ago.
4. Icebug Acceleritas 8
Minimalist, flexible and fast draining with a great grip
Specifications
Weight (per shoe):
250g/8.82oz
Upper material:
100% recycled PET polyester
Colors:
Light blue and orange
Compatibility:
Designed for muddy runs and obstacle course racing
Reasons to buy
+
Lightweight
+
Fantastic grip
+
Fast draining
+
Excellent eco credentials
If you're looking for a lightweight, minimalist shoe for wet and muddy conditions then the agile Icebug Acceleritas 8 are exactly that. They are lightweight, close fitting and extremely flexible and with a 4mm heel-to-forefoot drop it almost feels like the shoes are part of your feet. The sticky rubber RB9X outsole gives superb traction in mud thanks to the deep, multi directional lugs whilst the fast draining uppers mean that you can run through the deepest puddles without fear of the shoes becoming waterlogged and heavy. These low profile shoes would be a good for anyone wanting to run fast in wet and muddy conditions and would be ideal for obstacle course racers. They've also got good environmental creds, with a fully recycled upper and lining, and partially recycled rubber outsoles – all Bluesign approved.
5. Scott Supertrac RC 2
Well cushioned, with a water repellent upper and a low drop, these shoes can deal with distance and deep mud
Specifications
Weight (per shoe):
270g/9.52oz
Upper material:
Mesh and thermoplastic polyurethanes
Colors:
Black and midnight blue/Black and yellow
Compatibility:
Good for longer runs across mixed terrain
Reasons to buy
+
Water repellent upper
+
Well cushioned
While it might not be the best shoe for tackling full-on deep mud, the Scott Supertrac RC2 can still handle some fairly soggy conditions. The uppers are quick drying thanks to the 3XDRY coating, which repels water from the outside and draws moisture and sweat away from the inside. There is a sturdy rand protecting the toes and a fairly stiff sole provides underfoot protection on firmer ground although we did feel that this compromised the precise feel on uneven terrain that some shoes offer. The sole unit offers enough cushioning to deal with longer distances and firmer surfaces as well as muddy conditions. The low heel-to-forefoot drop of 5mm gives the Supertracs a stable feel, and the radial pattern of the lugs give multi directional grip. With a mix of cushioning and grip, we think the RC2s are best suited to conditions that combine both mud and firmer ground.
6. La Sportiva Mutant
Comfortable and cushioned, to cope with a mix of terrain
Specifications
Weight (per shoe):
320g/11.28oz
Upper material:
AirMesh, TPU and 4-way stretch dynamic scree guard
Colors:
Black/Apple green and carbon/Orange and carbon/Blue
Compatibility:
A comfortable shoe that can cope with a variety of surfaces
Reasons to buy
+
Good grip
+
Comfortable
+
Integrated gaiter
At first glance the La Sportiva Mutants look a little odd with their integrated SpyralTongue gaiter and the large loop on the top of the heel cup. This system allows you to stretch open the shoe to get it on and off easily. Once on, the gaiter hugs your foot like a sock, giving a reassuringly comfortable and supportive feel while preventing any mud and debris from entering the shoe. The midsole offers enough cushioning for longer runs or firmer terrain and the sticky-rubber studded outsole gives a good grip on muddy ground. The breathable upper isn't particularly water repellent but it does allow water to drain freely so we had no problems when running in very wet and muddy conditions. The Mutants are heavier than some of the more stripped down shoes and the 10mm heel-to-forefoot drop might not suit some runners seeking a 'racier' feel, but if you want a comfortable shoe offering good grip on a mix of terrain they are hard to beat.
7. Adidas Terrex Speed Pro SG
Lightweight and fast-draining with an aggressive outsole
Specifications
Weight (per shoe):
225g/7.94oz
Upper material:
Open mesh, with abrasion-resistant weldings
Colors:
Core black / Cloud white / Solar yellow
Compatibility:
Ideal for very muddy conditions and obstacle course races
Reasons to buy
+
Lightweight
+
Excellent grip
+
Fast draining
The SG in the name of this shoe refers to soft ground, and the Adidas Terrex Speed Pro certainly handles soft, muddy conditions with ease. The low drop, light weight and aggressive outsole with 7mm lugs make this a great shoe for racing and fast running in muddy terrain. The uppers are very lightweight and almost see through, which means that they drain very quickly making them a good choice for obstacle course racing. The downside of the upper is that they also let water in easily so your feet won't stay dry for long. The mesh material offers minimal padding and thus less comfort than some other shoes. The racy design means that there isn't a lot of cushioning to deal with harder surfaces but then that isn't what these shoes are designed for.
8. On Cloudventure
Well cushioned with good grip from a quirky tread design
Specifications
Weight (per shoe):
295g/10.41oz
Upper material:
two-layer synthetic mesh
Colors:
Shadow and rock / Sand and Shadow / Pecan and brown
Compatibility:
Well cushioned and suited to steady pace rather than racing
Reasons to buy
+
Sturdy
+
Well cushioned
+
Chunky grip
The first thing you notice about the On Cloudventure shoes is the unique outsole design. The tread depth increases from front to back and there is a deep Y shaped groove running down the centre of the sole. The rear lugs are also hollow with holes on two sides. All this gives a good deal of cushioning and grip, particularly when going downhill although the traction in muddy conditions isn't as good on steep uphills. In wet mud there is a tendency for the hollow lugs to get a little clogged up and the deep groove occasionally got stones lodged in it during our testing. A sturdy toe bumper adds protection and the padded heel gives a comfortable fit around the ankle. The ride height and weight give the feeling that the Cloudventure are more suited to comfort than speed.
Quick lacing, good grip and a precise fit makes a good race shoe
Specifications
Weight (per shoe):
290g/10.23oz
Upper material:
Synthetic mesh
Colors:
Orange and blue / Asphalt methyl blue
Compatibility:
A precise fitting shoe suited to narrower feet
Reasons to buy
+
Quick lacing system
+
Good grip thanks to 5mm lugs
+
Tough toe bumper for protection
The Dynafit Feline SL looks like a shoe designed for fast running, and that impression was backed up when we tested it out. The quick lacing system means you are ready to run within seconds and allows for quick adjustments as you run. The Felines have a precise fit and a tapered toe box, which help ensure that your foot stays securely in place even when running fast. However this might not suit everyone, especially runners with wider feet.
A padded tongue provides comfort and the mesh 'invisible lacing' overlay prevents mud and dirt from entering the shoe. A tough toe bumper gives good protection should you want to venture onto rockier trails. The outsole with the 5mm lugs provide good traction in all but the deepest of mud and the 8mm drop will hit the sweet spot for many runners.
How to choose mud running shoes
Fell running, obstacle racing and trail running on predominantly muddy surfaces is a slippery affair, and there are certain features you need to look for in the best mud running shoes.

Grip
We'll deal with this first, because one quality all the best mud running shoes share is aggressive grip on the outsole. Grip and traction in slippery, muddy conditions is supplied by 'lugs', which are like the studs on a football boot or the tread on a mountain-bike tyre. Look at how deep these lugs are, what shape they are, and how they're arranged. If they are placed too closely together, they're likely to accumulate mud, which will make your feet heavy and reduce the performance of the shoe. The best mud running shoes will have things like forward-facing lugs at the front to provide traction when you're pushing off in gloopy conditions, and reverse-angled, chevron-shaped lugs on the heel, to supply braking control during slippery descents. Do bear in mind that the more pronounced these lugs are the better the grip, but the more you will feel them on the soles of your feet when you run on harder-packed surfaces – especially if you go for a shoe with minimal cushioning (see below).
Fit
It might sound obvious, but the most important thing to consider when choosing any trail running shoes is fit. You can get away with a running jacket or a running tee that is too loose, but that's not the case with shoes. And you can have the most grippy outsole in the world, but if you're sliding around in a shoe that's too big, your stability and balance will be compromised massively. Don't just consider shoe size (length) think about width too, because a shoe that is too tight or too loose across the midfoot can result in pain, blisters and loss of grip on muddy and technical terrain.
Cushioning
Some of the best mud running shoes are very lightweight with little padding or cushioning, making them more suitable for shorter, faster runs or races. If you are planning longer outings where you may be running for several hours then you might want to opt for a little more comfort in terms of cushioning, which comes at the expense of extra weight. Extra cushioning in the midsole is definitely worth considering if you run on mixed terrain but want a shoe with aggressive lugs (see above).
Protection
While mud is soft, it often hides sharp rocks, sticks and other obstacles that can be painful if you stub your toes or tread heavily on them. The best mud running shoes have protective rubber rands with more substantial toe caps, and a rock plate running the length of the sole.
Materials
Most shoes for trail running are made from non-waterproof materials, which allow water to escape quickly instead of trying to keep it out altogether. This means accepting that you are going to get wet feet in certain conditions. Some models use waterproof materials such as Gore-Tex to help keep your feet dry, however such shoes don't drain very well, so if water does get in you can end up running with heavy, soggy shoes, which will cause a problem.
Lacing
Deep mud can swallow your feet entirely, and can even remove and steal shoes if you don't have them securely fastened. The best mud running shoes will feature an extra pair of lace holes right at the top of the tongue, which laces are not usually threaded through when you purchase the shoe. Use this extra pair of holes and you will keep hold of your shoe in even the deepest bogs.
Cost
This is an important consideration, but don't be tempted to buy cheap if the shoes don't fit or are known not to very durable. Fell running is rough on footwear, so you need a tough pair of the best mud running shoes to deal with it.
All the latest inspiration, tips and guides to help you plan your next Advnture!
An experienced, competitive, fell runner and UK Athletics coach, Dave specialises in fell and mountain running. His personal achievements include winning the 2015 English Fell Running Championships (V50 category) and completing the Bob Graham, Paddy Buckley and Charlie Ramsay Rounds. He has contributed reviews and training articles to magazines including Trail Running, Outdoor Fitness and the Fellrunner magazine. His most embarrassing moment was having a running shoe fall apart completely while high in the Lake District fells.