A lightweight pack with good carrying capacity – perfect for day walks, but it lacks the modern low-profile, vest-styling best suited to trail running.
Pros
+

Great range of colors

+

Simple style

+

Versatile
Cons
-

Only one size

-

Thin waist-belt

-

Moves about when running

-

Bladder not included
Deuter Speed Lite 12: first impressions
The Deuter Speed Lite 12 is aimed at people who want to go 'fast and light on the mountain', and is described by its manufacturer as an 'ultralight all-rounder and dynamic companion on day tours and for many other athletic uses'. (You can find similar alternatives in our list of best daypacks for lightweight hikes.)
The pack has easily adjustable shoulder straps (a bonus, because it only comes in one size) and a narrow waist belt. The athletic V-shape of the pack provides good freedom of movement and optimal distribution of load weight, and the comfort levels are good, thanks to ergonomically shaped shoulder pads made from highly breathable AirMesh.
The pack is hydration system compatible – but doesn't come with a bladder – and has stretch side pockets for additional water bottles, or for holding energy bars; see how it compare with its rivals in our best hydration packs buying guide. The 12-liter storage capacity of this pack is good for a variety of uses (ultra runs, day hikes and bike rides) and Deuter have added different loops to the pack for a variety of purposes, such as for carrying a helmet; glasses on the shoulder strap; and one at the rear for a safety light.
Other details include 3M reflectors; reinforced zipper loops that can be used with gloves; an SOS label and a compartment for wet laundry (although I think this would be more useful for carrying a phone).
Specifications
• RRP: £45 (US) / £47 (UK)
• Sizes available: One size
• Gender specificity: Unisex
• Weight (empty): 350g / 12.3oz
• Hydration Capacity: Large bladder (not included) and pockets for bottles (not included)
• Volume: 12L
• Colors: Black / Green Curry & Moss / Ruby & Maron / Papaya & Navy / Dust Blue & Arctic / Chili & Lava
• Compatibility: Best suited to day walks and cycling trips
On the trails
This is a hydration-compatible pack that is best suited to day hikes and cycling trips – where it excels. It can, of course, be used by trail runners, but compared to the more modern vest-style packs that many runners now prefer, the Deuter Speed Lite 12 looks and feels old-fashioned. Saying that, there is a good range of adjustability and I could achieve a fairly neat fit.
I am female and slim and I felt that there wasn't a huge amount of extra adjusting for people larger than me. It seems strange that there is only one size.
I am not used to a waistband when running and it irritated me. Some people might like the sense of security in having a waist-belt but I prefer the vest style and an extra chest strap. The Deuter has a single chest strap and I couldn't decide where to place it. In the end I had it higher up my chest. I can't see the pack being very comfortable for women with larger chests.
There is an internal sleeve for a water bladder and the tube exits the side of the pack. I had assumed that the elastic loop was for keeping the bladder tube in place but then I read that this loop is more likely meant as a place to keep your glasses. I was a bit confused by this.
If you use a bladder, you also need a way to keep the tube in place, otherwise it flaps about. In addition, I would not feel too confident hanging my specs on the elastic loop while running.
The fabric feels robust and durable and the color choices are really good. The pack has a simple design, which I like. I prefer fewer, more useful pockets and the pack has this about right.
The wet laundry pocket is a mystery. I can understand this being included on overnight backpacks but not on a small and lightweight daypack. I used this internal zipped pocket for my car keys and mobile phone.
There are no pockets that are accessible while walking or running. It would be useful to have a pocket for stowing a mobile phone and snacks that is possible to reach while wearing the pack.
The pack was fairly comfortable (surprisingly so, even, given its profile), although I think I would reserve it for lightweight day hiking in summer. It's not my favorite for running. See how to choose a hydration pack for running for more food for thought.
There are some nice extra details such as reinforced zipper loops that can be used while wearing gloves and lots of loops for carrying things. There is also an SOS label with details of how to make an emergency call and how to do basic first aid.
This pack is best reserved for walking or as a small cycling pack in my opinion.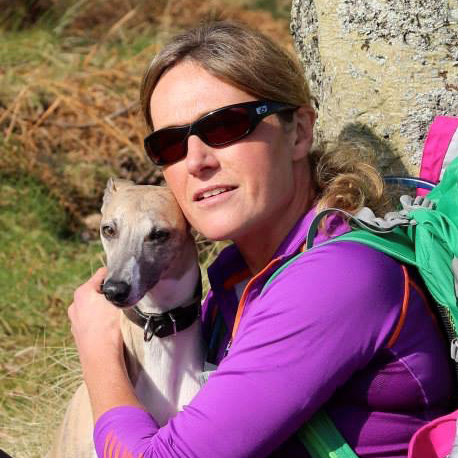 Fiona Russell is a widely published adventure journalist and blogger, better known as Fiona Outdoors. She is based in Scotland and is an all-round outdoors enthusiast with favorite activities including trail running, mountain walking, mountain biking, road cycling, triathlon and skiing (both downhill and backcountry). Aside from her own adventures, Fiona's biggest aim is to inspire others to enjoy getting outside and exploring, especially through her writing. She is also rarely seen without a running skort! Find out more at Fiona Outdoors.