How to choose a hydration pack for running
Our guide on how to choose a hydration pack will help ensure you buy the right pack for your needs and adventure type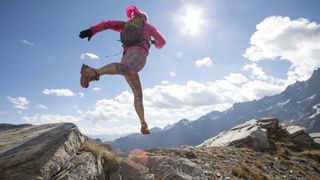 (Image credit: Getty Images)
A hydration pack for running and trail running is the type of rucksack that includes a water bladder, or a place for a water bladder. The emphasis of these packs is to offer lots of space for carrying water, as well as extra room for other trail running essentials, such as food, map and compass, spare clothes etc.
When choosing the best hydration pack there are a few factors and features to consider.
First things first: Water carriers
Water can be carried in a bladder with a tube that extends over the shoulder and is fixed in a convenient place where you can easily access it without taking off the pack. The you need to hydrate, you simply take water from the tube. This makes it very easy to drink water whenever you need it (more on this in hydration packs vs water purification and should I buy a hydration pack).
Alternatively, a pack might have a space for water bottles or flasks (usually the softer kind).
Many hydration vests for running have a place for a water bladder inside the pack and also two open-top pockets on the front of the shoulder straps where you can carry soft water flasks.
Some water flasks have long tubes so it is easier to hydrate while on the move. You should think about how often you will want to sip on water – and then base your choice of pack on convenience.
You need to think about how much water you'll need for an outing. Some races, for example those that require you to be self-sufficient, will request you carry 2 to 3 liters of water. For hiking, the recommended quantity is one liter per two hours on the trail, as explained in Water for hiking: how much do you need to carry?
If you want to move fast and take on water as you go, it's a good idea to have your water easily accessible. A bladder with a tube will aid this, as will flasks located on the front shoulder straps.
You might also stow water flaks or a bladder in other pockets in your pack and simply access them when you take off the backpack.
What size of hydration pack for running?
The size of the hydration pack will depend on how much water you need/want to carry and also the amount of spare kit that you plan to take with you.
The time of year will affect what you need to pack because when it is cold and wet, you'll need more space for clothing.
For outings of no more than a few hours, a pack that is as small as four or five litres will be adequate. For longer adventures, or races where you need to carry more kit, you'll need a pack that is up to 32 litre. This is covered in more detail in What size backpack do I need?
Remember, though, that the larger the pack the more likely you are to pack and that means it will be heavier. Many people own two or tree sizes of packs to suit different outings.
Also, look at where the pace is allocated. Six litres might be mostly in the main compartment of the pack, while other packs will divide this volume between a main compartment and across various pockets.
The type of hydration pack
There are traditional styles of packs and newer vest hydration packs. The former have shoulder straps, a longer back, a waist belt and a chest strap. These packs sit on your shoulders and rest along the length of your back. They are secured at the waist.
Vest packs are shorter and sit higher on the back/shoulders. They don't have a waist strap, instead they will have two of three chest straps.
In most case, the vest hydration pack is smaller and used for running. The more traditional style of hydration pack will be better suited to walking and fast-hiking, or longer runs where you need to carry more kit.
Check out all the details of a hydration pack
Pockets, straps, adjustors and extra features for stowing, for example, a phone or a key, will add to the usefulness of the a hydration pack.
Think about what you will be carrying with you and where you are likely to want to pack items. Hydration packs with lots of outside pockets and mesh areas allow you to place essential items in easy-to-reach places.
Look for gel pockets, a phone pocket, a secure zipped pocket for a key, a soft pocket for valuables, such as sunglasses, straps for carrying poles when not in use, and an area where you can place a waterproof jacket, gloves (see our best running gloves) and hat that are easy to get to without taking off the pack.
Fabric and materials

Most trail running packs and the best hiking backpacks are made of synthetic textiles. For ultra light packs, you might see ripstop nylon being used. These materials are light and durable.
Synthetic and strong materials will be used for cords, zips and hooks.
A DWR (Durable Water Repellent) treatment will be useful for keeping out light rain. If you know you'll be trail running or walking where it is very wet, it's a good idea to choose a more waterproof pack, or put your items in dry bags before storing in the hydration pack. For more on this, check out How to choose a running backpack.
Anything else to think about when choosing a hydration pack?
Fit is very important and many hydration packs are sold in different sizes. It is a good idea to try on first. Women are recommended to look for female-specific packs if possible because they are usually designed and adapted to suit the different physique.
Design and colour might also be appealing and there is plenty of choice these days across brands.
All the latest inspiration, tips and guides to help you plan your next Advnture!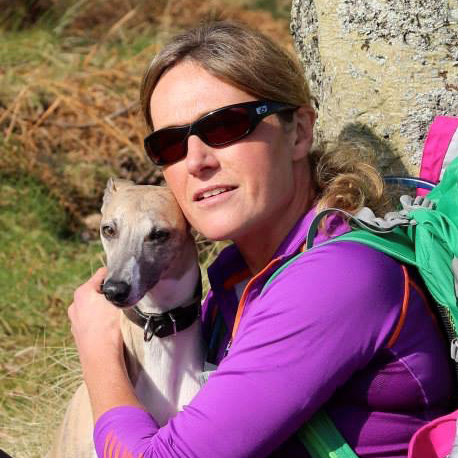 Fiona Russell is a widely published adventure journalist and blogger, better known as Fiona Outdoors. She is based in Scotland and is an all-round outdoors enthusiast with favorite activities including trail running, mountain walking, mountain biking, road cycling, triathlon and skiing (both downhill and backcountry). Aside from her own adventures, Fiona's biggest aim is to inspire others to enjoy getting outside and exploring, especially through her writing. She is also rarely seen without a running skort! Find out more at Fiona Outdoors.