A lightweight trail shoe that offers plenty of cushioning and a smooth, extra bouncy run
Pros
+

Lightweight

+

Comfortable

+

Cushioned

+

Vegan
Hoka Tecton X: first impressions
Hoka Tecton X trail running shoes are designed for speed on the trails, while also offering plenty of comfort.
Specifications
• List price: $200 / £175
• Weight (per shoe): 196g/7oz (women's) / 240g/8.5oz (men's)
• Colors: Men's - persimmon orange / Radiant Yellow;
women's - camellia / blue cora
• Drop: 5mm (33mm in the back and 29mm in forefoot)
• Compatibility: Trails and tarmac
The upper is single-layer jacquard engineered mesh that hugs the foot. Hoka has added a non-molded EVA sockliner to aid support inside the shoe. Polyester laces with (undefined) recycled content fit into a ghillie lacing system to make it easy to lace them up to the required tension. Underfoot there is a a ProFlyX midsole, which combines a lightweight and responsive foam base with an ultra-soft foam in-sole lining.
The outsole is Hoka's own design of Vibram Megagrip with Litebase construction. The lugs are 4mm depth and with "zonal rubber placement" to offer grip where needed. This is a shoe for running on forest tracks and lower level trails, as well as some tarmac, rather than technical, muddy and rocky hill paths and mountain slopes.
The extra ingredient that makes Tecton X different from other Hokas is a set of two parallel carbon fiber plates. These strips, incorporated into the build of the sole, are meant to offer runners extra propulsion.
In addition, the Tecton X sole is designed with an early-stage Meta-Rocker, which places a transition zone behind the metatarsal heads and closer to the heel. The aim of this is to aid running smoothness and a faster transition from the heel of the foot to the forefoot.
Hoka is well known for deep soles and the Hoka Tecton X is no different with 33mm at the rear and 29mm in forefoot. This gives a 5mm heel-to-toe drop, which is common in many of the best trail running shoes.
The shoes are lightweight at an average 196g for a female size and around 240g for the male shoe.
Hoka Tecton X: on the trails
The Hoka Tecton X shoe feels lightweight and immediately very comfortable, especially underfoot. Hoka are known for their cushioning and the Tecton X is a joy to wear if you like cushioning and bounce.
The upper is surprisingly good at hugging the foot, especially given the seemingly wide sole. The ghillie lacing system allows you to achieve a nice even support across the top of the foot, too.
Running in the shoes, whether on tarmac or trails (check out our guide to the best road to trail running shoes if you fancy going all terrain) feels a bit like running on air, although with good power to cushioning ratio. Some cushioned shoes make me feel like I am losing energy with every step, but not in the Tecton X shoes.
Perhaps it's the carbon fiber plates that provide some of this power and propulsion, or maybe it's the rocker in the sole. It could actually be a combination of the two but the bottom line is it's a joy to run in the new-style Hokas.
However, these shoes are not so good on technical terrain. I prefer to feel more of the ground beneath my feet when the going becomes more technical and a few times my ankles felt wobbly on variable terrain, especially with roots and rocks underfoot.
Another slight negative for me is that the heel cup feels a but roomy and too rounded towards my Achilles tendon. I prefer a neater fit and a lower heel cup. This is obviously a personal thing and it could be that other runners like a heel cup with greater volume.
The best terrain for the Hoka Tecton X shoes is non-technical forest trail and paths and any tarmac sections in between
There is only one color for the male and the female shoes. I like the orange but if you don't, there is no other option.
These shoes aren't cheap and the extra cost could be accounted for by the fresh design and carbon fiber plates. They do make me feel like I have more energy and bounce when running.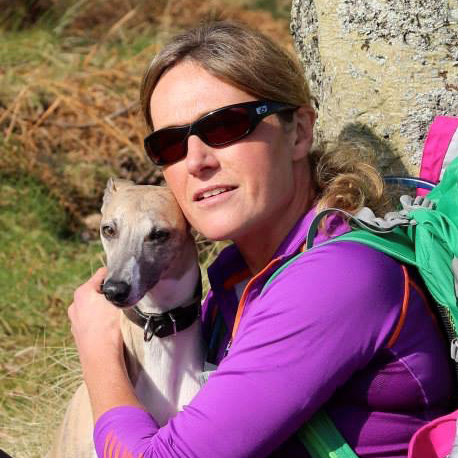 Fiona Russell is a widely published adventure journalist and blogger, better known as Fiona Outdoors. She is based in Scotland and is an all-round outdoors enthusiast with favorite activities including trail running, mountain walking, mountain biking, road cycling, triathlon and skiing (both downhill and backcountry). Aside from her own adventures, Fiona's biggest aim is to inspire others to enjoy getting outside and exploring, especially through her writing. She is also rarely seen without a running skort! Find out more at Fiona Outdoors.