The Nathan Crossover Pack 10L is comfortable, roomy and versatile, staying in place securely and never chafing even when fully laden. There are a few odd quirks though, like a waist belt that sits unusually high, and a hydration bladder hose that's much too long. If you can work around these issues though, it's the only pack you'll need for a lot of activities.
Pros
+

Masses of storage space, including extra under bungee cords

+

Convenient side pockets for stashing windproof layers

+

Supplied with its own hydration bladder

+

Super comfortable and secure
Cons
-

No rain cover

-

Waist belt is quite high

-

Dual chest straps don't work well if you have breasts

-

Hydration bladder hose is too long
Nathan Crossover Pack 10L: first impressions
The Nathan Crossover Pack 10L is a roomy running backpack that's a great option for long adventures and run commuting, and soon became my go-to bag for any run where I wanted to take water and extra layers.
There's heaps of space inside for your jacket, first aid kit, snacks and other essentials, and the bag can be compressed using a system of bungee cords. You can also use the cords for extra storage by stuffing your running jacket underneath them before tightening.
Specifications
• List price: $110 (US) / £94.99 (UK)
• Weight (empty): 398g / 14oz
• Hydration capacity: 1.5l / 52.8oz
• Gear capacity: 10l
• Colors: Charcoal / marine blue
The Nathan Crossover Pack 10L is supplied with its own hydration bladder, which sits neatly in a pocket against your back and is held in place with a pair of Velcro tabs that thread through the top. The hose threads through elastic straps on the straps, and is secured to your chest with a magnetic clip.
The bag has two chest straps and a waist belt, which keep it securely in place. The chest straps slide up and down, helping you get a comfortable fit, but will likely work better if you don't have breasts, as you'll be able to spread the load more evenly across your chest (as demonstrated by the model on Nathan's website).
There are two spacious zipped pockets on the front, which are ideal for stashing energy gels or your phone. There are also stretchy side pockets that fasten with a small dab of Velcro, which cyclists will find handy for storing a jersey or windproof jacket. They're also a useful place to stuff your running gloves or a hat during the shoulder seasons once you've warmed up.
Opening the bag, you'll find a small pouch sewn in at the top beside the zipper. This looks like it should be the right size for keys, but here's no means of fastening it, so they'll just fall out mid-run and wind up at the bottom of the pack. Credit cards fit inside, but fall out when you open the pack. It's a bit of a mystery, but you could add a self-adhesive Velcro dot to make it more functional.
Nathan Crossover Pack 10L: on the trails
I've been using the Nathan Crossover Pack 10L for months, and it's easily one of the most comfortable running backpacks I've ever used. It sits firmly in place, and unlike some bags, has never chafed my shoulders even on long runs while wearing a tank top. I've worn it for a couple of half marathons in total comfort.
The sheer amount of space inside is incredibly convenient, and meant I could easily carry a fleece jacket for after the run, a windproof, and still have space for a first aid kit and a friend's jacket.
It's not without its quirks, though. Once the shoulder straps were secure, I found that the hip belt wanted to settle around the bottom of my ribs rather than around my waist, as you can see in the photo at the top of this article. I have quite a long torso, so this might not be a problem for differently shaped runners, but I found it easiest to leave the belt clipped together at the back of the pack and just use the twin chest straps to keep it in place unless it was fully loaded.
I didn't love the hydration bladder supplied with the bag, either. It was awkward to close, and the hose was too long for comfort when running, having to be looped over your chest and secured on your shoulder. However, the pack worked perfectly with my Osprey 2L bladder inside instead. The Velcro loops are in the right place to secure it inside, and it's compatible with Osprey's hose magnet.
Once you've got your hydration setup sorted, the Nathan Crossover Pack is spacious enough to work for day hikes, particularly in summer when you want places to stuff lightweight layers. It isn't waterproof though, and doesn't come with a rain cover, which is a shame since there's plenty of room for one. I managed by putting my Osprey backpack's rain cover over the top.
These might seem like a lot of quibbles, but the Nathan Crossover Pack really is an excellent, versatile running backpack, and I'm thinking about picking up my own now that I've finished testing the review sample. I'd recommend trying one out for fit before investing, though. It's not a cheap bag, and how comfortable you'll find it will depend on your anatomy.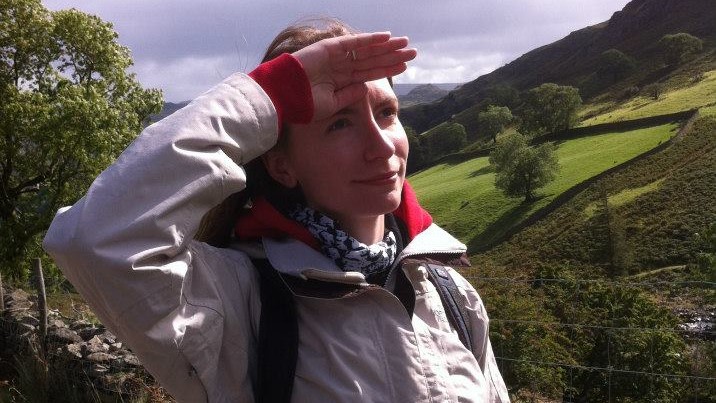 Cat is the editor of Advnture, She's been a journalist for 13 years, and was fitness and wellbeing editor on TechRadar before joining the Advnture team in 2022. She's a UK Athletics qualified run leader, and in her spare time enjoys nothing more than lacing up her shoes and hitting the roads and trails (the muddier, the better).