Water bottle vs hydration bladder for hiking
We take on the debate over water bottle vs hydration bladder to help you find the best hydration system for your hiking adventures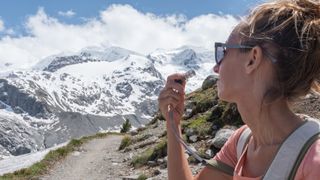 (Image credit: Mystockimages)
Hydration is one of the most basic human needs there is, and the necessity for it becomes even more apparent when you're hiking. Breathing hard and sweating are a recipe for dehydration, and you can't always rely on finding safe drinking sources in the wild. That's why carrying a water bottle is an essential piece of kit for all hikers – until the 1990s rolled around and hikers started carrying water in hydration bladders instead.
The hydration bladder, invented by Camelbak in 1988, allowed keen hikers to sip water without using their hands or even slowing down – a perk so perfect that it's a wonder water bottles haven't gone the way of the dinosaurs. But the sturdy, dependable water bottle has held steady all these years for those seeking a no-nonsense approach to hydration. We figured there must be some good arguments for both hydration systems for them to have maintained their footing among hikers, so we took on the debate of water bottle vs hydration bladders to find out if one is really better than the other.
Water bottle vs hydration bladder: what's the difference?
We know you know what a water bottle is, so we won't bore you with the details other than to say that, these days, the best water bottles for hiking come in a variety of designs, including BPA-free plastic, aluminium, insulated and some even have their own nifty straws and filters.
Meanwhile, a hydration bladder is a plastic bladder with a hose with a locking mouthpiece attached to it that serves as a drinking straw. The hydration bladder goes into a pouch in your backpack or hiking vest, the hose slides through loops on the shoulder strap and the mouthpiece hangs out next to your face for whenever you need a sip.
Water bottle vs hydration bladder: capacity
Obviously, when you're trying to stay hydrated on a hike, the key is to carry enough water to keep you going. For a long hike or hot, dry conditions, that means carrying a fair bit of weight, unless you want to stop and drink water from a stream every couple of miles. This is a category where hydration bladders win hands down.
While your typical water bottle will hold somewhere between 750ml and one liter of fluid, your hydration bladder might hold three liters, or even more. Now of course, the more you carry, the heavier it will be, but because of the design of hydration bladders – a soft pouch that sits comfortably against your lower back – it's definitely feasible to carry a lot of water. Meanwhile, carrying three water bottles would take up a lot of space in your backpack, probably feel pretty uncomfortable and then you've got all that noise of bottles banging together (although soft water bottles solve that problem for you).
Water bottle vs hydration bladder: packability and comfort
Once you've got your water bottle filled, you have two reasonable options for where to put it for your hike. You can either put it inside your backpack, or use one of the side pockets. Inside your pack it takes up a fair bit of space, but you can center it so it doesn't feel lopsided while you walk. If you use a side pocket, you have more room in your pack but it will feel uneven (unless you carry two water bottles and alternate drinking out of them).
If you use a hydration bladder and you have a proper hiking backpack with a pocket for it, then you won't have to think about where to put it or whether it will be comfortable. The hydration bladder just slides into the pouch so it rests against your back, and will never feel off balance. And, of course, it doesn't take up valuable space inside your backpack so you have room for everything you need, like your best waterproof jacket and best hiking gloves.
If your backpack doesn't have a special pouch for your hydration bladder, it's not impossible to use it. However, it might be a little less comfortable, and you should position the hydration bladder at the bottom of your bag.
Water bottle vs hydration bladder: ease of use
At first glance, a water bottle seems pretty easy to use, right? After all, you just hold the spout up to your lips and sip. However, once you get on the trail, actually stopping to root around in your bag for a drink every time you're thirsty seems like an awful lot of hassle. As a result, you might not drink as much water as you should on a hike.
Even though threading the tube of your hydration bladder through the loops on your backpack can be a bit of a nuisance, once you're walking, the tube is next to your mouth and you can sip away constantly, hands-free and without breaking stride if you want, which is truly the main appeal here.
Water bottle vs hydration bladder: refilling
Where we just said that hydration bladders are easy to use in terms of drinking, water bottles are certainly easier to refill when you're running dry. If you're on a long hike or it's a very hot day, you might need to stop and refill. With a water bottle, that's easy – just unscrew the top and voila.
Refilling hydration bladders can be a bit more bothersome, depending on the type of pack and backpack you have. These days, the bladder itself has a large screw-on lid that you can undo to fill it up, but you basically still need to remove the entire hydration bladder from your backpack, then put it back in and reposition the tube. Of course, if you're using a backpack that doesn't have a pouch for your hydration bladder, you'd need to remove everything from your backpack in order to access it.
Water bottle vs hydration bladder: durability
Good quality, durable hiking gear is key to keeping our landfills free of plastic, so you want to make sure that whatever you buy, it's going to last a while. Whether it's made from plastic or aluminum, a good water bottle should last for years and the odd dent doesn't affect its ability to perform. The main thing that can happen is that the threading on the plastic lid can stop meshing with that on the lip of the bottle, but replacement lids are often available.
Meanwhile, your hydration bladder is made from a soft, pierceable fabric and leaks can occur in the joints between the bladder and tube as well as the mouthpiece. The individual parts are usually replaceable, but you'll want to make sure that you don't pack it next to sharp items in your bag, or toss it in the back of your car or your garage with heavy items on it when you're not using it.
Water bottle vs hydration bladder: hygiene
We're probably all guilty of not cleaning our water bottles every time we use them, but it's a good idea to keep any drinking vessel clean to avoid bacteria building up. With your water bottle, that's easy – just throw it in the dishwasher after your hike.
Hydration bladders are a bit notorious for being harder to clean and developing mold – although they are always improving on this front – so you'll want to read up on how to clean a hydration bladder and consider stashing yours in the freezer when you're not using it to prevent mold.
Water bottle vs hydration bladder: temperature resistance
When you're hiking in hot weather, the last thing you probably want is a sip of hot water and if you're hiking in the winter, frozen water does you no good at all.
Water in a bottle will get warm more easily if you're carrying it in a side pocket, so for hot days pack it inside your backpack and use a vacuum-insulated bottle with a couple of ice cubes inside. Meanwhile, a hydration bladder in a pouch should stay cool, but the tube will heat up as it's exposed, so be prepared for the first few sips to be hot.
Water can freeze in either system, but the tube of your hydration bladder is very likely to freeze, whereas for very cold temperatures you could use hot water in an insulated bottle, so the water bottle is probably your best bet in extreme temperatures.
Water bottle vs hydration bladder: taste
This one seems silly, because water just tastes like water, right? Well, yes, if if you're drinking it from your water bottle, but hydration bladders are well-known for making your water taste like plastic, for a long time. There are various home remedies for this, involving baking soda and lime juice, but be aware that without putting in a little effort, your water might be unpleasant to drink.
Water bottle vs hydration bladder: price
Even though both systems are available at both budget and premium pricing, if you're looking for a low cost hydration solution, you'll definitely want to go with a water bottle. You can easily find a bottle for under $10, whereas you're looking at upwards of $30 for a hydration bladder.
Swipe to scroll horizontally
Water bottle vs hydration bladder

| Header Cell - Column 0 | Water bottle | Hydration bladder |
| --- | --- | --- |
| Capacity | Usually 1L or less | Can be 3L or more |
| Packability | Takes up quite a bit of room in your pack, if you use side pockets it feels lopsided | Sits in its own pouch if you have the right pack and sits comfortably against your low back |
| Ease of use | Stop, rummage around in your bag, unscrew lid, sip, replace lid, put back in bag | Sip without breaking your stride |
| Refilling | Easy | A bit of a hassle to remove bladder from backpack each time |
| Durability | Very robust and durable, so long as you don't go for glass | Susceptible to piercing, broken joints, valves and mouthpiece |
| Hygiene | Easy to clean in the dishwasher | More difficult to clean, prone to bacteria and mold |
| Temperature resistance | Insulated bottles are best for extremes | First sip is always warm in hot weather; tube is liable to freeze in cold weather |
| Taste | Tastes like water | Tastes like plastic, unless you treat it |
| Price | Can be well under $10 | Usually more than $30 |
Water bottle vs hydration bladder: the verdict
If your priorities are comfort, ease of use on the trail and making sure you stay hydrated, then you'll love owning a hydration bladder. Yes, it takes a bit more effort to refill and keep clean, but you'll probably drink more water – especially if you treat it to get rid of the plastic taste.
Meanwhile, the classic water bottle certainly takes up more space in your pack and doesn't hold as much water, but it's cheap, durable, easy to clean and refill and holds up better against extreme temperatures. If you're still straddling the fence, check out soft water bottles which are made of similar material to a bladder and are extremely packable, but don't come with a tube.
All the latest inspiration, tips and guides to help you plan your next Advnture!
Julia Clarke is a staff writer for Advnture.com and the author of the book Restorative Yoga for Beginners. She loves to explore mountains on foot, bike, skis and belay and then recover on the the yoga mat. Julia graduated with a degree in journalism in 2004 and spent eight years working as a radio presenter in Kansas City, Vermont, Boston and New York City before discovering the joys of the Rocky Mountains. She then detoured west to Colorado and enjoyed 11 years teaching yoga in Vail before returning to her hometown of Glasgow, Scotland in 2020 to focus on family and writing.