The best running gloves and mittens: for trail running and road running on frosty mornings and nippy nights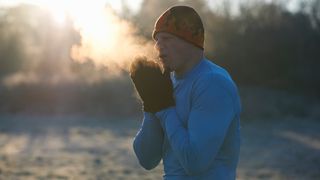 (Image credit: Getty)
Why are the best running gloves important? Cold-season running requires a few essential items, and the most important for many people is a pair of gloves. Even runners who usually feel warm will suffer with cold hands when the temperature outdoors plummets.
Fingers, like other extremities, become chilled because they are not well insulated with fat and they are also at a distance from your heart, the pump that fuels your circulation system. Your hands are also out in front as you run, and left exposed they bear the brunt of the cold weather, including wind, rain, sleet or snow.
The best running gloves are generally lightweight and neat fitting. When running, you do not want to have the fabric of the gloves flapping about annoyingly, and nor do you usually need a lot of extra insulation, because as you run your heart rate naturally rises, pumping blood around the body more vigorously, thus keeping hands warm.
The best running gloves can also be useful for protecting your hands against aggressive flora (nettles and brambles) and spiky terrain. Plus they can also be produced in high-vis colours or with reflective materials, to help with safety when running on lanes and roads.
Some brands sell running gloves and mittens, and we have tested both (and a combination of the two) to see what is most effective. We have also included gloves in a range of different materials, including some with fingertips designed for operating touchscreen technology.
All of the best running gloves and mittens included here are featured on merit, but we particularly liked the Dynafit Upcycled Thermals for their style and eco credentials, the Kalenji Tactiles for their extraordinarily good value, and the Ultimate Performance Reflective Glove as an all-round top performer.
The best running gloves available today
inov-8 Train Elite
A lightweight glove that offers a neat and comfortable fit thanks to stretch fabric
Specifications
Materials:
Polyester (84%)/ Spandex (16%)
Weight (per glove):
18g /0.6oz
Reasons to buy
+
Comfort
+
Stretch fabric
+
Soft, fleece lining
+
Lightweight
+
Reflective details
Reasons to avoid
-
Small fitting
-
No touch screen capability
-
Slightly lumpy seams
-
Fabric balls with wear
These no-fuss and very reasonably priced gloves are easy to wear and promise lots of warmth for runners. Made from a stretch fabric comprising polyester (84%) and spandex (16%), the inov-8 Train Elite gloves provide a neat fit (although they size rather small) and they are easy to get on and off, even when wet. They feature a soft, light fleece inner and a smooth fabric outer. The addition of a reflective logo on the back of each hand provides an element of safety when running at night on lanes, or in areas where there is traffic. The fabric keeps the cold and wind out, although they are not waterproof. The cuffs are a reasonable length so they are capable of reducing wind chill on the wrists. If you are sensitive to seams, note that you can feel the sewn seams at the end of your fingers. They pair up as a small ball that can be stuffed into a pocket to a backpack when not in use. The fabric does ball a bit with wear, and so the gloves quickly looked used although this doesn't detract from their usefulness.
Dynafit Upcycled
A lightweight thermal glove made with upcycled Polartec Powerstretch fleece fabric
Specifications
Sizes:
XS to XL (7.5 to 9.5)
Materials:
Elastane (15%), Polyamide (40%), Polyester (45%)
Weight (per glove):
25g /0.9oz
Colors:
Blue-malta / Methyl blue / Mykonos blue / Blue-reflecting pond / Green-pale frog / Grey quiet shade / Pink-lipstick / Red-hibiscus
Reasons to buy
+
Range of sizes
+
Lots of colour choice
+
Soft fabric
+
Warm
+
Eco-friendly
Reasons to avoid
-
Prominent seams inside
-
No touch screen capability
The fact that these good-looking gloves are made with upcycled materials (left over from the production process of other gear) is enough to give you a warm fuzzy feeling before you even pop them on, but when you do, the Polartec Powerstretch fabric feels comfortable and cozy. There is a good range of sizes to choose from, but remember that these are unisex so they size a little larger than you might expect for female hands. The gloves have a nice soft-feel and a stretchy cuff so they are easy to get on and off. Dynafit says the fabric is wick-away, but I think this is true of most lightweight glove fabrics because it allows sweat and wet to easily escape the fabric through evaporation. The silicon gripper print on the palm is useful because it allows you to firmly hold items, such as running poles or a water bottle, it's just a pity there isn't the addition of a material that allows you to use a touch screen on a phone. The seams inside the fingers are quite bulky, which might irritate some, and they're not cheap. But there's a spectrum of colours available and this, combined with the funky design, means these gloves look totally different from the many pairs of black running gloves that most runners already own.
1000 Mile Sportswear Ultimate Performance Reflective
Super reflective, highly functional glove, with good grip and a touch-pad index fingers
Specifications
Materials:
polyester (86%) and elastane
Weight (per glove):
25g /0.9oz
Reasons to buy
+
Highly reflective
+
Good grip
+
Touchscreen index finger
Made with a functional easy-to-care-for fabric, this glove features an ultra-reflective, multi-colour print right across its back, which makes nightrunners highly visible (if slightly strange looking) when cars approach on dark lanes with their lights glaring. Made by 1000-Mile Sportswear – who specialise in socks, and therefore know a thing or two about keeping extremities warm – the Ultimate Performance glove offers reasonable levels of insulation, without leaving you with overly sweaty hands once you have warmed up, and it's also made with a breathable material that wicks moisture away well. The wrist cuff has a snug fit, keeping drafts and drips at bay. The back of the thumb has a section of soft-feel fabric, so you can wipe sweat (and let's be honest here, snot) away when you need to, and the front of the glove boasts a Silicon grip pattern spread across on the palms and fingers, which helps you keep hold of bottles and poles. The index finger has a touchscreen tip, so you can operate devices without taking the gloves off.
Columbia Trail Summit
Lightweight fleece gloves with good grip and touchscreen friendly fabric on thumb and index finger
Specifications
Unisex:
Male and female options
Materials:
Omni-Heat Reflective Smooth thermo stretch fleece: polyester (91%) and elastane (9%) /Palm: Carbon (48%), Polyester (46%), Elastane (6%)
Weight (per glove):
22g /0.7oz
Reasons to buy
+
Great grip
+
Ideal all-run level of insulation
+
Touchscreen index finger and thumb
Reasons to avoid
-
Modest levels of insulation
-
Reflective area is small
On the inside of these light fleece running gloves, Columbia have employed their much-vaulted omni-heat system, where small silver dots on the fabric trap and reflect the heat your body generates while you're being active back at your skin. We know this works well, from using the brand's excellent base layers and coats, but the effect was slightly less noticeable in these gloves (perhaps because fingers aren't great at generating heat). The thermal properties of these gloves are reasonable – basically what you'd expect from a fairly lightweight fleece glove. On really bitterly cold morning runs you might want something more substantial, or to combine them with an over-mitt, but they are perfectly adequate for most of the year, and you can keep the gloves on for the entire run because you won't overheat once you have warmed up (which means far less chance of losing them). The silicone grip pattern on the palm of these gloves is really good for grasping bottles and pole tops, and the index finger and thumb feature touchscreen fabric so you can use smartphones and GPS devices. There is a small reflective feature on the back of the glove. There's also a little clip on these gloves, for attaching the pair safely together (or to hydropack webbing) when not in use – the connector can be a bit annoying, flapping around while you're running, but you can remove it.
Kalenji Tactile
Budget-friendly lightweight running gloves with touchscreen thumb and fingertips
Specifications
Materials:
Polyester (91% recycled)
Weight (per glove):
15g /0.5oz
Colors:
Black / Foggy blue
Reasons to buy
+
Great price
+
Touchscreen sensitive
+
Lightweight
+
Materials mostly recycled
This simple and budget-friendly glove is constructed with polyester that is 91% recycled, which gets a big thumbs up from us straight away. It's also cheap as chips (almost literally), so we were intrigued to see how it performed on the trails. On test, we found the Kalenji Tactile ideal for cool mornings and evenings, or chilly days when the temperature stays above zero. The lightweight fabric keeps the chill off your skin, but when it is very cold you would need to add an extra over-mitt to keep hands properly warm. However, on the upside, this means hands do not get too sweaty, which is a bonus, as you can keep them on throughout the run. But, even a little damp on the skin means the fingers of the glove turn inside out when you take them off (slightly annoying if you need to then put the gloves back on in a hurry). The fit is very neat and if you have long fingers, you will need to go up a size. The seams are thick and rather irritating against the skin but after a few washes they soften to become more comfortable. The tips of the thumb and forefinger are touchscreen capable, and actually work (better, in fact, than on many more-expensive gloves that claim the same capability), and there is a reflective logo on one finger of the right hand. The price really is brilliant, and I have found many Decathlon products to be durable and long-lasting, despite their very low pricetag.
inov-8 Extreme
Insulated, fleece-lined and breathable mitts with great grip
Specifications
Materials:
Polyester, Polartec Alpha and Spandex
Weight (per glove):
25g /0.9oz
Reasons to buy
+
Extra warm
+
Touch-screen friendly
+
Silicon grip
+
Wrist attachments
Reasons to avoid
-
Small sizing
-
Limited sizing
These mitts can be worn on their own or as an over-mitten on top of thinner running gloves (such as inov-8's Train Elite). Although the gloves are insulated and fleece lined, they remain lightweight and highly packable. The fabric is breathable, too, for when your hands become warm and sweaty after a hill-climb effort. The palm features a silicon grip print, to ensure you do not drop items such as a phone or a water bottle, and to give you a better grip on running poles. A thumb tip fabric is meant to give touch screen capability, however I have found it does some of the time but not at others, and it is better for swipe style action rather than trying to open specific apps. These mitts have the great addition of an elastic wrist attachment. so that when you take them off, they do not easily get lost or dropped. The reflective logo is useful for safety when running at night in busy traffic areas.
Montane Power Dry
A simple and lightweight glove, with touchscreen friendly fingertips, for cool – rather than very cold – days
Specifications
Sizes:
Female: XS, S, M, L / Male: XS, S, M, L
Materials:
Polartec Power Dry fabric
Weight (per glove):
21g /0.74oz
Reasons to buy
+
Lightweight
+
Neat fit
+
Different male and female fit
+
Touch screen compatible
+
Turnover double layer cuff
Reasons to avoid
-
Size quite small
-
Thin fabric
These lightweight gloves are made of a thin, almost see-through fabric. The female gloves (which we tested) fit really nicely, and they appear to be well constructed, with a double-layer cuff for increased comfort, warmth and a secure fit. They are best worn on cool days, however, rather than very cold days. (Unsurprisingly, the warmth of these gloves greatly improves in cold conditions if you add the Montane Minimus Waterproof Mitts.) Montane suggest the fabric is highly wicking, which is true, but mainly we suspect because the fabric is thin and therefore it allows sweat and wet to easily evaporate. The touch-sensitive fabric on thumb and index fingertips is a great bonus because taking gloves on and off to use a mobile phone – for example when you want to take a photo – is a pain. The price tag isn't particularly cheap for such a basic glove, but the fabric does seem durable and long lasting. These are not the warmest, cosiest or comfiest running gloves I've tested but they are simple and do a good job in milder winter conditions.
Montane Minimus
Super lightweight, waterproof over-mitts offering excellent protection from bad weather
Specifications
Weight (per glove):
22g /0.77oz
Reasons to buy
+
Very lightweight
+
Highly packable
+
Excellent weather protection
+
Come with a stuff sack
Worn over the top of your standard running gloves, these waterproof over-mitts offer an extra weatherproof layer for greater protection from the wind and the rain and the cruel cold. And for an item that seems so lightweight and simple, they provide superb warmth. They are made of Pertex Shield, which is lightweight, waterproof and breathable with a hydrostatic head rating of 10 metres (as good as most tent flysheets). The mitts also have micro-taped seams throughout and elasticated wrists for a closer fit. An adjustable hem stops the wet getting in and heat getting out, and the breathability is also good. There is also a thumb loop to make it easier to get the gloves on and off. A small stuff sack keeps the gloves together and stored in a small ball when you are not wearing them. There is a risk of the gloves flying away in the wind if you don't hold on to them tightly when you take them off, and a wrist attachment would have been a good addition. (It's likely that the stuff sack will be all too easily lost as well.) At £60, you might think the over-mitts are pricey but we were very impressed by what they offer in terms of warmth when running in poor conditions. Because of the fabric they are made of, they're durable, too.
Warm, adventure-ready all-rounders
Specifications
Materials:
Power Stretch Pro with silicone print palm polyester (53%), nylon (38%), elastane (9%)
Weight (per glove):
30g /1oz
Reasons to buy
+
Lightweight
+
Warmer than most gloves of similar design
+
Slightly extended cuff gives good wrist protection
+
Contact print on thumb and forefinger is smartphone-compatible
Reasons to avoid
-
Not waterproof
-
Fabric snags relatively easily
-
Not an ideal liner glove due to tacky palm
Unlined, all-purpose gloves of relatively simple design, the Rab Contact Grips work well for trail running. The Power Stretch Pro fabric ensures a close fit, and means they are a little thicker than most liner-style gloves, providing a greater degree of warmth. The silicon grip palm is also very tacky, ensuring a firm hold on things such as water bottles and poles. Contrary to what Rab say, they're not really practical for use as a liner glove, because the palm grip is too sticky to slide under other gloves or mitts easily. But as a single-layer solution for general trail running, rather than technical scrambling or winter mountain running, they work well. The latest version also has a conductive print on the thumb and index finger, enabling you to use them with smartphones, which is an increasingly important feature for modern runner. They also have a slightly extended cuff compared to most gloves of this type, giving added wrist protection. Sensibly, the design is still low-profile, with a Lycra binding but no raised hem edging, so they slide easily underneath coats. These gloves are not water-resistant, but the synthetic fabric is very quick drying and maintains its thermal properties even when wet. They're also fairly breathable, which makes them versatile enough for multi-activity use.
Outdoor Research PL Base Sensor
Polar fleece–fabric gloves for use alone in milder conditions, or as a base layer in colder climes
Specifications
Unisex:
Men and Women's versions available
Sizes:
Men's S, M, L, XL, women's S, M, L
Materials:
50wt polar fleece with silicone print palm
Weight (per glove):
25.5g /0.9oz
Reasons to buy
+
Lightweight
+
Breathable and quick-drying
+
Contact print on thumb and forefinger is smartphone-compatible
+
Good liner glove
Reasons to avoid
-
Not waterproof
-
Not designed for standalone warmth
-
Slightly awkward finger stitching
The lightest model in US brand Outdoor Research's fairly extensive range of fleece gloves, the PL Base Sensor is expressly designed as a liner glove to be worn under a pair of chunkier mitts or gloves for winter mountain pursuits – essentially, you can think of them as baselayers for your hands. But they're also good as a stand-alone lightweight glove for use during many activities in milder conditions, including trail running. Made from an extremely light 50-weight polar fleece fabric with a soft inner and a smooth, shiny face, they slide easily under bigger gloves but are thin and dextrous enough to tackle the majority of tasks without needing to take them off – though admittedly the slightly awkward finger stitching could be improved to make very fine work easier. They also have touchscreen compatible Sensor technology for use with smartphones, plus a minimalist grippy silicone print on the palm that isn't overly tacky, but which stops your phone from sliding out of your grasp (and tumbling off down the hillside) when you stop to take a photo or make a call. They have a little stretch for a close fit with a nicely tapered wrist, and generally just do the job in an efficient, unfussy way. While they're not the most hardwearing glove around, our pair have stood up to general use very well (and markedly better than other lightweight gloves we've tested) and they're also relatively inexpensive. They're not particularly water-resistant, but they manage moisture well and dry quickly. And though they can only offer limited warmth, it's still enough to take the chill off when worn on frosty winter morning runs.
Choosing the best running gloves for you
There is an increasingly wide selection of running gloves and mitts out there to choose from, employing different designs and materials to keep your hands happy in a range of a challenging conditions. Following are some factors to consider when looking for the best running gloves for you.
Weather
The colder the weather, the more insulation you will require on your hands. Choose the best running gloves that have insulation, windproofing or waterproofing if you know that you will be running often in chilly conditions. Remember, poly synthetic fabrics retain much of their insulating properties, even when wet. Also consider the fact that, even if your hands feel cold at the start of a run, they will quickly warm up as your heart starts to work harder, pumping blood to your body's extremities, such as your fingers. If you regularly run in milder conditions, don't go for a glove that's too thick, otherwise you'll just find yourself carrying it for much of the route.
Fit
The best running gloves should be neat fitting but not overly tight. A neat fitting glove will not flap around while you because it is too baggy. Equally, a glove with fingers that are too short will feel uncomfortable when you put them on. Gloves that are too tight are difficult to get on and off, especially if you end up with sweaty hands or wet gloves from rain. Make sure the cuff of the glove doesn't leave a gap between your hand and the sleeve of your running top. Wrists can end up chilly, too.
Materials
Gloves are made in a range of fabrics, just like all clothing, and each offers its pros and cons. For example, merino or natural wools offers good insulation and quick dry properties, while many synthetic fabrics feel soft and comfortable against the skin, and poly fabrics keep performing when wet.
Gloves or mittens?
Gloves are easier to wear because they allow for dexterity, such as when you want to unzip a backpack/jacket, or search for an item in a pocket. Meanwhile, mittens can keep hands warmer because fingers are not separated and therefore they jointly generate more heat. Some brands sell useful over-mittens that can be added over gloves for extra warmth.
Extra details
It's useful if the best running gloves allow you to use a touchscreen, such as your phone, while you are wearing them. Some grip on the palm is excellent for keeping hold of things such as water bottles and poles. Look for other features such as a loop that lets you pull the gloves on or take them off, elastic wrist loops to make it more difficult to lose the gloves, seamless design for a more comfortable fit, and reflective logos for safety when you run at night on lanes and other place where you cold encounter vehicles.
Writer, editor and enthusiast of anything involving boots, bikes, boats, beers and bruises, Pat has spent 20 years pursuing adventure stories. En route he's canoed Canada's Yukon River, climbed Mont Blanc and Kilimanjaro, skied and mountain biked through the Norwegian Alps, run an ultra across the roof of Mauritius, and set short-lived records for trail-running Australia's highest peaks and New Zealand's Great Walks. He's authored walking guides to Devon (opens in new tab) and Dorset (opens in new tab), and once wrote a whole book about Toilets (opens in new tab) for Lonely Planet. Follow Pat's escapades here (opens in new tab).
All the latest inspiration, tips and guides to help you plan your next Advnture!
Thank you for signing up to Advnture. You will receive a verification email shortly.
There was a problem. Please refresh the page and try again.