The best running backpacks 2023: for everything you need on the move
Contributions from
last updated
The best running backpacks give you storage, freedom of movement and features built for speed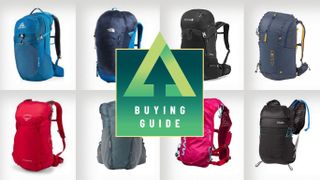 (Image credit: Future)
The best running backpacks occupy the middle ground between minimalist hydration packs and hikers' daypacks. They give you enough capacity for a full day in the hills, while being lightweight enough to run with.
When running, balance and freedom of movement are key. The best running backpacks are built with this in mind. Designed to hug the body for a barely there feel, they move with you as you hop, skip and jump from crag to crag. Expect waist belts, chest straps and plenty of ways in which to fit the pack to your body.
As well as this, just like the best hiking backpacks, the finest running packs come with clever storage solutions, such as zippered pockets, pole attachments and elasticated mesh. There's plenty of places for your energy bars and gels, your car keys, your map and compass and your spare layers.
Many also come with a hydration bladder, much like the best hydration packs. This allows you to carry a well balanced water reservoir that you can sip from on the move. For more about what to look out for when choosing one of the best running backpacks, see our guide at the bottom of the page.
Best running backpacks with bladders
A super tough running backpack that's also super lightweight
Specifications
Weight (empty):
398g / 14oz
Hydration capacity:
2L / 70 oz (reservoir included)
Reasons to buy
+
Easy-to-refill reservoir
+
Versatile design
+
Internal frame support
+
Copious amounts of storage
Reasons to avoid
-
Lack of durability
-
Not ideal for smaller women
This roomy running backpack will comfortably and securely tote all the gear, hydration and snacks you need for several hours out. Though quite pliable and lightweight, it has some elements of a traditional backpack, offering some structure in back. While not a full-on internal frame, the lightly padded frame sheet makes packing, retrieving and refilling a bladder much easier than with flimsier packs, where considerable stuffing can be required.
The light weight combined with the structure and padding may also make this an option for backcountry snow sports, depending on gear, and its easy-to-wear design even led one tester to use the padded reservoir space for a laptop, making this an excellent commuter pack. Materials are tough and durable, and mostly non-abrasive, though wearing a T-shirt is going to work better than a tank top, where we noticed some chafing on exposed skin during a particularly long, hot walk.
While the model is unisex, easy-sliding sternum straps and another set of adjustable straps at the hips dial in the fit. That said, if you're petite or have a shorter torso, consider trying this one on before buying to ensure you can get the fit you want. Well-suited for day hiking, hut-to-hut trips, backcountry snow sports, commuting.
Read our full Camelbak Octane 18 Hydration Pack review
A roomy pack for all-day trail adventures
Specifications
Weight (empty):
662g / 1lb 7.4oz
Hydration capacity:
2.5L (reservoir included)
Colors:
Mystic Red / Deep Blue / Black
Reasons to buy
+
Highly adjustable
+
Excellent back panel and comfortable shoulder straps
+
Well-balanced load management
Reasons to avoid
-
No front or waistbelt pockets
-
Dual-entry side pockets lose contents
The Osprey Skarab 22 fuses modern style and materials with a classic rucksack design featuring an easy-access, wide-mouth, bucket-style storage area, a zippered slash pocket on top and two stretchy, open-air side pockets.
It's ideal for carrying just-what-you-need gear for multi-hour hiking adventures, whether that's extra clothes, camera equipment or a picnic lunch. The adjustable strap system is highly effective in adapting to different hiker shapes, sizes and personal preferences. The dedicated hydration reservoir compartment keeps 2.5L of liquid securely stored, while elastic tube management loops on the pack's front straps make drinking easily accessible on either side.
The dual-entry side pockets are enhanced with a stretchy fabric that allows bigger items (such as a waterproof jacket) to be packed down and snugly stored. However, because the side pockets have a side entry opening, it's harder to store smaller items (such as a mobile phone or a pair of gloves) because there is the chance something could slip out. The scratch-free upper pocket is ideal for more delicate and important items such as a mobile phone, a wallet or keys.
One of the best aspects is the open-mesh, foam AirScape back panel that not only keeps sweat to a minimum, but it also provides insulation for the hydration reservoir. We appreciated the attachment loops for trekking poles on the back of the pack, but we would have loved easy-access waist-belt pockets that could allow retrieval of key items (sun block, snacks or a mobile phone) without having to take off the pack.
The best large running backpacks
This body-hugging, lightweight design provides tons of gear storage for when you want to move light and fast
Specifications
RRP:
$130 (US) / £100 (UK)
Weight (empty):
300g / 10.6oz
Reasons to buy
+
Super light
+
Body hugging design stays in place
+
Fully waterproof
+
Loads of storage
+
Pole attachments
+
Hydration bladder compatible
Reasons to avoid
-
Too many dangling straps
-
Unnecessarily complicated
-
Hydration bladder slot is too small
-
Shoulder straps may not fit flush (multiple sizes may be needed)
-
Shoulder strap pockets not large enough for all phones
The Trailblazer combines ultralight weight with a body-hugging design, meaning you can run far and fast without your gear bouncing around or slowing you down. Montane has cut way down your typical zips and buckles to get its pack weight down to just 300g, and in their place has used innovative (if initially complicated) solutions for adjusting the carrying straps and sealing pockets.
The roll-top opening makes way for 20 liters of space within the main body that is complemented by four extra pockets. Once you fit it to your body, it stays in place even on technical trails, and the mesh backing and straps don't get you overly sweaty on hot, humid days.
The bungee cord design works as both compression, to keep you more aerodynamic, and also holds extra gear along with pole attachments in the shoulder straps for those of you who run with poles. This lightweight and comfortable running backpack is competitively priced compared to other running backpacks we've tested, and features an innovative – if a little complicated – design that you'll like once you get the hang of.
Read our full Montane Trailblazer LT 20 running backpack review
A versatile, well-considered daypack with plenty of storage and features to take you from the hills into more technical terrain
Specifications
Weight (empty):
978g / 2.1lb
Hydration capacity:
30L (tested)
Other variations available:
20L
Compatibility:
Daywalks in all conditions and across all sorts of terrain
Reasons to buy
+
Tough
+
Versatile
+
Sustainably made
+
Plenty of pockets
Reasons to avoid
-
Sizes slightly small, internal capacity a little less than 30L
-
Only one harness size (although it's very adaptable)
A design-savvy Swiss-brand, Exped has established itself as a firm favorite with outdoor types, with an army of loyal fans who rave about their kit – everything from trusted daypacks to flock-lined sleeping mats and pop-colored dry bags.
True to form, the Exped Impulse 30 backpack is a tough, multi-functional beast of a backpack. Made from a durable 210 Denier material, this daypack will withstand the toughest abrasion when scrambling through the mountains, but equally be at home when you're out and about on the hills, thanks to its versatile system.
There are a number of adaptable features, from a removable back plate, to detachable hip belts for those who prefer to keep their adventures fast and light. There are several well-considered technical features, from an inside mesh pocket to zipped pockets on the hip fins, which shows Exped really understand what runners, fastpackers, hikers (and bikers and climbers) want from their packs: space to organize their kit and plenty of pockets.
The internal mesh pouch is for holding a hydration bladder, plus there's a clip to keep the reservoir in an upwards position. In addition, two mesh side pockets make it easy to stow away everything from drinks bottles to walking poles, making it the perfect practical pack for a multitude of activities.
What's more, the pack has some of the greenest credentials of those on test, with the Oeko-Tex Standard 100 certification, meaning every component has been checked to make sure the materials are not harmful to human health, while also being certified as PFC-free. For those who want a backpack that can adapt to a range of mountainous and hill activities – this pack is perfect.
An unfussy but extremely capable pack for single-day adventures in all sorts of terrain
Specifications
Weight (empty):
925g / 33oz
Variations available:
24L (women's) / 25L / 30L (women's) / 32L
Harness sizes:
Male / Female
Compatibility:
Daywalks in all conditions and across all sorts of terrain
Colors:
Black / Astro Blue (men's) / Wakame Green (women's)
Reasons to buy
+
Recycled materials used
+
Simple, effective design
+
Well featured and versatile
+
Lifetime guarantee
Reasons to avoid
-
No rain cover
-
Only available in dark colors
Not every trip into the outdoors is an Alpine epic, and many backpacks are made overly complicated with fussy features and endless straps that most people will never use. Not so the Montane Azote 32, which is brilliantly designed to deliver everything you need for everyday escapades, as well as some extra capability for peak-grabbing adventures (including a pole and axe attachment), but with a clean look and more minimalist finish. Note: this is the largest in a range that includes a 30L pack with a women-specific harness, and two smaller models for warmer/shorter/faster days out, when you don't need so much stuff.
On all Azote packs, the main harness is constructed with breathable mesh, with a foam frame behind it to minimize contact with your lower back, which significantly reduces sweating. The packs feature the ZephyrAD back system, which is fully adjustable. The waist belt has hip fins that sit comfortably where they are meant to (with a female-specific design on the 24l and 30L packs), which are endowed with decent pockets.
The pack's adjustable sternum strap has a Click-and-Go system, so you can operate it with one hand (even with gloves on). If you need to stash wet gear, or keep a sheet map/extra layer handy, there is a large, mesh sleeve pocket on the front. A pair of side pockets swallow water bottles (cleverly placed at an angle, so you can actually reach them while wearing the pack, without dislocating your shoulder). In addition, there is a sleeve for taking a hydration bladder. There are a couple of compression straps on either side of the pack, with one stretching around the side pockets to secure the contents in place.
Impressively, the Azote is mostly made from recycled fabric (the main section is constructed with RAPTOR Eco 100 denier Robic Nylon – 78 per cent recycled), which is both durable and lightweight. One downside is a lack of an integrated rain cover.
A pocket-rich running and hiking pack with an exceptional hydration system and storage management
Specifications
Weight (empty):
916g / 2lb
Hydration capacity:
3L hydration reservoir (included)
Colors:
Reflex Blue / Vivid Red / Ozone Black
Reasons to buy
+
Easy to fill hydration system
+
Wide range of pockets
+
Ventilated suspension system
Reasons to avoid
-
Pack can feel heavy with 3L of water
-
No easy-access front pockets
This smartly designed day pack can carry all of the gear you need on your multi-hour or overnight adventures, but it distributes the weight of your cargo evenly and keeps sweat at bay with a ventilated suspension system, moisture-wicking mesh and minimalist alloy frame that promotes air flow.
We loved this pack for on our wear-testing excursions in Colorado, especially because the ever-changing weather conditions forced us to continually remove or add layers of clothing. The Citro 24 H20 is easy to get on and off and a breeze to wear on long days.
The well-organized storage system includes a large main compartment and a zippered interior security pocket with a key clip, one large external pouch, two large mesh side pockets, two zippered waist-belt pockets and a zipper slash pocket on top with a dedicated sunglasses compartment. No matter how big or obtuse a load you're carrying, it can be snugged down with a series of clipped straps and cinch cords, which include dedicated trekking pole storage loops.
But as much as we think this one of the best running backpacks, our favorite part of this outfit is the 3D hydration bladder and the dedicated hydration sleeve and hanger that provides for simple, one-handed, snap-and-go fillings and attachment/removal. It's by far the best hydration reservoir system we tested.
The Citro 24 H20 is ideal for long runs and traditional hiking endeavors, but it's also optimal for peak-bagging adventures, minimalist bivouac outings and hut-to-hut trekking excursions.
Read our full Gregory Citro 24 H2O review
The best compact running backpacks
A nimble and wonderfully wearable little running pack
Specifications
Weight (empty):
312g / 11oz
Hydration capacity:
2L hydration bladder (included)
Colors:
Sangria / Magenta Purple / Sky Blue
Reasons to buy
+
Nimble and agile
+
Gender-specific fit
Reasons to avoid
-
Hydration tube is extremely long and fiddly
-
Not much storage space
This nimble, super-comfortable vest is a gem at a (economical) price. While space is limited as compared to others on this list, there's sufficient storage for a day adventure's requirements, such as raincoat or windbreaker, snacks and other essentials. We particularly liked the simple, convenient way that storage is arranged, with two deep, zippered pockets in the back plus three easy-to-access stretchy pockets up front for an easy-grab of your phone, gels or sunscreen. If you're more a stuffer than an organizer, then having fewer, bigger pockets works better than loads of little ones.
Hydration is well-served by a 2L bladder, and a drinking tube secured up front with a sternum clip. There was some fussing with the tube to find the best placement for it so the hose didn't rub against a shoulder or arm while making sure the nozzle didn't flop down against the abdomen. An option would be to cut the tube once you know best length, but I found a way to secure it underneath the sternum straps that worked just fine.
If you're not a bladder fan, you can sink an 18 oz bottle (not included) into a pocket up front.
A gender-specific design helps dial in fit, but that said, our male and female testers both tested the male version, and found it could be quite easily adjusted to suit them both. However, if you're a woman who's either large-chested or more petite in stature, consider seeking out the female version for a more nuanced fit.
Hikers and trail runners will appreciate the elastic holders for stowing poles. Overall, the Nathan Trail-Mix 7L is well-suited to trail running, day hiking and scrambling.
Read our full Nathan Trail Mix 7L review
An all-rounder aimed at fast-and-light activities in the mountains
Specifications
Gender specificity:
Unisex
Weight (empty):
350g / 12.3oz
Hydration capacity:
Large bladder (not included) and pockets for bottles (not included)
Colors:
Black / Green Curry & Moss / Ruby & Maron / Papaya & Navy / Dust blue & Arctic / Chili & Lava
Reasons to buy
+
Great range of colors
+
Simple style
+
Versatile uses
Reasons to avoid
-
Only one size
-
Thin waist-belt
-
Moves about when running
-
Bladder not included
Popular pack makers Deuter aim the Speed Lite 12 pack at people who want to go "fast and light on the mountain," describing it as an, "ultralight all-rounder and dynamic companion on day tours and for many other athletic uses".
The pack has easily adjustable shoulder straps (a bonus, because it only comes in one size) and a narrow waist belt that was a tad too thin for our tester's liking. The athletic V-shape of the pack provides good freedom of movement and optimal distribution of load weight, and the comfort levels are good, thanks to ergonomically shaped shoulder pads made from highly breathable AirMesh.
The pack is hydration system compatible – but doesn't come with a bladder – and has stretch side pockets for additional water bottles, or for holding energy bars. The 12-liter storage capacity of this pack is good for a variety of uses (ultra runs, fastpacking adventures, day hikes and bike rides) and Deuter has added different loops to the pack for a variety of purposes; there's one for carrying a helmet; another on the shoulder strap for stashing sunglasses; and one at the rear for a safety light.
Other details include 3M reflectors; reinforced zipper loops that can be used with gloves; an SOS label; and a compartment for wet laundry (although we think this would be more useful for carrying a phone).
Read our full Deuter Speed Lite 12 review
Best women's running backpacks
The solid, functional, classic design makes this one of the best running packs for women
Specifications
Weight (empty):
758g / 1lb 10.7oz
Hydration capacity:
2.5L reservoir (included)
Colors:
Sapphire Blue / Plum Red
Reasons to buy
+
Easy to fill reservoir
+
Designed for women's body shape
+
Copious storage space
Reasons to avoid
-
Hydration sleeve narrow
-
No easy-access pockets
-
Pack feels heavy when full
A classic design never goes out of style. This spacious, no-nonsense pack – while heavier than some we tested – is a good option for adventurers seeking a happy medium between chunky external-frame packs and completely structureless ones.
A padded frame sheet combined with a wide-mouth top makes super-easy to pack and retrieve gear with this bag. Also, when zippered up, the top of the pack lies flat and seamless, which we found helped keep contents dry in (light) rain, without the need to stop and add a fly.
The model is female-specific, with narrower cuts to the shoulder and hip straps to better suit a female shape, and we found this helped mitigate movement/friction as well as allowed us to better balance and manage heavy loads.
A slender compartment in the back keeps your hydration system separate from the rest of your gear, and is fairly easy to access, though the sleeve is quite narrow so consider sliding the filled bladder in first, before filling the rest of the pack. The reservoir itself is made of a super-thin and light material, and has a neat sliding closer at the top that is much easier to open for refilling than other bladder designs we've tried.
Storage is ample with a variety of roomy pockets for gear, food and other essentials, but not as accessible as we'd have liked – other than the zippered pockets at the hip, you pretty much have to take off the pack in order to access your stuff.
Trekking poles and an ice axe can be stowed in loops up front and easily retrieved as needed. It's well-suited for long days running or hiking in the hills, for fastpacking and hut-to-hut adventures, and even backcountry snow sports. (A similar men's version of this pack is the Osprey Skarab 30).
Read our full Osprey Skimmer 28 review
A daypack with an edge when it comes to stabilization and comfort, all in a lightweight, durable package
Specifications
Compatibility:
Day hiking, scrambling
Reasons to buy
+
Great stabilizing frame in a lightweight pack
+
Quick drying back panel
+
Good volume to weight ratio
Reasons to avoid
-
Sternum strap lacks elastic adjustability
-
Shoulder straps could be softer
The Hydra 26 features best-in-class load lifters, a real boon for a pack as light as this. Usually, stability is the first aspect sacrificed when reducing material weight, but TNF pulls off the trick with great success.
The shoulder straps can feel scratchy and the sternum strap features old-school nylon straps, but the pack fits well once adjusted to suit the wearer. Weight distribution into the hips spares your shoulders and keeps the pack snug without endless fiddling and adjustments.
Because of the streamlined, no-frills design, the pack features are standard-issue. This isn't a bad thing, it just means that the standout feature is the comfort of the steel frame rather than the pocket layout or exterior strap setup. The waist belt does feature a nice map/snack pocket with wide zipper pulls, an intuitive touch that's worth the slight weight penalty on an otherwise ultra-light pack.
Read our full North Face Women's Hydra 26 review
How we test running backpacks
Our reviewers trail-tested these packs in the hills and mountains of Colorado, the Scottish Highlands, and Dartmoor and Exmoor in southern England, on adventures ranging from long training runs to multi-day fastpacking forays.
Swipe to scroll horizontally
The best running backpacks comparison table

| | | | |
| --- | --- | --- | --- |
| Backpack | RRP | Weight | Gear capacity |
| Montane Trailblazer LT 20 | $130 (US) / £100 (UK) | 300g / 10.6oz | 20L |
| Camelbak Octane 18 | $125 (US) / £100 (UK) | 398g / 14oz | 16L |
| Osprey Skarab 22 | $100 (US) / £75 (UK) | 662g / 1lb 7.4oz | 22L |
| Exped Impulse 30L | $153 (US) / £115 (UK) | 978g / 2.1lb | 30L |
| Montane Azote 32 | $135 (US) / £110 (UK) | 925g / 33oz | 32L |
| Gregory Citro 24 H20 | $140 (US) / £115 (UK) | 916g / 2lb | 24L |
| Nathan Trail-Mix 7L | $100 (US) / £85 (UK) | 312g / 11oz | 7L |
| Deuter Speed Lite 12 | $45 (US) / £47 (UK) | 350g / 12.3oz | 12L |
| Osprey Skimmer 28 (women's) | $130 (US) / £90 (UK) | 758g / 1lb 10.7oz | 28L |
| The North Face Women's Hydra 26 Daypack | $149.95 (US) / £109 (UK) | 30oz / 850g | 26L |
How to choose a running backpack
While hydration vests focus overwhelmingly on carrying water – making the space for other items very limited – the best running packs are more like daypacks, offering much more capacity, ranging from around 4L to 30L. So there are a range of volumes to consider, as well as a myriad of features:
Size
How long you will be out for, and whether you are running or fastpacking, will dictate the size of the best running backpack for you. In addition, if you plan to take part in trail running races and events, you are likely to require a pack that fits all your essential kit. It will also depend on the seasons: in summer you will require less spare clothing compared to winter. A training session or adventure of around a day will usually require four to 10 liters of volume.
Fit
The aim of a running pack is to have a snug fit. The best running backpacks sit high on your back and shoulders and should not move around too much. It is important that the main part of the harness fits you comfortably on the shoulders but not too tightly because you want your arms to be able to move freely.
Check that you can also adjust chest straps to give a neat fit. Women should make sure the chest straps suit their chest size. Most straps can be moved up and down as well as tightened to give a comfortable fit.
Materials
The best running backpacks should be made of robust materials to withstand the abrasion of repetitive use on the trails. Some have a water repellent treatment or they are made of waterproof fabrics. Packs with a lightweight mesh back and a bit of padding make a good choice
Pockets
Some people love lots of pockets and others prefer a simpler system. It's a matter of opinion. However, it is undeniably useful to have some zipped pockets so you can ensure that valuables don't get lost as you run, and pouches and pockets on the harness for storing snacks, a headlamp and a mobile phone are a real bonus (see our guide to the best headlamps for some good options).
Other considerations
Some clips and adjustors can be fiddly on running packs, so you should check that you can use them easily. Think about how it will be with cold hands or your best hiking gloves. If you are long-sighted, it is not always so easy to clip the chest straps because they can seem to be too close to your eyes to focus.
A bungee compression strap on the outside of the pack is useful for carrying extra clothing that you might need in a hurry.
A whistle is usually on the essential race kit list so check if the pack has one of these, too. Sometimes a zipper will double as a whistle.
Most of the best running backpacks have elastic straps for carrying poles when you are not using them. Try this system to see if it suits you because some people prefer to carry them at the rear, while others at the side.
Small pockets for stashing gels, snacks and bits and pieces are really useful, especially if you can reach them while the pack is still on.
All the latest inspiration, tips and guides to help you plan your next Advnture!
Author of Caving, Canyoning, Coasteering…, a recently released book about all kinds of outdoor adventures around Britain, Pat has spent 20 years pursuing stories involving boots, bikes, boats, beers and bruises. En route he's canoed Canada's Yukon River, climbed Mont Blanc and Kilimanjaro, skied and mountain biked through the Norwegian Alps, run an ultra across the roof of Mauritius, and set short-lived records for trail-running Australia's highest peaks and New Zealand's Great Walks. He's authored walking guides to Devon and Dorset, and once wrote a whole book about Toilets for Lonely Planet. Follow Pat's escapades on Strava here and instagram here.