A versatile shoe for everyday wear that is also practical for traveling and for exploring streets and trails.
Pros
+

Comfortable

+

Great design

+

Versatile

+

Significant amount of recycled material used in construction

+

Ethically made
On Cloudaway: first impressions
The On Cloudaway – a fantastically funky looking and comfortable new hybrid shoe from the Swiss brand – is a great choice if you're looking for versatile footwear to take you from street to trail. It will most likely appeal to people who do a lot of walking in general life anyway, or while traveling, and need a something that can double as a low intensity hiking shoe (for treks not far up the hiking trail difficulty rating, for sure).
The shoe looks smart enough to be worn in the office or to the pub, but also offers a practical solution for getting out and about, exploring in towns and cities and for casual wear.
The mesh upper is engineered from 85% recycled content and there is a 10% recycled content to the rubber sole, so the environmental creds are good too. (For more green choices see best eco-friendly outdoor brands.)
Specifications
• RRP: RRP: $140 (US) / £130 (UK)
• Materials: Polyester upper (80% recycled) / Rubber outsole (10% recycled)
• Weight (average, per shoe): Men's 280g / 10oz Women's 233g / 8.2oz
• Heel-to-toe drop: 8mm
• Colors: Men's Bronze / Black / Ink Women's Black / Ice / Almond
• Compatibility: Everyday casual wear, traveling and trails
On Cloudaway: in action
There's no ignoring these shoes – the On Cloudaway has a very distinctive look, with a cloud-shaped sole (clue in the name). The shoe genuinely offers great cushioning and this makes Cloudaways easy to like.
A word of warning about those big fluffy soles, however: they sometimes pick up stones because of the shape of the clouds. However, the brand has designed the sole of the Cloudaways with the aim of minimising this issue.
The elastic and toggle lacing system allows you to get a good fit and the shoe is of average width. I found that it fits a little short, though, so it might be worth going up half a size.
The heel cup is also roomy and has quite a high ankle, which won't suit everyone. I have found that the shoe becomes more comfortable after a couple of wears.
There are some nice details, such as the look of the oversized stitching that connects the mesh upper to a vegan suede mudguard. On state that this: "merges adventure-ready durability and street-ready style".
Also, there is a 3D map on the sole of the footwear that is inspired by the home of the company in the Engadin Valley. Whether you will ever look at the sole after the first glance as they come out of the box is, of course, debatable.
There are three colorways to choose from in male and female fit. I recommend you avoid the ice white. It gets dirty very quickly. The best choice is probably black or ink blue.
The shoe is ideal for everyday use, such as when walking the dog, walking to the office or while travelling. The sole is also suitable for trails and paths, especially if they are dry. These are not specifically hill hiking shoes and they might struggle for traction in the wet, or mud, or on steep slopes.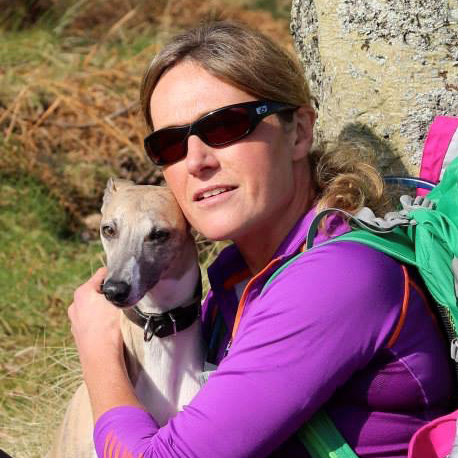 Fiona Russell is a widely published adventure journalist and blogger, better known as Fiona Outdoors. She is based in Scotland and is an all-round outdoors enthusiast with favorite activities including trail running, mountain walking, mountain biking, road cycling, triathlon and skiing (both downhill and backcountry). Aside from her own adventures, Fiona's biggest aim is to inspire others to enjoy getting outside and exploring, especially through her writing. She is also rarely seen without a running skort! Find out more at Fiona Outdoors.