The best eco-friendly outdoor brands: what you can buy to have a positive effect on the planet
If you're a consumer, you're an influencer. Selecting gear from a brand that prioritizes environmentally sustainable and ethical practices is a power move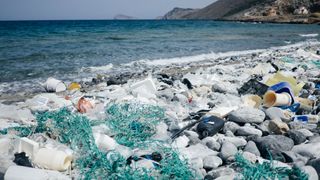 (Image credit: Getty)
It can be hard to square a love of the great outdoors with the negative impact that regularly buying new clothing and kit can have on the environment. It's a conundrum: as adventure-sport and outdoor-pursuit enthusiasts, we want to spend time in the wilderness, but as a result, many of us have a larger-than-average negative impact on the environment.
A 2018 report by Pamela Wicker entitled The Carbon Footprint of Active Sport Participants found that outdoor enthusiasts have a 40 percent bigger carbon footprint from practicing their sports than athletes from other individual sports, and the difference is even bigger when compared to team sports.
Yet it doesn't have to be this way. Some of that footprint comes from travel (and we can all explore more locally, as the recent pandemic has taught us), but a lot of it stems from the amount and type of kit we purchase. We all talk a good game when it comes to sustainability and good practice, but there's always more we can do. And it is completely within our gift to put our money where our mouths are when it comes to buying from brands that put ethics and the environment at the forefront of their business plans.
But how can you tell a good brand with a genuine passion for sustainability from a group of greenwashing opportunists, and where do you start with your decision-making process when it comes to replacing your favorite waterproof jacket, backpack, boots or hiking pants?
Think about what you really need
Considering the textile industry produces 10 percent of the planet's emissions, the most ethical practice of all is really to avoid buying anything new, and looking after your old gear well so that it doesn't need replacing as often.
Some brands repeatedly release multiple versions of kit, claiming minor tweaks or new colorways are major upgrades, but if your existing gear is still doing the job it was designed to do, stick with it. Often a technical item such as a jacket, sleeping bag or hiking boot can be both cleaned up and re-waterproofed with the application of an environmentally friendly aftercare treatment, such as the ones offered (in recycled plastic bottles) by Nikwax.
Also, investigate whether it's possible to get little faults repaired – some responsible brands will replace zips or resole footwear for a much cheaper price than it would cost you to buy a new version of whatever it is you're using. Others – including Páramo – accept preloved clothing and footwear back, so it can be recycled into new gear.
When you do need to buy something new, favor brands that offer repair and recycling services – not only is it a smart economic decision, it will also mean less stuff ending up in a landfill.
Outdoor kit is one area where it's definitely a good idea to buy once and buy well; to invest in good-quality, reliable and element-proof clothing and equipment that will last for many years and multiple adventures to come.
Do your research and choose wisely
So, what else makes a brand eco-friendly? There's no single definition, and companies can take a wide range of approaches, from making 100% recycled clothing and using plastic-free packaging to donating to environmental charities, or even just offering to repair, restore or recycle used items of their clothing.
There are recognized ways a brand can fly the sustainability flag, such as by joining 1% For The Planet which involves giving 1% of gross profits to non-profit organizations (brand members include Patagonia and Klean Kanteen) or joining the B Corporation movement (bcorporation.uk) by committing to meet set standards of environmental performance, public transparency and legal accountability (B Corps include Alpkit, Allbirds, Picture Organic Clothing and Finisterre). You can also look out for clothing with the Bluesign emblem, which is awarded to sustainably produced fabrics.
Some brands do elements of the above, and then add a whole lot of messaging into the mix. Patagonia – longstanding advocates of a more sustainable ethos across the outdoor industry – are running ads right now, as we write this, saying: "When you need something (and you always will): buy used. Repair what you wear out. Demand recycled. Demand Fair Trade. Demand organic. You have the power to change the way clothes are made."
Transparency is a great sign that a company is ethically sound. Alpkit, for example, published their first Sustainability Report, this year, laying out their environmental achievements as well as setting new goals, such as doubling their use of recycled materials and reducing waste.
Cornish brand Finisterre has always taken sustainability seriously (their motto is 'Product. Environment. People'), and there's plentiful information about everything from their factory conditions to their fabrics on the Finisterre website – an example other brands could follow to make their businesses more transparent to customers. They have committed to achieving zero waste by 2030 and have made their roadmap to reaching this goal public.
Under their 'sheep to shelf' policy, Finisterre are completely transparent about where their merino wool comes from. You can trace it to Australian farms with the highest animal welfare standards, and more recently, their Bowmont Project has brought merino wool production back to Britain, creating a sustainable, local supply chain, starting with sheep grazing on hills in Devon and garments being knitted in Manchester.
Look at the label
It's a good idea to get clued up on what exactly goes into your clothes and outdoor kit before you buy anything new.
Most keen hikers and climbers own a trusty down jacket – but sourcing down feathers from ducks and geese can involve animal cruelty. Some brands offer high-performing synthetic versions of down, or meet the Responsible Down Standard (RDS), which aims to ensure that down and feathers come from animals that have not been subjected to any unnecessary harm. It's best to avoid cheap down, or any brand that doesn't explain where they source down from.
And have you ever heard of fluorocarbons? Sometimes referred to as perfluorocarbons or PFCs, they're a chemical compound that's very good for making your waterproof jacket resistant to dirt and rain – but very bad for nature, as they ultimately leach out of the fabric and into the environment, where they will never break down and can enter into the food chain.
Many outdoor brands still rely on PFCs to waterproof their kit. There are exceptions, though – Páramo and Jack Wolfskin both guarantee their clothing is PFC-free, and Alpkit and Finisterre have recently released excellent waterproof jackets with a fluorocarbon-free (FC-Free) durable water repellent (DWR) finish.
There's space for a lot of innovation when it comes to making outdoor-ready materials from natural, compostable, ethical and eco-friendly materials. Swedish brand Fjallraven for example, use surplus wool as a warm insulating alternative to down, and waterproof their winter clothing with Greenland Wax, which is made from just two ingredients. Picture Organic Clothing, makers of great ski and snowboard wear, are committed to using organic and plant-based materials including fibers left over from sugar cane production in their attempt to remove fossil fuels from their business model.
The information on a label can also tell you more than simply what the ingredients of an item is. Recently, the company LifeStraw (which produces water bottles and water purification products, including many models designed for outdoor adventures) has successfully passed all the tests required for them to display the coveted 'Climate Neutral Certified' label on their products and packaging.
Recycled plastics
Many brands are getting creative with environmentally-friendly offerings, using recycled materials including 'ghost' fishing nets and plastics recovered from the ocean to make your next poly-based garment, whether that's a technical shell jacket, a base layer or a bikini.
Econyl yarn is one such example. Made from regenerated Nylon, recovered in part from marine waste and discarded fishing nets, Econyl is used by outdoor brands including Adidas (in items ranging from swimwear to shoes, made as part of their five-year partnership with Parley), Davy J (who produce British-made swimwear for women using recycled materials) and Finisterre, who use the yarn across their range, including in their wide selection of swim shorts for men (and they are currently working on a prototype of a recyclable wetsuit).
In June 2020, Swiss brand Mammut pioneered a project called Close the Loop, collecting climbing rope (which can only be safely used for around five years, before it's typically thrown away) at 50 collection points in Switzerland (climbers also had the option to use a free shipping service), which was first turned into Econyl yarn, and then T-shirts.
Climbers responded well to the project, and within three months Mammut had collected 748kg of rope. They are now exploring the viability of expanding the project, and have calculated that if they're able to entirely replace standard nylon with Econyl, up to 6,800 tons of CO2 could be saved by 2030.
These solutions are positive, but not perfect. It's well known that garments made from recycled plastic are prone to shed microfibers when washed, which end up in the water system and spread across the natural environment, including entering the food chain. Of course, this happens with non-recycled poly-based clothes too, so it's still better to buy recycled when possible.
Research into how the release of microfibers can be limited or eradicated is one of the industry's next big challenges, but there are ways you can improve your laundry habits to cut down on the amount of microfibres you personally are releasing when you wash your adventure kit, including the use of washing machine filters, such as the one invented by PlanetCare, which catches 90% of released plastic fibers.
And it's not just clothes that are now being constructed from recycled plastics. In 2020, in a partnership with the National Trust, camping company Vango announced a whole range of tents with flysheets and inners made with Sentinel Eco fabric, which is spun from reclaimed and repurposed PET plastic bottles, rescued from the seas, waterways, streets and landfills of China. The biggest tent in the range utilizes 301 recycled bottles.
Packaging
When you're weighing up what to buy and from what brand, also consider the company's policy towards packaging. There isn't much point going the extra mile to ensure that the boots or garments you're purchasing are as green as can be, only for them to be delivered covered in single-use plastic. Fortunately, most brands working in the outdoor industry are well aware of this issue these days, and will use recycled or compostable packaging, but if you're disappointed by a company's approach, let them know all about it.
Best intentions
There will always be a few outdoor brands practicing the dark art of 'greenwashing' (putting a positive PR spin on what are actually very limited – or downright dubious – environmentally-friendly practices), but the good news is that the internet makes it easy to read up on how green any given company actually is. And supporting a brand that's making any foray into ethical practices, big or small, is always a good idea.
We consumers have the power for change in our pockets. After all, if we all purchased eco-friendly items every time we needed to replace our kit, that's all the outdoor market would offer – and that would be a win-win for people and for the planet.
All the latest inspiration, tips and guides to help you plan your next Advnture!
An award-winning travel and outdoors journalist, presenter and blogger, Sian regularly writes for The Independent, Evening Standard, BBC Countryfile, Coast, Outdoor Enthusiast and Sunday Times Travel. Life as a hiking, camping, wild-swimming adventure-writer has taken her around the world, exploring Bolivian jungles, kayaking in Greenland, diving with turtles in Australia, climbing mountains in Africa and, in Thailand, learning the hard way that peeing on a jellyfish sting doesn't help. Her blog, thegirloutdoors.co.uk, champions accessible adventures.