Types of crampon: our guide to these essential pieces of mountaineering kit
We get to grips with the different types of crampon and which boots they fit, from microspikes for flat, snowy ambles to technical beasts designed for challenging ice climbs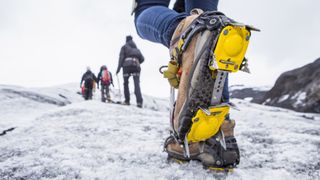 (Image credit: Getty)
There are three different types of crampon – C1s, C2s and C3s – allowing mountaineers and winter walkers to tackle everything from winter ambles and easy snow slopes to beyond-vertical ice walls and 8000-meter peaks. Knowing which one is which and what boots you can wear with them can be a bit dizzying, which is why we are here to make things as clear as ice.
Crampons are, at the fundamental level, robust frames armed with metal spikes that attach to your boots, giving you the kind of ironclad grip that allows you to venture out onto snowy and icy terrain with confidence. The first modern crampon was designed in 1908 by English climbing pioneer Oscar Eckenstein and brought to market by the Italian Grivel family, a name synonymous with quality mountaineering tools and equipment to this day. The invention of crampons enabled the great mountaineering conquests of the 20th century and brands continue to innovate and evolve their design to this day. There are types of crampon for every kind of ascent.
However, you can't attach crampons to that many of the best hiking boots. Only footwear rated to take crampons, namely 3-4 season boots, winter hiking boots and mountaineering boots, are compatible. Even then, if you've got a shiny new pair of winter boots, they won't necessarily be compatible with all types of crampon. See the table below for a brief guide to what can go with what and read on to find out more about the uses and features of each type of crampon.
Swipe to scroll horizontally
Which crampons are compatible with which boots?

| | | |
| --- | --- | --- |
| Type of crampon | Best use | Compatible boots |
| C1 | Winter walking and glacier hiking | B1, B2, B3 |
| C2 | Winter mountaineering and alpinism | B2, B3 |
| C3 | Ice climbing and high altitude mountaineering | B3 |
Although performing a similar role, microspikes are not considered to be crampons, however we include them in this guide so that you can decide if they suit your purposes better. Microspikes are made up of chains, small spikes and a rubber frame, which is slipped over your hiking shoes or boots to give you extra traction – check out our guide to yaktrax vs microspikes for more information.
Types of crampon: what are the features of a standard crampon?
Generally, a crampon will have its array of spikes, usually between 10 and 14 depending on use; a heel clip that allows it to lock onto a boot's heel welt, which is a pronounced ledge on the back of the boot; an adjustable toe basket that goes over the front; a flex bar that allows the length of the crampon to be adjusted according to size; and a tether or strap to ensure a secure connection with the boot and keep everything tight and compact.

Most crampons feature anti-balling or antibott plates. These are fitted to the underside of the crampon and stop snow from building up underneath, which could add unwanted weight to your feet and reduce, or even eradicate, the amount of spike making contact with the terrain.
Types of boot
Boots that are compatible with crampons are given a B rating from 1 to 3. B1s are usually 3-4 season boots, featuring a stiffened midsole with a half or three-quarter length shank.
The best winter boots are usually B2s, which are more rigid and usually heavier, designed for winter mountaineering and alpinism. They feature a fully stiffened midsole with a full-length shank and a heel welt for the secure attachment of C2 crampons.
Finally, a B3 is the kind of thing you see people going up Everest in, like something you'd expect a spaceman to wear. They're true mountaineering boots, designed for expeditions to high altitude and technical ice climbing, featuring a full-length shank, a heel welt and a toe welt to accommodate a C3 crampon. They are usually too rigid to walk comfortably below the snowline, so you don't usually see them in the pubs, bars and restaurants down in the valley.
Types of crampon: C1s
C1s are designed primarily with winter walking and glacier hiking in mind and are not suitable for winter climbing or alpinism. They usually have 10 points and they're less aggressive than the spikes found on their C2 and C3 counterparts. The heel unit and toe unit are connected by a flex bar that allows you to adjust the overall length. This makes a C1 highly compatible, fitting the whole spectrum of B1, B2 and B3 boots. To secure everything together, the tether is threaded through the toe basket, connected to a heel cradle and pulled tight to create a secure binding.
Types of crampon: C2s
C2s are designed with winter mountaineering and alpinism on the agenda, though they're not quite rigid or aggressive enough to take on technical ice climbs or Himalayan giants. Like a C1, a secure binding is achieved by threading the tether between the toe basket and the heel, though this time the it features a lever or clip to attach to a boot's heel welt. The spikes are more aggressive and there's usually 12 of them, giving you enhanced grip. Again, the flex bar gives you flexibility to adjust the size, which makes them compatible with B2s and B3s.
Types of crampon: C3s
C3s are designed for the toughest mountain routes: high altitude mountaineering in the Greater Ranges and vertical – and beyond – ice climbs. Rather than the strap-on tether seen on C1s and C2s, C3s are step-in crampons that feature both a toe clip and a heel clip for attaching to B3 boots. There's no flex bar, which increases rigidity but reduces compatibility. This combined with up to 14 aggressive, often serrated, points gives top-end performance on ice or mixed routes. C3s are only compatible with B3 boots.
What about microspikes?
If what you're after is additional traction on relatively flat icy terrain, microspikes are probably the answer. A combo of crampons and winter boots can be eye-wateringly expensive, which is easier to swallow if you're a passionate mountaineer but a bit hard to take if all you want to do is go for some pleasant snowy walks or even wintery runs on the flat.
The 'micro' spikes live up to their name: usually between ¼ and ½ an inch long. This gives you decent grip as long as you don't hit any slopes. As well as being cheaper, microspikes have the added benefits of being lighter and more portable. Best of all, their flexible rubber frame allows you to fit them to pretty much any piece of footwear, from your summer hiking boots to your trail running shoes.
All the latest inspiration, tips and guides to help you plan your next Advnture!
Alex is a freelance adventure writer and mountain leader with an insatiable passion for the mountains. A Cumbrian born and bred, his native English Lake District has a special place in his heart, though he is at least equally happy in North Wales, the Scottish Highlands or the European Alps. Through his hiking, mountaineering, climbing and trail running adventures, Alex aims to inspire others to get outdoors. He is currently President of the London Mountaineering Club, training to become a winter mountain leader, looking to finally finish bagging all the Wainwright fells of the Lake District and hoping to scale more Alpine 4000ers when circumstances allow. Find out more at www.alexfoxfield.com