What is alpinism?
What is alpinism? And is it the same as mountaineering? We take a look at the traditional fast and light approach to climbing mountains.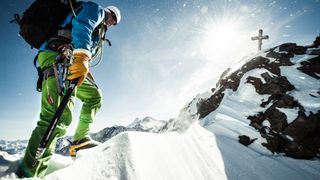 (Image credit: Getty Images)
If you spent the weekend catching up on some of the best climbing films or better yet, you've been roaming around on actual mountains with other foolhardy folks recently, you may have come across the term alpinism to describe some of the most daring and exhilarating feats of humans on mountains. But what is alpinism, exactly, and is it the same thing as mountaineering? In this article, we take a look at the fast and light approach to climbing mountains.
What is alpinism?
Alpinism is the activity of climbing summits in high altitude mountain environments. Alpinists use a variety of techniques such as rock climbing, ice climbing and glacier hiking to ascend and descend mountains and therefore a great degree of skill and technical know-how is involved.
The first recorded example of alpinism is widely held to be Michel-Gabriel Paccard and Jacques Balma's 1786 first ascent of Mont Blanc in the Alps – hence the name – which they completed in under two days. However, since the term was first coined in the 1850s, it has been expanded to include climbing big mountains the world over.
What's the difference between alpinism and mountaineering?
At this point, you might be asking yourself a common question: what's the difference between alpinism and mountaineering? If so, you're not alone. After all, both of these terms describe climbing mountains using whatever means possible, and neither is linked to a particular mountain range or region, so are they just synonyms?
While the terms are often used interchangeably, they both involve wearing the best winter hiking boots and do essentially describe a common goal, there are some differences between the approaches of alpinism vs mountaineering.
When you think of mountaineering, there's a good chance that you think of Mount Everest. The vast majority of mountaineers who climb Everest do so over the course of a couple of months. A typical expedition involves spending time at base camp to acclimatize, going up and down the mountain to establish camps and fix gear, a whole team of people to provide support and logistics, and tons of gear and supplies like food and fuel.
The approach of an alpinist, however, tends to be much more minimalist. Where a mountaineer might spend weeks or even months on their approach, known as a 'siege', an alpinist takes a matter of days, tackling a mountain in a single push. This of course means they require less gear and supplies, they often climb with little or no support, and the fast, light approach requires fine mountain skills and an impressive degree of physical fitness.
Perhaps the most notable pioneer and proponent of alpinism is Italian climber Reinhold Messner, who has climbed some of the world's most dangerous mountains in the style – he was the first climber known to summit an 8,000m peak unsupported, on Nanga Parbat in 1978, and the first to climb Everest solo the same year. Alongside Peter Habeler, he was also the first to climb Everest without supplemental oxygen. Another is British climber Alison Hargreaves, who followed in his footsteps some 20 years later, becoming the first woman to summit Everest unsupported and without bottled oxygen, and she was the first climber to solo all six of the great north faces of the Alps in a single season. These examples show that alpinism and mountaineering can take place on the same mountain – the difference is in the how, not the who or where.
Clearly, there are some advantages of alpinism over mountaineering, if you've got the stamina for it. Namely, there's the time saved – not everyone can take six months off work to climb a mountain – and of course a huge reduction in cost of gear, supplies and support. Further, you're less at risk of exposure to the common dangers of mountaineering, such as weather and avalanches, simply because you'll spend less time on the mountain.
That said, what you gain in time, money and risk, you lose in high altitude training and acclimatization, but many alpinists get around this by acclimatizing elsewhere before beginning their ascent. To see this in action, watch the documentary 14 Peaks which chronicles alpinist Nims Purja's astonishing mission to summit all 14 peaks over 8,000m, which he manages in just seven months, putting everyone else's 2019 to shame. He and his team climb three of the world's highest mountains in 48 hours and reach the last five summits in the span of a mere 12 days, leaving no time to return to sea level conditions between peaks.
Meanwhile, though alpinists might set out with less gear than mountaineers, the lack of a base camp often means they need to carry almost everything they have with them. They run the risk of being underprepared if conditions change, which they often do at high altitude, and also don't benefit from the fixed protection such as anchors and ladders that mountaineers place during their siege, or the knowledge of the terrain that mountaineers gain from their repeated scouting of the mountain.
All in all, these are two high-risk activities reserved for the most daring and driven among us – the deciding factor is whether you like to take a slow, methodical approach, or move fast and light?
All the latest inspiration, tips and guides to help you plan your next Advnture!
Julia Clarke is a staff writer for Advnture.com and the author of the book Restorative Yoga for Beginners. She loves to explore mountains on foot, bike, skis and belay and then recover on the the yoga mat. Julia graduated with a degree in journalism in 2004 and spent eight years working as a radio presenter in Kansas City, Vermont, Boston and New York City before discovering the joys of the Rocky Mountains. She then detoured west to Colorado and enjoyed 11 years teaching yoga in Vail before returning to her hometown of Glasgow, Scotland in 2020 to focus on family and writing.