Glacier hiking: how to go walking on a glacier
Glacier hiking requires special gear and technique, but the rewards are boundless opportunities to see magnificent ice towers, deep caves, plummeting waterfalls and meltwater lakes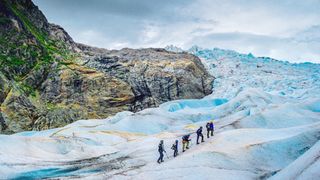 (Image credit: Blane Arnold / EyeEm)
Glacier hiking offers an otherworldly wilderness experience that is up there with canyoneering in Utah or scuba diving in the Caribbean. A glacier is a massive body of dense ice formed by a perennial build up of snow and ice that is slowly but constantly moving downhill due to its own weight. Walking on a glacier is an opportunity to see magnificent ice towers, deep caves, plummeting waterfalls and meltwater lakes. But is it safe to walk on glaciers? And how do you do it exactly? We take a look at the ins and outs of this unique, frozen adventure.
Where can you walk on a glacier?
Glaciers exist on every continent except for Australia. As you might imagine, a large proportion of earth's glaciers are to be found in Antarctica, which is home to over 90% of them and isn't easy to visit. A further 8% are found in Greenland, where an ice sheet measuring roughly 1.7 million square kilometers covers most of the country and has been attracting explorers for centuries.
In addition, some of the most popular spots in the world to go glacier hiking are in the Alps, Norway, Iceland, Alaska, Canada, the Andes, the Himalayas and New Zealand. In all of these places, you will find organized tours with professional guides ready to take you across beautiful ice fields in what might be a day trip or evening overnight where you camp on the glacier. In addition, there are countless small glaciers on hikes that you might do regularly in locales like Colorado, Washington and Wyoming. You can usually simply skirt around these or pull on some ice grips to cross them safely.
Needless – and sadly – to say, in addition to their splendid beauty, a major selling point for glacier hiking is that the glaciers are melting. In fact, recent evidence suggests that every glacier on earth is now receding, and the speed at which they are melting has doubled in the last twenty years, according to the Guardian. So if walking on a glacier is on your bucket list, you'll want to move it up towards the top.
Is it safe to walk on glaciers?
Walking on a glacier is an inherently dangerous activity. Not only is the risk of slipping and falling higher than on dry ground, but there are also possibilities such as sliding into a crevasse or breaking through the ice and falling into a hidden crevasse where rescue would be very difficult. For this reason, there are certain protocols – and lots of specialized gear – required to walk on a glacier.
How do you walk across a glacier?
If you're going out on a glacier, you should be going out with a trained professional who will cover all the safety essentials, however you will want to read our articles on how to use an ice axe and using crampons before you go. In addition, there are three principles to keep in mind when walking on a glacier:
1. You never do it alone
First of all, you don't walk on a glacier by yourself. To cross a glacier, you'll want to travel in a team. This way, you'll have people to help with rescue if you do fall into a crevasse. Often, you'll be roped together with one or two other team members and you'll want to have at least one experienced guide or mountaineer leading your party. That person will be checking the ice with a crevasse probe along the way to ensure it is safe to cross on foot.
2. You need specialized gear
To go walking on a glacier, you use specialized safety equipment including crampons to dig into the ice underfoot, climbing ropes to tie together with teammates, ladders to cross crevasses and ice axes to help you maintain balance, check terrain, climb and stop your fall if you slip on a slope. In addition, you'll also want proper winter hiking boots and to dress in warm layers like you would for any winter hike.
3. You walk using specific techniques
There are a few different techniques for walking on a glacier and which one you're using at any given time really depends on the terrain, but generally you want to take small steps and move slowly to lower your chance of losing your balance. When wearing crampons, you'll often kick into the snow toe first with each step so that the teeth bite into the ice. You'll often ascend a moderate slope in a zig zag fashion but on a steep slope, you'll go straight up. You'll use your ice axe to help you stay balanced. When descending a slope, you'll dig your heels in first with each step.
All the latest inspiration, tips and guides to help you plan your next Advnture!
Julia Clarke is a staff writer for Advnture.com and the author of the book Restorative Yoga for Beginners. She loves to explore mountains on foot, bike, skis and belay and then recover on the the yoga mat. Julia graduated with a degree in journalism in 2004 and spent eight years working as a radio presenter in Kansas City, Vermont, Boston and New York City before discovering the joys of the Rocky Mountains. She then detoured west to Colorado and enjoyed 11 years teaching yoga in Vail before returning to her hometown of Glasgow, Scotland in 2020 to focus on family and writing.