Best one gallon water bottle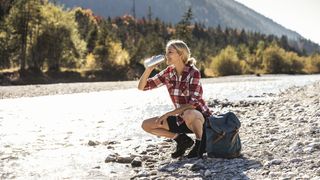 (Image credit: Getty)
Everyone needs a reusable water bottle to help them stay hydrated. But most bottles don't hold enough to get you through the day without having to refill. If you're hiking and away from a reliable source of water that could be a problem. Similarly, when exercising in the gym, it's good not to be distracted by continually refilling your bottle.
The one gallon water bottle solves it simply by giving you a whole day's recommended amount of water. They are usually made from either plastic or stainless steel. Plastic is lighter but not as indestructible as stainless steel. Many people feel safer drinking from plastic which is certified BPA-free too. A wide mouth is a good feature as it makes popping in ice cubes to cool your water down easier and also makes washing your bottle a cinch. Here are the bottles we would recommend.
Best overall
Functional and easy to fill
This BPA-free bottle holds a full day's recommended water intake in some style. It has a screw top and silicone gasket to make a tight seal and prevent leaks. The 1.5" wide mouth can take ice cubes and the flip-top lip makes refilling effortless and cleaning easy with a bottle brush. There's a built-in handle to carry it and a motivational time marker reminder on the side.
Best leakproof bottle
Motivational markings and a flip-top
You can measure your water intake with this bottle's time marker and a motivational quote should ensure you remember to stay hydrated. Equipped with a carrying handle and flip-top opening mechanism, it's easy to take with you on hikes and to the gym. Made of leakproof plastic the wide opening means you can add ice cubes too.
Best value
Extra-large and BPA-free
This bottle can actually take 1.3 gallons so there's extra room for ice cubes or more water. Time markings go from 7am to 7pm on the BPA-free PET-G plastic sides which has a handle and strap for easy carrying and pouring. The leakproof screw top has a double cap and flip-top to drink from. You get a water bottle brush for easy cleaning.
Best insulated bottle
Insulated stainless steel flask
Made from premium 18/8 stainless steel this flask has double-wall insulation to keep drinks cold for 24 hours or hot for up to 12 hours. The powder-coated exterior has a laser engraved logo to make it stand out. Stainless steel has no metallic taste, won't rust and is non-toxic so it's a good container for 128oz of water.
Bottom line
One gallon bottles are an easy way to solve any doubts that you're not drinking enough water. Fill one up and you know when you get to the bottom by the end of the day that you're on track. They are even more essential when hiking or in the outdoors where you can't always just turn on a tap to refill. The bottle we would recommend to most people is the BOTTLED JOY 1 Gallon Water Bottle. It's thoroughly leak-proof, has time markings and a good wide mouth that can accommodate ice.
If you prefer stainless steel bottles for their durability, the IRON °FLASK Sports Water Bottle is a good choice. It's double insulated so as well as keeping the contents cold or hot, it's easier to hold without worrying about the temperature of the contents. It's a good thick durable flask that will last you for years of use.
All the latest inspiration, tips and guides to help you plan your next Advnture!
Launched in July 2020, Advnture is the ideal destination for anyone who loves the great outdoors. Whether you're into epic hikes through the wilderness, camping trips with the family, climbing with your friends, or looking for a trail running personal best, our team of experts will point you in the right direction, with top buying advice and in-depth guides to help you get the most of your time in the backcountry.