How to get rid of the plastic taste in your water bladder
We give our three tried and true methods for how to get rid of the plastic taste in your water bladder for a more refreshing quaff on the path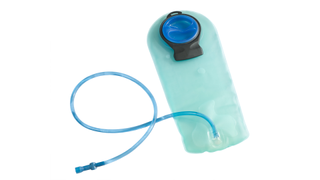 (Image credit: leezsnow)
Getting your first hydration bladder can be an exciting next step as an adventurer. If you like to tour the trails in hiking boots, it means you no longer need to stop every time you want a drink to rummage through your backpack looking for your water bottle – you're finally free! And, if you prefer speeding along in your best trail running shoes, it means you're running far enough to actually have to carry water with you – you're a champ!
What no one tells you, though, is that when you finally hit the trail and go for that first hands-free sip, what you usually get is a mouthful of extremely plastic-tasting water. Not the refreshing quaff you were hoping for on a hot day. In this article, we talk through how to get rid of the plastic taste in your water bladder with some tried and true methods to keep you from chucking your bladder in the landfill and returning to your heavy, bulky water bottle.
Can you drink water that tastes like plastic?
Before we go into the various methods of removing the plastic taste from your water bladder, let's address the question of whether you actually need to do this. After all, a plastic taste is unpleasant, but is it harmful to your health?
We couldn't find any studies showing that water from a bladder that tastes like plastic actually has any more plastic in it than water from a bladder that doesn't, however it's now known that microplastics are harmful to human health according to a recent report in The Guardian, which is why leading brands of hydration bladders have started using BPA-free plastic.
However, while removing BPA from plastic removes the detrimental effects of that material, one study by the University of California reported in Science Daily found that BPS, the common replacement, has unwanted effects on your reproductive system. So in a nutshell, we can't say that drinking water from plastic vessels is totally safe, no matter how it tastes, but we also can't say there's any evidence that the plastic taste means more plastic in your water. Your water is just absorbing the taste of the vessel it's in.
Basically, we don't recommend that you drink out of plastic vessels all the time, but if you've decided that it's your best option on the trail, you need to decide whether you're a person that can put up with the taste – it tends to wear off with time – or if you need to rectify the flavor situation, stat.
Are there any hydration bladders that don't taste like plastic?
If you're in the market for a new hydration bladder and looking to bypass the part where you have to clean it to get rid of the plastic taste, we recommend the Platypus Big Zip EVO which made our list of best hydration bladders and is guaranteed no-taste. Generally speaking, if you go with a more expensive bladder that is listed as 'taste-free', you'll have more luck than if you go with a budget bladder.
How to get rid of the plastic taste in your water bladder
There are a few home remedies for removing the plastic taste from your water bladder. We've decided to omit the one using bleach for your health and safety, and focus on the three that have worked for us. Once you've got rid of the plastic taste, you'll want to use our guide to how to clean a hydration bladder to keep yours in good condition as they are prone to building up mold and bacteria.
Method #1: baking soda and lemon juice
Fill up your bladder with warm water and add the juice of a lemon. Give it a swish around, then add two tablespoons of baking soda. Screw the cap of the bladder shut and give it a good shake. Leave your bladder with the solution in it overnight, then drain it in the morning and rinse it thoroughly.
This method proves quite effective, though for a very strong plastic taste, you may have to repeat it. It's likely to leave your bladder with a slight lemony taste at first, so if you can't stand the thought of that, do it without the lemon, or use the next method.
Method #2: baking soda and vinegar
Fill your bladder with warm water and one tablespoon of white vinegar. Swish it around, then add one tablespoon of baking soda. Tighten the cap, give it a good shake, and leave it to sit for a couple hours before rinsing it thoroughly.
Method #3: cleaning or denture tablets
This method is quite effective, and especially great if you happen to have unflavored denture tablets lying around in the bathroom cabinet. Simply fill your bladder with warm water, drop a denture cleaning tablet into it and let it sit for about 15 minutes until it's completely dissolved before rising thoroughly. Be aware that if your denture tablets taste of mint, so will your water.
All the latest inspiration, tips and guides to help you plan your next Advnture!
Julia Clarke is a staff writer for Advnture.com and the author of the book Restorative Yoga for Beginners. She loves to explore mountains on foot, bike, skis and belay and then recover on the the yoga mat. Julia graduated with a degree in journalism in 2004 and spent eight years working as a radio presenter in Kansas City, Vermont, Boston and New York City before discovering the joys of the Rocky Mountains. She then detoured west to Colorado and enjoyed 11 years teaching yoga in Vail before returning to her hometown of Glasgow, Scotland in 2020 to focus on family and writing.