Friday 5: Interview with Alex Staniforth
We chat to Alex Staniforth: ultra-endurance athlete, adventurer, motivational speaker, author and director of Mind Over Mountains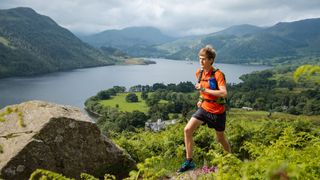 (Image credit: Daniel Toal)
Phew! It's Friday again! Where did that week go? Before you pack up your work and head off into the weekend, here's a snappy Friday 5 interview with Alex Staniforth.
Alex Staniforth is an ultra-endurance athlete, adventurer, motivational speaker, author and director of mental health charity, Mind Over Mountains. He has made 2 attempts on Mount Everest and recently ran the National 3 Peaks Challenge - covering 452 miles in 9 days 12 hours. Alex is 25 years old and based in Kendal, Cumbria.
1. If you could only keep one item out of all your outdoor gear, which would you keep and why?
My Marmot 8000M down suit. I took this on both of my Everest attempts, so it has a lot of special memories, and is the most expensive kit item I own. Maybe I'll need it again one day – until then it makes a great emergency 'onesie'...!
2. What's your pet peeve in the outdoors/adventure space?
We've all made bad judgements sometimes, myself included, but seeing people grossly under-equipped or badly dressed on mountains really annoys me. I've seen people in chinos and Converse on the summit of Snowdon in February with 60mph gusts, -9 windchill and full winter conditions.
3. If you could be instantly transported to the start of any adventure, what would it be, where and why?
I was supposed to be running an ultra-marathon across Borneo next March (which was obviously cancelled) as a fundraiser for endangered Orangutans. The earliest ever fundraising I did was for endangered animals and it's been close to my heart since a young age. Exploring a proper rainforest and seeing the Orangutans in the wild would be an unforgettable experience.
4. We're sitting round a campfire. Tell us a funny or entertaining story about one of your adventures.
In 2015 we were trekking out of Everest base camp after the earthquake hit Nepal. Amidst the devastation we stayed with some Sherpa friends, Tashi and Lakpa, in their teahouse, which had fortunately survived the impact. In one corner of the room, a gang of Monks from the local Monastery were gathered around a tiny fuzzy TV screen, like something from an 80s movie, watching the news back in Kathmandu. The Sherpa lady, Tashi, came over with a plate of prawn crackers, poppadoms and Pringles. At 3,000m altitude and hundreds of miles from the nearest road this was surreal enough, until one of the Monks came over to ask for an iPhone charger!
5. Is there any gear that's on your shopping list at the moment?
A tow float for wild swimming, so I can get into it properly next season once the water warms up!
You can hear more from Alex at alexstaniforth.com and about mental health charity Mind Over Mountains.
All the latest inspiration, tips and guides to help you plan your next Advnture!
An adventure writer based on Dartmoor, England, Emily is an active member of Mountain Rescue and a summer Mountain Leader, but loves all things adventure – before her third birthday she had lived on three continents. Founder of Intrepid magazine, she works to help break stereotypes about women in the outdoors. Her expeditions have included walking all Dartmoor's 119 tors in a single two-week outing, cycling to Switzerland and back, and riding the Rhine from source to sea.