How to stay dry while hiking
Learn how to stay dry while hiking and make sure your trip doesn't become a washout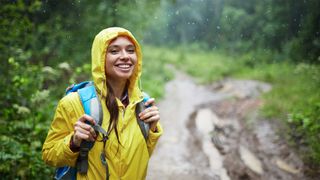 (Image credit: Getty)
It's a simple equation: dry = comfortable. And with some smart thinking and wise gear selection, walkers can laugh in the face of rain and fog without getting soaked in sweat from the inside. The key to knowing how to stay dry while hiking lies in layering your kit, maintaining it well and, perhaps, acquiring a few accessories. So here is a 12-step guide to staying dry, however torrential the conditions.
Baselayers
There's no escaping the fact that you'll sweat as you walk, especially if you're climbing hills and carrying a backpack, so make sure you wear a wicking baselayer next to your skin. A wicking top draws moisture away from your skin and pushes it towards your outer layers. Artificial fibres, such as polyester, are best at this, and cotton is a definite no-no (even for underwear and bras). Make sure, too, that your baselayer fits closely, to facilitate moisture transfer.
Midlayer
If it's too cold simply to wear a baselayer and a waterproof shell, then choose a fleece midlayer for insulation. Light, synthetic fibres, such as polyester, are best for helping moisture to escape.
Waterproof shell
Waterproof jackets perform two functions. Firstly, they keep the elements at bay. And secondly, they help to allow inner moisture to escape before it condenses into cold sweat. For this to work, it's important to give your jacket a little TLC from time to time. Reproofing your jacket with a specialist product, such as Nikwax TX.Direct Wash-in or Grangers Performance Repel Plus, will restore the durable waterproof finish (DWR) that makes raindrops bead on the surface of the jacket. If the surface becomes saturated in rain, it does not necessarily mean you'll get wet – a decent jacket's waterproof membrane will still keep water out – but it makes it harder for moisture to escape, creating the 'boil in the bag' feeling of getting wet from your own sweat.
Hood, vents and cuffs
When the heavens open it's time to batten down all the hatches. Cinch the hood as close as possible to your head; the smaller the aperture for your face, the drier you'll stay. Likewise, tighten cuffs as much as possible to stop beads of water running up your sleeves, and close any pit zip vents. Make sure all pocket zips are shut and that any storm flaps are securely in place in front or behind the main zip.
Waterproof overtrousers
In normal conditions, overtrousers are typically too warm, bulky and rustly to keep on all day, but if it looks like a serious rain shower is on its way, pull on overtrousers before the first drops fall.
Gaiters
Water has a sneaky way of working its way into any opening, creeping over the top of boots or rising up trousers. Gaiters help to seal off this ingress, keeping feet, socks and lower legs dry. They're also excellent for walking through snow and for keeping trousers clean of mud. They can be worn all day.
Backpack
If your pack doesn't come with a raincover, it's definitely worth investing in one. They're not expensive and they will keep all of your kit dry inside. It's also wise to minimise the number of times you access your backpack when it's raining. As an additional precaution, waterproof pack liners are available from companies like Lowe Alpine and Osprey; they're a neater, more robust solution than the traditional black bin liner. Some manufacturers – such as Sea to Summit – produce backpacks that are essentially drybags with a harness.
Hat
Ideally your jacket hood will keep you dry, but some walkers prefer a proper hat that lets you keep your ears free. A hat with a wider brim, such as a Tilley Hyeto, will stop raindrops running straight down your collar. Alternatively, if you wear glasses a long-peaked cap, worn under a hood, can keep raindrops off your lenses.
Drybags
Even if your backpack has a raincover, stowing kit in waterproof dry sacks is an excellent extra precaution. The better sacks from firms such as Exped, Sea-to-Summit and Gul are so waterproof they can float down a river. Using different colours also helps you to know where the various elements of your kit is – for example: phone and battery pack in blue; spare socks, hat and gloves in green etc – and will avoid the need to tip everything out on to a wet path to find one thing.
Invest in a map case
A soggy map is tough to read and once it rips navigation becomes a nightmare. Folding the map to expose the area where you are walking and then slipping it into a clear map case will keep it dry.
Pack smart
Many backpacks provide separate compartments – use these, along with drysacks, to keep wet and dry kit apart. Damp towels and yesterday's socks are best kept well away from sleeping bags and nightwear.
Hiking boots
Extend the longevity and waterproof protection of your boots by maintaining them properly. Clean then reproof boots, using a specialist product for fabric boots, such as Nikwax Fabric and Leather Proof, or a wax or conditioner for leather boots, such as Granger's G-Wax and Leather Conditioner. And remember – no cotton socks; choose wool or synthetic fibres.
All the latest inspiration, tips and guides to help you plan your next Advnture!
After spending a decade as editor of Country Walking, the UK's biggest-selling walking magazine, Jonathan moved to edit Outdoor Fitness magazine, adding adrenaline to his adventures and expeditions. He has hiked stages or completed all of the UK's national trails, but was once overtaken by three Smurfs, a cross-dressing Little Bo Peep, and a pair of Teletubbies on an ascent of Snowdon. (Turns out they were soldiers on a fundraising mission.)