Why you should buy a hat for your adventures in the great outdoors
We explore why you should buy a hat so that, regardless of the season, your head is happy when hiking in the high places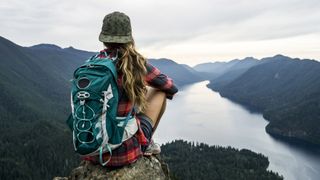 (Image credit: Getty)
Buy a hat. In fact, buy three: one for summer and two for winter – more on that later. They're an excellent addition to anyone's backpack. In summer, a sun hat comes into its own. You can channel your inner-Indiana Jones, as you scythe your way through the undergrowth or leap from rock to rock along the ridge. When your mate tackles a particularly tasty technical scramble, instead of saying "nice one", you can simply doff your hat at them. Much cooler.
We'd like to think this is exactly what Edward Whymper would have done during the Golden Age of Alpinism in the late 19th century. The central figure of the Matterhorn's first ascent wore a rather jaunty hat on his explorations of the Alps, as seen in the classic portrait of him from the time. If hats were in Edward Whymper's hiking backpack, they should probably be in ours too.
Why you should buy a hat for summer adventures
When we think of hiking hats, wooly beanies immediately spring to mind. Of course, these have their place in your summer day pack, especially if you're planning to ascend high into the mountains and into much colder conditions than those found in the valley. There are plenty of lightweight, breathable beanies on the market that do this job perfectly.
However, for the majority of summer hiking activities, a sun hat or a cap is what you'll require, giving you blessed shade from those relentless UV rays, as they finish their eight-minute journey to Earth from our rather large and bright celestial neighbour. Sun hats have the advantage of providing shade all of the way around and have saved many-a-neck from sunburn through the course of human history.
However, we hikers often find ourselves battling the wind. A sun hat's surface area means that is that it is likely to take off in a sudden gust, causing all manner of expletives. For trail runners, they're a complete no-go, for obvious reasons. Due to this, many outdoor lovers prefer a baseball cap that can be swivelled around depending on where the sun is coming from.
Why you should buy a hat for winter escapades
Okay, winter is a different ball game entirely. Other than to spice up your generic outdoor gear with some vibrant patterns (and maybe a pom pom or two), hiking hats are really useful for thermal regulation. By which we mean, putting a hat onto your head is a very effective way of keeping you warm overall.
There's a bit of a myth associated with how much heat we lose through our heads, with many people believing we lose around half of our body heat from it. This is not true. In reality, the figure is closer to 10%. In terms of exposure to the cold, your extremities – fingers and toes – are the things you need to care for first, with your best hiking gloves and thick hiking socks rated for winter conditions.
Regardless, if you've gone to the trouble of putting on a couple of fleece jacket midlayers and windproof outer layer, leaving a hat off your head is like turning the heating up and leaving a window open. We always take a spare hat with us in the colder months. It's amazing how easily gloves and hats can get whipped away or left behind in winter conditions – and this is when you need them the most.
To pom pom or not to pom pom, that is the question. For mulled wine and cider down the Christmas market with friends and family, go for it. We can't imagine anything more festive. However, in the mountains, a standard beanie has the advantage that it can comfortably slip under a helmet or a rain hood.
The final considerations are what material to go for and its thickness. If you move quickly in the hills and mountains, a relatively thin, breathable hat might be just the ticket. You can always bring a thicker hat as your spare and even swap it in when you know you're going to be stationary for a while. There's a range of materials available these days, from high-performing merino wool to synthetic fibers. It's really a case of personal preference, so find what's comfortable for you and stick with it.
There's one other, seriously luxurious option: nordic style hats that have fluffy inners and flaps for your ears. They offer serious warmth in cold conditions, basically feeling like a furry animal is giving your head a lovely hug. Like pom pom hats, they're not great under hoods and helmets though...
So if you aren't already a hat wearer, maybe consider bringing one of your next winter trip outdoors. You might be surprised how much of a difference it makes.
All the latest inspiration, tips and guides to help you plan your next Advnture!
An adventure writer based on Dartmoor, England, Emily is an active member of Mountain Rescue and a summer Mountain Leader, but loves all things adventure – before her third birthday she had lived on three continents. Founder of Intrepid magazine, she works to help break stereotypes about women in the outdoors. Her expeditions have included walking all Dartmoor's 119 tors in a single two-week outing, cycling to Switzerland and back, and riding the Rhine from source to sea.