Best hiking hats: headwear for early season walking, hiking, backpacking and camping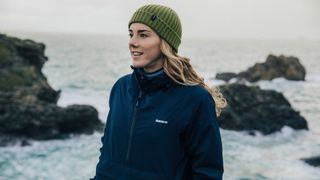 (Image credit: Finisterre)
Now more than ever, the best hiking hats are a must-buy. This year we are all chomping at the bit to get outdoors as soon as possible, and when you're venturing out early in the season – to go hiking, camping and exploring at the very first hint of spring – it's important to top off your layering system with a good quality warm hat.
They say that most of your body heat escapes through the top of your head, and while that isn't strictly true, around 10% of heat is lost that way, which is still a significant amount. A warm bobble hat or beanie definitely does help keep you cosy outdoors – especially around the ears which, like all extremities, are the first parts of the body to feel the bite of the cold. The best hiking hats will also offer you protection from the wind, rain and the sun – particularly if head hair is something you talk about in the past tense.
A quality hat should warm your ears for years, and more neutral-looking ones are perfect for everyday wear as well as for outdoor adventures. Our buying guide below explains what styles and materials to look for in the best hiking hats, from more casual beanies to faux fur-lined trapper hats ideal for the snow, right through to more lightweight coverings.
Some hats on the market are aimed specifically at men or women, but after testing out many hats, we think most styles will work as unisex designs, unless you happen to have a small head. Our selection of the best hiking hats for men and women differ in design, but they are all warm, comfortable and great quality, with prices starting at the budget end.
The best hiking hats for outdoor adventures in late winter and early spring
This lightweight beanie is ideal for use for winter sport and other faster-paced adventures in icy conditions. It sits snugly on the head, rather like a skullcap, and fits neatly under a helmet. It also works well when worn with a headlamp, with no extraneous elements to get in the way. Columbia are rightly proud of the Omni-Heat thermal reflective material they use to line the inside of their winter clothing – these small silver dots trap and reflect body heat effectively, and here they keep your head significantly warmer, but don't add bulk, so the hat is still breathable if you sweat. The inside earband of the Heat beanie is lined in a soft fleece material, which is very comfortable. This is a highly recommended pick for keeping your head warm when doing energetic outdoor activities. Our one complaint is that the Columbia brand name and logo are pretty prominent. If you don't like looking like a walking brand endorsement you might want to go for a more subtly designed hat.
Like sea shanties, fisherman beanies are having a bit of a hipster moment – and if you want to get in on the style action, Cornwall-based Finisterre's merino version is a great choice. Made from non-mulesed Merino wool (mulesing is a surgical procedure performed on sheep that is considered cruel, so looking out for non-mulesed merino is definitely recommended) it is knitted in a stretchy rib design, which is very comfortable to wear all day. Merino is a brilliant beanie material, as it's warm, non-itchy, breathable and is resistant to odor. It also retains heat, even when wet. The Finisterre fisherman beanie has a flattering shape and fits pleasingly snugly to the head, instantly retaining heat. But for some this particular design may prove too snug – it only comes in one, rather small size, so it's best suited to those with smaller heads. Nine smart colorways are available, from cheery yellow and red to more work-friendly grey and black.
The eponymous logo on this hat carries a certain amount of cachet among outdoorsy types, so you'll immediately fit in when you stroll into a climbers' café or walkers' pub. It comes in loads of colors, so there'll be a hue to match your waterproof jacket or puffer of choice. As a warm hat for winter and springtime hiking, climbing or even a good old-fashioned snowball fight, it does the job. It's made of a lightweight single-knit fabric that provides moderate warmth without causing your head to overheat. Unlike cheaper imitations, it also has a fleecy internal headband to keep ears toasty, minimise irritation and generally add to the performance. The fit is nice and close, and it will go under a climbing or biking helmet too. Unlike some other more technical beanies, this one isn't waterproof, though it is quick-drying, being made from acrylic. The downside of that is relatively poor eco credentials compared to natural wool or recycled synthetic fibres.
The ideal wear-everywhere cold-weather hat, Penfield's Harris beanie is perfect both for hiking and for casual day-to-day use. This generously sized, slightly slouchy beanie has enough stretch to fit pretty much any head snugly, and the wide brim can easily be adjusted. The thick acrylic knit is warm and durable, and as the wool is synthetic rather than natural it feels very comfortable against the skin, and isn't itchy. The Harris beanie protects the ears well and instantly traps in heat, so it can handle even the most bitter winter weather. This thicker knit is too bulky to fit under a helmet, and too warm for fast-paced winter sports – so save it for gentler hiking.
The name gives it away: the Nordic Heater is designed to offer great warmth in really tough cold climates. This trapper-style hat is big and it means business, with a generous amount of faux fur lining the face. The wide ear flaps can be clipped and adjusted under the chin, protecting a fair amount of the face, or buttoned up to the side of the head in warmer weather or to allow you to hear better. Faux fur is ideal for snow and icy conditions, as it doesn't freeze up. The tough outer canvas, which is available in three dark colorways that won't show dirt, is fully waterproof, offering extra protection from wind and snow. You'll quickly overheat in balmy weather, but that's really not what the Nordic Heater is for. This may be the most expensive hat in our round-up, but it's very much worth the spend if you regularly camp, play, work or explore in sub-zero weather.
It may look a bit like something your granddad would wear, but those oldies know a thing or two about keeping warm and there are a lot of good things to say about Rohan's Nordic cap, which puts practicality over fashion. The large flaps framing the hat fold down to become wide earflaps and a neck guard, which are very useful for protecting more of your face and keeping rain, snow or sun off your neck when you're on the go. When you don't need them, fold them up and snap them back into place. The hat's outer material is a tough canvas that repels water and the inner material is a soft Sherpa fleece that feels great against the skin. The whole cap weighs just 100g, which is light enough that you'll barely feel it despite all the protection from the elements it offers. An insulated layer makes this hat warm even in cold weather, but we found it too warm to work on late spring or early autumn days – instead this is one of the best hiking hats for the depths of winter, so you'll need to swap it out for a lighter beanie in better weather.
Weighing in at just 50g, and made with Páramo's very clever Parameta G fabric, this dual-layer beanie is a brilliant buddy on outdoor adventures no matter where you're going, or when. The design of the material means it can keep you cosy when it's cold, or allow cool air to flow to your scalp when it's warmer. It works thus: When worn beneath an outer shell, the fleecy grid pattern traps air between the squares and warms it, but if you wear it as a stand-alone hat, fresh air can permeate the fabric. Personally we think the latter part of this system works better in the brand's brilliant base layers than it does in this hat, which features a lovely fleecy inner, perfect for keeping your head hot, but not so good at letting the cooler air in – which is fine by us, because the main job of a beanie, so far as we're concerned, is to keep your loaf warm. It does mean than it's a little too warm for nigh-energy activities such as trail running. The fabric is comfortable and stretchy, and it wicks moisture away well. This beanie provides a lot of warmth, despite its low profile, and fits well under a helmet for cycling or climbing. It also scrunches down really small and weights very little, so it is perfect for popping into a pocket or pack when you're heading out hiking, biking, climbing, kayaking or camping, whether it's full-on winter conditions or springtime, when temperatures can still drop quickly.
With it's super chunky outer knit, made from a combination of wool and acrylic to take advantage of the qualities of both materials, Rab's Braid Beanie boasts both alpine chic looks and outdoor-ready creds. The micro fleece inner lining is lovely and comfortable, and this hat will keep your head nice and warm on the coldest of outdoor escapades without any of the annoying itchiness a full-wool hat with no lining can cause. It looks fantastic whether worn après snow sports to a ski chalet bar, out on the trails for a pre-pub walk or when you're at the crag belaying for a friend.
What to look for when buying the best hiking hats
There are myriad headwear designs on the market, but if you're after something warm, versatile and practical, which will work for hiking and cold-weather camping – as well as other outdoor adventures in later winter and early spring – there are a few styles that stand out among the best hiking hats.
Design
Beanies
Perhaps the simplest style of hat available, beanie's close-fitting design makes them warm. They also stay put on your head (won't blow away), they're often reasonably breathable, tend to be more affordable and have a low profile, so they fit beneath hoods and helmets.
Bobble hats
Ever wondered what the bobble on a bobble hat is for? The theory is that they once graced the heads of sailors, and offered a little more protection when they were working in dark, tight spaces (presumably as an early warning system for when the wearer was about to bump their head). Whether or not you go for a bobble in the 21st century is totally up to you, but it is essentially a beanie with ball on top.
Skull caps
Another beanie sub species, these thin, tight fitting fleece-style hats are great for keeping your ears warm and your hair out of your face for winter sports. They are light and breathable enough to stop you overheating, hence why they are often popular with skiers and winter runners.
Ushanka
These traditional Russian hats with a fur lining have evolved into modern 'trapper' hats, which usually have a faux fur lining and ear flaps that can be clipped together either under the chin or on top of the head. They're ideal for really cold or windy conditions, giving you the most coverage and protecting your ears and face from snow and icy winds. In warmer conditions you're likely to find them too hot and heavy.
Materials
The best hiking hats are available in a range of synthetic and natural materials, but some stand out for the warmth and comfort they offer. Top of the naturally derived pack is merino wool, which traps heat brilliantly and is also moisture-wicking and odour-resistant. It retains some heat-giving properties even when wet, and doesn't itch in the way normal wool can, making it perfect for wearing next to the face. We also rate hats made or lined with fleece – polyester fleece is very soft and comfortable, is quick to dry, and is warm without adding weight and bulk, making it ideal for thinner hats and headbands designed for sport. Thicker winter hats designed for snow and icy conditions often have a soft lining of fleece or faux fur combined with a tougher outer layer – look for a waterproof or water-resistant canvas. Fur has always been a popular choice as headgear in the coldest climates due to its unsurpassed warmth and the fact that it doesn't freeze or frost up at sub-zero temperatures – but these days, faux fur does the job just as well.
Color
The best winter hats can come in bold bright colors or more subtle hues. Hunters (or people who play out where hunters also hunt) often wear neon orange hats, and for good reason – bright orange or red hats can make you easier to spot in the mountains (or on quiet country lanes), or when you're out walking, running or cycling in low light. If you want a hat to wear in the city or for the winter commute as well as in the great outdoors, you may want to pick a more neutral color.
All the latest inspiration, tips and guides to help you plan your next Advnture!
Thank you for signing up to Advnture. You will receive a verification email shortly.
There was a problem. Please refresh the page and try again.