Best hiking socks: for wild walks, challenging treks and backpacking adventures
By Pat Kinsella
Choosing the best hiking socks for your adventure will determine how enjoyable and successful it is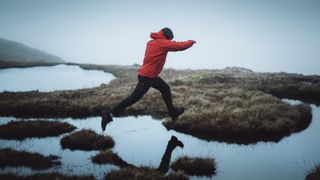 (Image credit: Elliot Simpson)
When it comes to packing the best hiking socks, hikers can be forgetful. Most walkers will happily spend serious money on a top-quality pair of hiking boots, but a surprising number will then pull on a pair of cruddy socks  – or sometimes two pairs – when they hit the hills, and then wonder why their feet are complaining 10 miles along the trail.
A pair of good-fitting, comfortable and well-cushioned hiking socks are worth their weight in gold, and skimping on them is not just a basic error, it's also completely false economy – you may as well not bother with the expensive boots if you're going to line them with garbage, because the experience will be ruined by rubbing, blisters, hotspots, sweatiness or just general discomfort.
We punish our feet big time when we're on the trail. They do all the heavy lifting when we walk – every step of the way – and they're right on the frontline when things get wet, wild and gnarly. Of course you need to look after them properly. It's obvious.
But feet are like faces and fingerprints – from afar they all look vaguely the same, but up close they're unique, with highly individual lumps, bumps, bunions and idiosyncrasies – so finding the best walking sock for you will likely be quite a subjective search.
Equally, you need to match the socks you wear to the conditions you're walking in – in terms of terrain and climate – and match them with your choice of external footwear. Are you wearing walking shoes or hiking boots? Do you need light, medium or thick socks – in a high or low cut crew – made from merino or synthetic materials? Would it be wise to try toesocks, go for a fully waterproof design?
We have done the hard yards for you – putting a whole load of socks specifically designed for walkers, hikers, trekkers and backpackers through their paces – and following are the best hiking socks you can buy.
The best hiking socks available today 
Finisterre Kelson Socks
As warm and comfy as a pair of slippers, on the trail and off it, these are the sort of socks you simply don't want to take off
Unisex: Yes | Sizes: 4–6, 7–9, 10–12 (UK sizes) | Materials: Wool (60%) and Nylon (40%) | Length: classic crew | Weight (men's large, per pair): 109g / 3.8oz Colours:** Granite marl / Lichen marl / Indigo marl / Cerulean marl / Flame marl / Winter Berry marl
Supremely comfortable
Wonderfully warm
Classic look
Relatively loose fit, can feel baggy
Not super supportive
Designed and made in Britain, for the kind of conditions you typically face in the wilder parts of this oft-tempestuous island, the chunky all-season Finisterre Kelson sock is knitted from a blended yarn of soft wool and nylon, and feels outrageously comfortable on your hoof (so much so that taking them off at the end of the day feels like a wrench instead of a release, and we often found ourselves reaching for them as substitute slippers in the house). A classic crew design, they look and feel like a traditional hiking sock, and work well with walking boots with a mid or high collar, but you can combine them with everything from a trekking shoe to a wellington boot. Wear them alone, next to the skin, or over the top of a thinner sock if you're a two-ply fan. You really don't need the extra padding, though – the thick knit provides plenty of cushioning under your soles and all around your feet and ankles. The high wool content means they're extremely breathable and have natural antibacterial and odour-combating properties. They are ribbed throughout, but can feel a little loose after a day or two of being worn – although a wash quickly brings them back into shape.
1000 Mile 3-season walking sock
Extremely supportive and well designed, these comfortable merino socks are excellent trail buddies
Unisex: Yes | Sizes: Men's M–L–XL / Women's Lady's S–M | Materials: Merino wool (80%), Nylon (19%), elastane (1%) | Length: Crew | Weight: 104g / 3.7oz Colours:** Men's Charcoal / Slate; Women's Purple / Emerald
Well fitted, with distinct heel and toe box
Merino wool offers high performance
Well thought out padded zones 
Material has a slight tendency to bobble
Sizing not as comprehensive as some other brands
Made with mostly merino wool, these reassuringly chunky hiking socks immediately offer excellent warmth for their weight, plus superior moisture-wicking, antibacterial and odour-resistance properties, not to mention great next-to-skin comfort. This base material makes these socks naturally breathable, but extra venting across the top of the foot and around the arch increases this capability, and the magic of merino also means your feet won't overheat if temperatures rise. The seam in the toe is flat, and the 1000 Mile three-season walkers also feature extra padding in places where hikers often experience discomfort, including around the Achilles tendon, ankle bones, toes and the balls of the feet, which increases comfort and performance levels. The elastane content seems to be mostly employed around the cuff of the sock, which keeps them in place perfectly. This all adds up to make these a very comfortable sock, available for a very reasonable price. 1000 Mile also make an excellent 2-season and a 4-season version of these hiking socks, but the 3-season is the best all-round performer, offering the most versatility.
Darn Tough Hike/Trek Micro Crew Cushion
A perennially popular performer on the trails, much beloved by generations of hikers
Unisex: Yes | Sizes: Men's S–M–L–XL–XXL / Women's S–M–L | Materials: Merino wool (61%), Nylon (36%), elastane (3%) | Length: mini crew | Weight: 75g /2.6oz Colours:** Men's Denim / Charcoal / Lime / Olive / Oatmeal / Onyx; Women's Denim / Slate / Onyx / Moss heather / Aqua Heather / Plum heather
Excellent fit and performance
Extremely durable, with a lifetime satisfaction guarantee 
Great cushioning 
Some hikers might prefer a higher cut (which is available from Darn Tough)
Made in Vermont, USA, with a mix of merino wool (just over half), nylon and Lycra, these excellent socks have a hard-earned reputation among hikers and outdoorsy types in general for their combination of comfort, performance and durability. The merino provides the cozy feel and breathability, plus moisture wicking, antibacterial and pong-prevention properties, while the nylon is hardy and the Lycra holds them in excellent shape, with no slippage or bunching. The seams are completely flat, and totally imperceptible when the socks are being worn. Darn Tough are sock specialists – it's their sole focus – and they have complete confidence in their product, to the extent that they offer a lifetime guarantee of satisfaction, or your money back; no conditions or strings attached. That's quite a bold statement and commitment to make, especially on a high-use item like a sock, which many hardcore hikers will hammer pretty heavily on the trails. But serious walkers know a good bit of kit when they wear it, and will set their expectations accordingly, and these socks are firmly in the quality gear category. And Darn Tough can make a promise like that without breaking a sweat because they know that their socks have a very high loop stitch count, which not only provides sublime under-foot cushioning, it also makes them resistant to flattening, shearing and holing, even after repetitive use. Despite being described as a micro crew, we'd argue these are more of a mini crew, as they still reach to just above the collar of a standard mid walking boot, which is perfect for the vast majority of hiking and trekking adventures.
Craghoppers Glencoe / Nevis Walking Sock
A longer sock, made with a wool and silk blend, which cradles the foot comfortably
Unisex: No (closest women's socks are the Nevis) | Sizes: Men's S–M–L; women's S–M–L | Materials: wool (47%), polyamide (35%), silk (17%) elastane (1%) | Length: classic crew (Glencoe) / mini crew (Nevis) | Weight: 70g (Glencoe, per pair) / 50g (Nevis, per pair) midweight Colours:** Men's Glencoe: Blue navy marl / Dark grey marl; Women's Nevis: Spiced copper
Secure, reassuring fit
High cuff– good fit for higher boots
Comfortable next-to-skin material mix, which includes silk
Women's Nevis sock not available with longer cuff
Limited colour options for women's sock
Less strategic cushioning than some others
The combination of wool, silk, polyamide and elastane makes these cool, comfortable socks cling close to your feet, and the ribbed cuff completes the snug reassuring fit. The Glencoe extend up to the wearer's mid-calf, providing good insulation halfway up to the knee. These hiking socks are designed to supply some arch support and there are ventilation channels to help manage airflow when things heat up. With the high percentage of natural materials used – wool and silk – there are some natural antibacterial properties that come into play, and a good level of breathability, which means you can get away with a few days' wear on the trail, and they won't start to stink too badly. The Glencoe sock only appears in Craghoppers' men's range – although there's nothing to stop women wearing them if they fit their feet comfortably. The closest equivalent in the women's range is the Nevis sock, which is made with the exact same mixture of materials, but doesn't have the high cuff (it extends just proud of a traditional mid-height collar hiking boot). If you buy direct from Craghoppers, items are covered by their 'Guarantee For Life' (the product's life, not yours), which – for footwear – means two years.
Arctic Dry 100% Waterproof socks
A high-performing hoof protector for outdoor adventures in any conditions
Unisex: Yes | Sizes: S/M/L | Materials: Outer: high waterproof nylon (61%), polyester (32%), elastane (7%); Interlayer: PU Waterproof Membrane, Lining: coolmax (66%), polyester (30%), elastane (4%) | Length: classic crew and long (kneelength) | Weight (men's large crew): 108g /3.8oz Colours:** Black and blue
Completely waterproof, but also breathable 
Hard wearing
Comfotable and supportive
Require a little more care when washing
Synthetic materials
Limited colour options
When you're heading into the wet and windy wilderness for a long hike or backpacking escapade, keeping your feet dry is a major priority, and if you work or play in really extreme conditions, it could be a serious safety issue. Arctic Dry socks are a three-layer insurance policy against getting soggy socks and frozen feet, even if your boots fail. The design and materials used in these walking socks keeps your skin dry, while allowing feet to breath and wicking internal wetness away, which is of course a crucial consideration when it comes to waterproof garments, because moisture from within can be just as dangerous as wetness from without. They're tough too, made with hardwearing – albeit synthetic – materials. These socks are also available in a knee-length version, and can be used for much more than just walking – think trail running, snow sports, cycling, fishing, fossil-hunting, golf.
Helly Hansen Hiking Sock Warm Crew
A top-performing unisex winter walking sock for hard hikes, mountain escapades and multiday backpacking adventures out in colder climes
Unisex: Yes | Sizes: S–M–L–XL | Materials: Polycolon (37%), Polyamide (31%), Merino Wool (28%), Elastane (4%) | Length: classic crew | Weight: 70g / 2.5oz | Colours: Navy / Wild rose
Excellent thermal properties
Great support where it's needed
Superior cushioning in the terry sole
Limited colour options
Lots of non-recycled poly material
Pricey
Like a human, these hiking socks are designed with distinct left and right foot, so you need to be careful if you're putting them on in the dark. Helly Hansen herald these as their warmest walking socks, and this Norwegian brand knows a thing or two about the importance of keeping toes warm. These socks feature a full terry sole, which means the bottom is knitted with a secondary loop in order to create extra cushioning, increasing comfort, warmth and durability. The fit is super snug, and seams are flat and entirely unnoticeable,  The left/right specificity comes into play with the design, which provides excellent support with a rib panel around the inside of each arch, and more on your Achilles tendon. On the top of each foot is a mesh panel, which supplies some ventilation, and the cuff is ribbed, so it doesn't sag. These socks are roughly a third merino – which means they wick well, don't smell and help regulate temperature perfectly – with the rest of the material being poly, so they maintain their thermal properties even when wet and hold their shape nicely.
Injinji Trail Midweight Crew
These toe socks fit like a glove and are perfect for tough trails hikes and off-piste adventures
Unisex: Yes | Sizes: S–M–L–XL | Materials: Coolmax polyester (39%), Nylon (58%), Lycra (3%) | Length: classic crew | Weight: 80g /2.8oz Colours:** Dijon / Granite / Peak / Space / multiple patterns
Best on test for preventing blisters
Highly supportive
Constructed entirely from non-recycled manmade materials,
Takes time to put them on
Less odour control than socks made with wool blends
From the pioneers of the toesock, the Trail Midnight Crew is a nuggety and versatile weapon, which can be deployed during challenging treks through the mountains, or for running escapades across rough and rugged terrain. They're up for anything. The idea of the toesock is that it prevents you pinkies rubbing together and causing blisters or hotspots, and it allows for greater dexterity on technical trails because you can splay your toes. Having used such socks for years, I can say that all this works perfectly (the only downside being that it takes me a while to squeeze my toes into them). Obviously, being toesocks, there is a distinct left and right foot. These are tall for crew socks, a deliberate design feature to help keep out grit and sand. There's a very pronounced heel box, and the arch support is good. Comfort levels are excellent on these hiking socks, with midweight cushioning on the bottom to protect your sole, and a breathable Coolmax mesh over the top to help with temperature regulation. The fabrics used wick moisture away well, and will perform well even when wet.  The socks are made in China, entirely from synthetic materials, however, so the ecological footprint they leave behind is quite big.
Keela Multi-Active socks
Durable and versatile three-season sock made from synthetics, that performs well on the trails
Unisex: Yes | Sizes: S–L | Materials: Coolmax polyester (52%), Isofil polypropylene (38%) Nylon (7%), elastane (3%) | Length: classic crew | Weight: 70g /2.5oz / Colours:** Carbon
Reinforced heel, ball and toe regions
Left- and right-foot specificity offers extra support
Padding to alleviate discomfort from laces
Constructed entirely from non-recycled synthetics 
Lack of colour options 
Less odour control than socks made with wool blends
A versatile, high-performing, three-season sock that can be used for hiking trails or running them, these Keela crews are high-performing and long-lasting. The materials used retain their thermal properties, even when wet, but – on the downside – all the ingredients are manmade and non-recyclable, so this isn't the most eco-friendly option (Keela do offer merino socks elsewhere in their range). Little touches like the extra padding on the top to stop laces rubbing and irritating, and the Cordura-reinforced heel and toes – both high stress areas in a sock, which often fail first – are excellent. The seams are flat, and unnoticeable when you're wearing them, and Coolmax padding provides good wicking properties, as well as comfortable cushioning. These socks are left- and right-foot specific, for a more precise fit, and the elastic panels have been positioned to provide optimum support for each arch.
Smartwool Hike Light Crew sock
A light hiking sock made from mostly merino wool that looks and feels great, and performs well in warmer conditions
Unisex: Yes | Sizes: Men's M–L–XL/ Women's S–M–L | Materials: Merino Wool (60%), Nylon (37%), Elastane (2%), Polyester (1%) | Length: classic crew | Weight: 67g 2.3oz / Colours:** Denim / Taupe / Grey / Desert Solitaire and many other designs
Full of merino magic
Good arch support and high comfort levels 
Great design
Not overly warm 
Made mainly with merino wool, as you'd expect from Smartwool, Hike Light Crew socks are highly breathable, wick sweat away from your feet superbly, keep you cool when it's hot and warm when it's cold, and deal with odours and bacteria brilliantly. The next-to-skin comfort levels are sumptuous, and the flat-knit toe seam seals the snug deal – you barely realise you have them on at all. Besides the more sober colourways, these socks are available in a range of funky designs with 360° print graphics, such as the Desert Solitaires (which are a couple of dollars more), but despite their fun and frivolous look, these socks are technical trail apparel, made for walking. Smartwool offer a huge range of socks for different conditions. As the name suggests, the light hike range are not the socks of choice for highly technical treks or backpacking epics in the depths of a bitter winter, but they are excellent for most walks in more benign conditions, with light cushioning to soak up impact and provide warmth. There's also an elasticized arch brace to provide a bit more support and make the fit feel extra secure. These hiking socks offer an everyday level of comfort that makes them good both on the trails and off them, whether that's in camp, or curled up on your sofa.
Choosing the best hiking socks for you
The best hiking socks are a reasonable investment, especially because most people are going to need several pairs, so it's important to get the right ones for your needs. Carefully consider the following.
Comfort and fit
If your socks are ill-fitting they will pinch, bunch up or wrinkle, which will be massively uncomfortable and put a proper downer on the day. You will probably also end up with blisters, which will ruin your walking experience not just for one day, but for weeks afterwards. Feet vary enormously, and people have all sorts of different requirements, such as extra support around the arch or Achilles areas. Toe socks work wonderfully for some, while others will struggle to get their feet into them, which just leads to frustration. Take the time to find the best hiking sock design for you, and then stick with it. Once you have the right socks, be sure to wear them when you try on hiking boots.
Materials
This is a big consideration when looking for the best hiking socks – next to skin comfort is essential (the last thing you want is itchy feet when you're already on the move), but you need socks made from fabrics that offer technical performance too. Merino is the magic material of the outdoor world, because it keeps you warm when it's cold (even when wet) and cool when it's hot, plus it's highly breathable, wicks internal moisture away brilliantly and has antibacterial and anti-pong properties that mean you can wear it for several days without clearing a hut, or killing your tentmate when you eventually take your boots off. But, on it's own, merino will wear through fairly fast, and won't necessarily hold its shape well. Many socks combine merino (or other wools) with hardwearing synthetics such as nylon, plus panels of dynamic materials like Lycra, spandex or elastane, which provide support where its needed, such as on the arches and at the top of the cuff, so your socks stay up. Other socks are made entirely of manmade materials, such as CoolMax, a series of polyester fabrics, which perform well in the outdoors because they don't absorb water, so they won't become overly heavy and will continue to provide warmth even when wet. While they work well, however, synthetics are not biodegradable, and have a much bigger carbon footprint than natural materials. For some winter adventures, you may wish to consider fully waterproof socks, which are typically a bit more pricey.
Design, size and weight
For a seemingly simplistic item of clothing, socks come in a surprisingly array of styles. Things to look for in the best hiking socks are reinforced cushioning around the parts of the foot that bear the brunt of impact with the ground when you're walking, so the heel and the toe box. Many also offer extra support around the arch and the Achilles. Some designs have designated left and right socks, and these often offer the best support. Toe socks provide lots of protection from rubbing, but don't suit everyone. Most of the socks featured here are nominally 'crew' socks, which typically means they will extend just above the top of a standard hiking boot, but interpretation of this varies quite a lot, with some going well up the shin. We have given the exact weight of all the socks featured here, but you will often see a sock described as 'lightweight' or 'midweight', which just refers to the chunkiness of the knit.
Price
We would encourage you to invest in decent hiking socks, because they will seriously improve your experience on the trails and are well worth the expense. You should expect to pay more than you would for everyday socks – from $12/£10 upwards – because you're asking them to be technical and robust enough to deal with much tougher conditions. Bear in mind, however, that if you're going backpacking or taking on multiday walks, you will need several pairs.
All the latest inspiration, tips and guides to help you plan your next Advnture!
Thank you for signing up to Advnture. You will receive a verification email shortly.
There was a problem. Please refresh the page and try again.