14 Peaks: the Netflix mountaineering documentary scaling the world's highest peaks
14 Peaks: Nothing is Impossible follows a Nepali climber's quest to summit the 14 mountains over 8,000m in seven months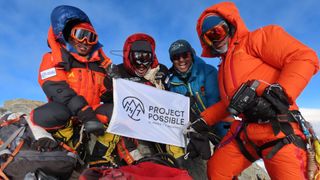 (Image credit: Netflix © 2021)
There's nothing terribly groundbreaking about documentaries that follow mountaineers breaking new ground anymore. In fact, with new climbing records being set seemingly every week and mountaineers attempting ever more daring routes, it's hard to maintain the level of awe that you might have felt the first time you watched Touching the Void while for many of us, it's difficult not compare every new record to Alex Honnold's 2017 triumph on El Cap. But the new Netflix documentary 14 Peaks: Nothing Is Impossible is set to restore your sense of wonder in the mountaineering world, whether you're a climber or not.
Released in late November, 14 Peaks follows climber Nirma "Nims" Purja in his 2019 quest to summit all 14 mountains over 8,000m in a single year. Born in rural Nepal and now British-based, 38-year-old Purja served six years with the Ghurkas, a Nepali branch of the British Army, before becoming the first Ghurka in history to be selected for British Special Forces, which requires superhuman strength and fearlessness and sends fighters like Purja into the world's most dangerous regions.
Project Possible
Having survived gun battles on top secret missions, perhaps climbing mountains doesn't seem so extreme, but then again, Purja's expedition, which he named "Project Possible", begins on the world's deadliest mountain, Annapurna in Nepal, where for every three people that make it to the summit, one dies trying.
From there, he goes on to climb five other mountains in Nepal including Everest, Makalu and Lhotse. Next it's onward to Pakistan for another four peaks including the treacherous K2 which has claimed the lives of some of the world's best climbers including Alison Hargreaves and Nanga Parbat, which took her son Tom Ballard, before finishing up in Tibet. Needless to say, the vision sounds impossible, but Purja set out to prove the naysayers wrong.
"Who the hell is Nims Purja?"
There are three unusual factors in particular that stand out that make Purja's story all the more exceptional. First, Purja was a relatively unknown climber when he began his pursuit. Of course, that's all changed in recent weeks and he's secured himself a place in climbing history, but when he first set out, Free Solo director and climber Jimmy Chin, who appears in the film and seems to have a pretty good finger on the climbing pulse, was scratching his head.
"He was someone that no one had ever heard of. Everyone was asking, 'Who the hell is Nims Purja?'" recalls Chin.
What makes this notable is that to complete such a mission, a great deal of funding is needed. You have to pay your team (and in this case, Purja had different teams for different missions), you need to purchase gear, you have to obtain visas and climbing permits and then there are the transportation costs which include not only getting to the Himalayas but in this case, frequent helicopter rides to get from one mountain to the next in such a short space of time. Simply put, mountaineering is expensive.
Investors are far more likely to back a famous climber with millions of Instagram followers and major sponsorship than a climber who appears to have little more than gumption. That Purja was able to raise such a large amount of money as an unknown is remarkable and, by his own admission, was more difficult than the climbing itself.
"Nothing is impossible"
Second, there's the sheer speed at which Purja completes his mission. At this point, it's hardly a spoiler to tell you that not only does he succeed, he does so in an astounding seven months. Just for reference, the first person to summit all 14 peaks was Italian climber Reinhold Messner and it took him 16 years. That record had previously been cut down to seven years, but was still nowhere near Purja's accomplishment.
Watching the documentary, it's hard to get a feel for how difficult it must have been only because Purja and his team make the climbing look so easy. Ordinarily, an expedition to any one of the mountains on Purja's list would take a couple of months by the time you travel, train, acclimate and wait for a weather window. Climbing in the "death zone" (above 8,000m) takes an immense toll on the human body and requires a lot of recovery, if you even survive. Purja, on the other hand, seems to be virtually immune to the effects of extreme high altitude, at one point displaying off-the-chart VO2 max results that his trainer claims never to have seen the likes of before.
At times the team seems to get back to base camp only to resume climbing again before sunrise the following morning. In fact, they climb three of the world's highest mountains in 48 hours and reach the last five summits in the span of a mere 12 days. Unbelievably, one of the peaks they climb hungover because they've been partying so hard the night before, and do it in a single push from base camp to summit which in and of itself is unheard of.
"Don't be afraid to dream big. It doesn't matter where you come from, you can show the world that nothing is impossible," says Purja.
And yet, the experience is certainly not without struggle, from encountering and rescuing an injured climber from Annapurna the very morning after their summit, reluctant climbers fearing for their lives in the face of scaling K2, to family strife including Purja's mother suffering severe health issues for the duration of the mission. By no means do you walk away from this film feeling that it was easy – just that these men contain never-before-seen levels of aptitude, courage and determination.
"This is about inspiring the human race"
Third, and perhaps most importantly, is the obvious fact that Nims is Nepali. Nepali climbers have historically been snubbed by the media and the lack of support and protection they are given by their own government has been a point of contention and controversy for many years.
"On Everest the mountain is run by Sherpas. They work so hard to support the Westerners. They take a massive risk. Without their support, there wouldn't be a climbing season," reflects Purja.
As he points out in the film, the history of climbing the world's highest peaks has been dominated by white and European climbers for the past 100 years, but they've almost exclusively been able to do so because of the support they receive from Nepali Sherpas. For every white climber who summits Everest, there may be multiple Sherpas carrying their gear, setting up lines and camp.
While summiting a peak like Everest may be a single, crowning accomplishment in a white climber's career, a single Sherpa has usually made multiple summits of Everest, with the record being 24 ascents set by Kami Rita Sherpa in 2019. Sherpas also make up one third of the deaths that occur on Everest.
And yet, as far back as 1953 when Sherpa Tenzing Norgay stepped onto Everest's summit alongside New Zealand's Edmund Hillary, Sherpas have never received the same level of recognition as their white counterparts. This undoubtedly made it harder for Nims to acquire funding and permission, but it served as his primary motivation too.
"This is about inspiring the human race. The climbing community of Nepal has always been the pioneers of eight thousanders but they never got the respect they deserve."
What seems certain after the release of this documentary is that this is about to change. Purja hasn't only been successful in summiting the world's highest peaks in record time, he's shown the world the extraordinary endurance and perseverance that Nepalese climbers possess. What this hopefully means is more recognition, increased funding and better safety and respect for all Nepali climbers going forward.
All the latest inspiration, tips and guides to help you plan your next Advnture!
Julia Clarke is a staff writer for Advnture.com and the author of the book Restorative Yoga for Beginners. She loves to explore mountains on foot, bike, skis and belay and then recover on the the yoga mat. Julia graduated with a degree in journalism in 2004 and spent eight years working as a radio presenter in Kansas City, Vermont, Boston and New York City before discovering the joys of the Rocky Mountains. She then detoured west to Colorado and enjoyed 11 years teaching yoga in Vail before returning to her hometown of Glasgow, Scotland in 2020 to focus on family and writing.