Best running shoe brands: who makes the best footwear to suit your needs?
Whether you're into road or trail running, our guide to the best brands of running shoes will start you off on the right foot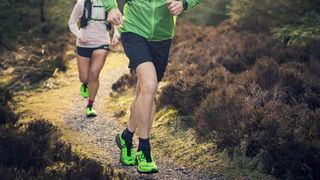 (Image credit: inov-8)
When considering the best running shoe brands, there are so many to choose from – from the famous, well-established companies that started out over 100 years ago, to super new ones innovating and pushing the boundaries of what the best footwear – whether the best road or best trail running shoes – ought to do or look like.
Some brands – hello Nike, Adidas and Brooks – need no introduction; so many people are aware of their cutting edge technologies but did you know how they started out? Read on.
Others who've earned a place among the best brands of running shoes dedicate themselves to the adventurous world of trail and ultra running like Salomon and Inov-8, while companies like Topo and Altra concern themselves with a wide forefoot fit so as not to squash your toes together and foster a more natural, efficient running technique.
If budget is your sticking point we have Kalenji's exciting range for you starting at a mere £12.99 (about $16). Then there are the new kids on the block, the innovators – On Running puts holes in the sole and Hoka goes all out for maximal cushioning and bounce while still remaining light as a feather.
Whatever you're looking for in the best brands of running shoes, there'll be something here that you can connect with. Read on to find out more.
The best running shoe brands for roads
Nike
The name Nike comes from the Greek goddess of victory, and partly thanks to its well-known slogan 'just do it' this North American company is one of the biggest and best-known running shoe brands in the whole world. So it isn't surprising that since the innovative Waffle Trainer in 1973 and Air Max in 1987 it has continued to make shoes worn by the world's fastest runners – including Britain's Mo Farah, the 5,000m and 10,000m Olympic gold medallist in 2012 and 2016, and Paula Radcliffe, women's marathon world record holder from 2002 to 2016. Nike has also been the official kit supplier of British Athletics since 2014.
For runners, the brand is currently all about the Nike Air Zoom Alphafly Next shoe, a collaboration with world record marathon runner Eliud Kipchoge who ran the only ever sub-two-hour marathon under highly controlled and managed conditions using a team of pacers in 2019. He wore a pair of prototypes that made him 4% more energy efficient thanks to their winning combination of carbon fiber and foam, plus air pods under the shoe sole for increased energy return per footfall.
Notable Nike models
If you don't know about the jet-propeller-esque Nike Air Zoom Alphafly Next, then where have you been hiding? Other notable models are the Nike Air Force 1 basketball sneakers, the Nike Air Max, Flyknit and Pegasus running trainers.
Comparable brands
Nike and Adidas have a long-standing rivalry in the running world. Also look at Puma, Reebok and New Balance.
Adidas
Adidas is one of the best road running shoe brands around, alongside fierce competitor Nike. We couldn't fail to mention Adidas when it comes to road, and trail running too with its Terrex range. The name comes from founder Adi (Adolf) Dassler from Barvaria, Germany, who registered the name Adidas and the three stripes in 1949. Adi made the football studs that allowed the German national soccer team to beat the unassailable Hungarians in the 1954 World Cup final, and suddenly Adidas became a household name in innovative shoe technologies. In 1984 Adidas even popped a tiny computer into the Micropacer shoe to calculate performance statistics – ahead of its time by a long way.
Today Adidas continues to innovate and maintain its place among the best brands of running shoes, with the Ultraboost launched in 2015 using state of the art NASA technology and hailed by the brand (which is obviously, not at all biased) as "the greatest running shoe ever". Its white, welded energy capsules are designed for comfort with 20% more energy return than standard EVA rubber, and have became popular not just with runners, but with popstars and fashionistas alike.
Notable Adidas models
The Adidas Ultraboost is a firm favourite, the Adizero Adios Pro 2.0 is a great marathon shoe, and the Solarboost 4 is best for ultra running.
Comparable brands
Nike, Saucony, Reebok, Brooks, Asics – all the usual big players have a similarly wide range of footwear for running at low to high price points.
The best running shoe brand for stability
Brooks
If you're afflicted by overpronation and need a bit more of a supportive shoe to avoid injury and discomfort on your runs, Brooks make an excellent variety of shoes including wide fit and ones with more support for overpronating runners – check out our guide to different types of running gait. According to Brooks, "Overpronation happens when the arch of your foot collapses as your foot hits the ground." Luckily they sell a whole range of shoes to mitigate this problem. You can also search their site via size, price, width and experience level which is really useful in narrowing it down because as a longstanding brand they do have a great many shoes on the site.
Sadly they no longer sell their first products ≠ the bathing and ballet shoes they sold in 1914 were made in a small factory in Philadelphia, USA. They also claim to have invented the bumper on the front of roller skates in 1929, and they also made baseball cleats and football studs around this time too.
Notable Brooks models
The Brooks Adrenaline GTS is the mainstay of the stability shoe market, invented in 1999 and now on version 22(!) it remains one of the most popular road running shoes for overpronating runners who still want a flexible and versatile, lightweight training shoe. Look at the Cascadia 16 as one of the best road to trail running shoes, and the Ghost 14 for road.
Comparable brands
Asics, Saucony, Adidas and Nike are also well-established and well-known road running brands that offer supportive shoes for overpronating runners.
The best budget running shoe brand
Kalenji
Outdoor sports megastore Decathlon is the best place to snap up a bargain pair of road or trail running shoes, with their own brand Kalenji adult road running shoes starting from just £12.99! They also sell other brands at knock down prices like Adidas, Asics and Salomon. Kalenji running shoes may not have the all singing all dancing features of your carbon-plated Nike Air Zooms or your super durable, grippy, graphene-enhanced Inov-8's, but they will allow you to run without denting your wallet very much indeed with none of their own brand shoes peeping above the £60 mark. Decathlon is a family owned company founded in 1976 by Michel Leclercq in Lille, France. He believes that sport and the outdoors should be accessible to everyone. He wants their design to be "Smart, stylish and affordable," and his motto is "Give customers advice as if they were your best mates." We like this man already.
Notable Kalenji models
The cheapest adult pair of running shoes is the £12.99 Kalenji Run 100, a lightweight model designed for running up to 10km per week. For the more serious runner the Kiprun Ultralight is £60 and for trail running try the Evadict at the same price.
Comparable brands
Most of the larger shoe brands have a more budget end, including Asics, Saucony, Brooks, Nike, Adidas and Reebok, or look for the less expensive past season's models in the sales.
The best running shoe brands for innovation
On Running
On Running shoes are visibly different from all the rest with their 'cloud pod' domes under the sole for maximum bounce. Founded in 2010 in the Swiss Alps by three friends (including retired three-time World Duathlon Champion and multiple Ironman winner Olivier Bernhard), the team wanted to make running as much fun as possible with the 'perfect running sensation'.
The team has gone on to develop a huge range of shoes for road, trail and ultra running, all with that signature sole in some form. The company's first ever shoe, the Cloudracer, was super light and propulsive and described by the Wall Street Journal as "a revolutionary running shoe". The company sponsored triathlete Nicola Spirig won an Olympic gold medal in 2012 and silver in 2016 wearing On Running shoes, and Frederik Van Lierde won the Ironman World Championships in Kona, Hawaii wearing the brand's first shoe.
Notable On Running shoes
The Cloudultra are fantastic ultra trail running shoes, the Cloudmonster have the most cushioning with two tiers of cloud holes, and the Cloudsurfer 6 is closest to the original Cloudracer – lightweight, with cloud pods under the sole.
Comparable brands
No other brand makes shoes with visible open holes in their soles, but if you're looking for extreme bounce and light weight, Hoka, Nike and Adidas will provide (minus the holes).
Hoka One One
Hoka One One is possibly best known for its foray into maximal cushioned shoes in 2009 following the massive trend for minimal or barefoot shoes during the 2000s. The company was founded by former employees of Salomon and the One One (pronounced oh-neh, oh-neh) means 'fly over the earth' in Maori. They were trying to design a shoe for faster downhill running, hence the oversized outsole of their original shoe the Mafate which had two to three times the padding of most other running shoes, but remained surprisingly lightweight. Think 70s platform shoes but for running.
Contrary to what you might think with all that cushioning, many Hoka shoes have a low or zero drop (the difference in height between heel and toe), and are designed to promote a more natural gait. Now Hoka has branched out with a huge range of brightly-colored shoes for trail and road running along with hiking and walking and they are very popular with ultra runners due to their high cushioning, great rebound bounce, and light weight.
Notable Hoka shoes
The original Hoka Mafate trail running shoes are now in their third incarnation, the Hoka Mafate Speed 3. The Stinson ATR 6 are great for both road and trail, and Clifton 8 is their classic road running shoe.
Comparable brands
Altra make highly cushioned shoes with zero drop, while extreme bounce and fresh, exciting colorways can also be found at Merrell, Nike, Adidas, Asics and Brooks.
The best running shoe brands for trail, fell, and ultra runners
Inov-8
Inov-8 is most famous for its lightweight shoes with extreme grip, catering to hardy fell runners in the UK's muddy, boggy mountains. Founded in the Lake District in 2003, it has now branched out into trail, ultra, cross-fit and road running shoes, and most recently partnered with the University of Manchester to bring graphene to the shoe arena – making its shoes more grippy and more durable than ever.
Inov-8's ambassador athletes are also among the most impressive around, including double Bob Graham record holder Nicky Spinks, Pennine Way and South West Coast Path record holder Damian Hall, and until recently Jasmin Paris, the outright winner of the 268-mile winter Spine Race.
Notable Inov-8 models
The first ever Inov-8 shoe was the super grippy MudRoc 290, brought to fame in 2003 by Melissa Moon from New Zealand who won the women's World Mountain Running Trophy in Alaska with a pair borrowed just before the race. The MudClaw range must be some of the most grippy shoes around, the RocLites remain an absolute classic multi-terrain shoe, and the X-Talons fill the ultra running slot for long distance bog-hoppers.
Comparable brands
Salomon, Scott and La Sportiva also make super grippy trail running shoes, multi-terrain and road-capable shoes at similar prices – apart from the latter, which is the more budget option.
Salomon
Salomon is well know in in the trail running world for its grippy Speedcross multi-terrain shoes but it started as a ski equipment brand in 1947 making skis and bindings in the heart of the Alps in Annecy, France. They invented the first binding with a self-release heel in the 1960's and over the next few decades they became world leaders in ski manufacture before launching hiking shoes in 1992, and moving into the adventure racing and trail running shoe and clothing arena soon after.
It built an impressive roster of sponsored athletes, quickly snapping up budding Catalonian star Kilian Jornet in 2008, when he set a new Ultra Tour du Mont Blanc record, while super talented Emelie Forsberg represented Salomon as Skyrunning World Champion in 2013. This pair have now left the brand to start their own company Nnormal (launching later this year), but Salomon remains at the forefront of trail running innovation to this day with its athlete-designed S-Lab range.
Notable Salomon models
The Speedcross is Salomon's original and best selling trail running shoe, and the company has just unveiled its sixth edition. The Sense Ride 4 is a less grippy road to trail shoe, and the S-Lab selection features top of the range trail running shoes for those at the top of their game.
Comparable brands
Inov-8, Scott and La Sportiva also make a wide range of trail and road running shoes at similar prices, apart from La Sportiva, which is slightly cheaper.
Best running shoe brands for wide feet
Topo
Many runners crave a wider toe box, and there are two brands out there dedicated to serving this need for runners – Altra and Topo. Altra shoes are all zero drop, which may not suit every runner (especially those used to more of a 10mm drop like traditional road running trainers). Topo, however, answers the call with a small range of zero or 5mm drop road and trail running shoes with a visibly different footshape around the toes. For many runners it's a breath of fresh air to slide their foot inside a Topo shoe and feel that their little toe isn't squashed painfully against the others. The shoes are great for trail,s with less support and good ground-feel so the foot can respond naturally and quickly to the uneven terrain below.
Notable Topo models
The Mtn Racer 2 is a fantastic 5mm drop trail running shoe for those with wide feet, as is its 5mm drop sister the Cyclone road shoe. The Magnifly 4 is a zero drop road shoe, which you must transition to slowly if you're not used to the lack of stack under your heel.
Comparable brands
Altra is the only other dedicated wide-foot brand but every single shoe is zero drop from heel to toe which many not suit some runners. Lems (USA) makes dedicated wide-fit lifestyle, hiking, and one or two running shoes. Otherwise, Inov-8, Brooks, La Sportiva, Asics, On Running and Saucony do make some models of shoe relatively wide-fitting.
Altra
As mentioned above, Altra is the only other running brand specifically catering to the needs of wide-toed runners. They make trail, road and lifestyle shoes with a wider toe box that allows the foot to spready out more naturally with a straight big toe, decreasing the risk of bunions, hammertoes and plantar fasciitis. Altra's underfoot padding ranges from 21mm to 33mm but every single shoe is also zero drop which they say "Encourages better running technique and promotes proper form to reduce impact by three to five times".
Drop is the height difference between the heel and toe and Zero Drop is therefore the heel at the same distance from the ground as the forefoot. It does seem odd that we slap a higher cushion under our heel in a regular pair of trainers when we're designed to walk and run with our whole foot flat to the ground. However, if you've been heeled for the most-part of your life your body will be used to running with the heel at a different angle, so do be sure to transition very gradually (we're talking 1-2 years) to zero drop shoes to avoid straining or injury to your Achilles and calf muscles.
Notable Altra models
The Altra Timp 4 is a hugely popular trail running shoe with ample cushioning, while the less cushioned Lone Peak 6 comes in an extra wide version and boasts more aggressive grip. The Escalante Racer is their best road running shoe.
Comparable brands
Topo is the only other dedicated wide-toe-box brand and Lems make dedicated wide-fit lifestyle, hiking and running shoes. Some models from Inov-8, Brooks, Merrell La Sportiva, Asics, On Running and Saucony are also nice and roomy in the toe box.
All the latest inspiration, tips and guides to help you plan your next Advnture!
The co-founder and former editor of Trail Running magazine, Claire now runs the YouTube channel Wild Ginger Running, creating films packed with trail- and ultra-running content. An award-winning journalist, writing for outdoor and adventure sports magazines and websites, her first book The Ultimate Guide to Trail Running 5k to 50k is out in January 2021. Claire also speaks and presents at events and races.