Best music for running: for motivation, speed, recovery and more
Assemble your own personal playlist with our guide to the best music for running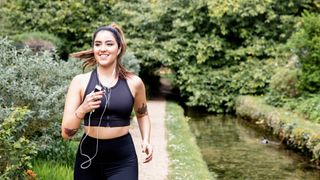 (Image credit: Getty)
Finding your favorite headphones is one thing – but what's the best music for running once you've got them?
Listening to tunes or motivational podcasts while you run is a great way to get yourself out of the door, feel good about yourself, run stronger, or just entertain yourself and chill out. Of course, music depends so much on personal taste, but we've put together a few suggestions for the best music for running if you're easy going in your listening and like a varied selection of music for different moods and paces. You can also check out our guide to the best running headphones.
The best running music for motivation
If you have trouble getting out of the door in the first place – especially when you're feeling mentally tired from a long, busy day – a quick blast of some of your favorite upbeat workout songs should have you bopping around the room reaching for your running gear in no time. The power of music is awesome for re-energising you – be amazed as your head-bobbing breaks your face into a smile, then turns into some serious booty-shaking as a warm up.
If you have Spotify (or another streaming service), type in 'motivation', 'inspiration' or 'upbeat' and see what playlists come up. Songs from your younger years are always a good choice too. The best music for running is a matter of personal taste, but if you want to start your own playlist, here are some bangin' tunes to get started with: 'Push It' by Salt n Pepper, 'Pump it Up' by Endor, 'Good Feeling' by Flo Rida, 'Absolutely Everybody' by Vanessa Amorosi and 'Starships' by DJ Club Banger.
The best running music for a speed session
If you want to psych yourself up for an interval session, tempo run or fast parkrun at maximum effort, use some fast-paced tunes in your couple of miles warm up to get your brain in the right place as your body. You see elite athletes with headphones on at the Olympics, getting in the zone with their carefully selected playlist – now it's time for you to do the same!
Every time you hear a song on the radio or on a night out that really gets you fired up and zinging, make a note of it on your smartphone. Add them to your speedwork playlist whenever you get a moment and gradually you'll build up a sure fire set of songs to make you run fast and furious as well as have great fun doing it. We like classics like 'Don't Stop Me Now' by Queen, 'Whole Lotta Love' by Led Zeppelin, 'School's Out' by Alice Cooper and 'Firestarter' by Prodigy.
The best running music for going the distance
For some, the long run can drag a little in the middle between an energetic start and that 'I can see the home straight' feeling of buoyancy a few miles from the finish. You might want to put on similar motivational tunes to the ones that got you out of the door in the first place (see above), or, you might want a bit more of a strong, repetitive beat like you find in dance, trance and house music.
Great albums to keep you going strong on that long run include 'Vocal Trance Hits', 'Dance Anthems 2022', and any of LMFAO's albums like 'Party Rock' and 'Sorry For Party Rocking'. The strong, fast beats encourage your legs to turnover that little bit quicker than you would otherwise manage in the doldrums of a long run. Upbeat music like this almost feels akin to a psychological running gel.
Alternatives to the best music for running
The best music for running may not always be music. On each of these runs you might want to mix it up with podcasts and audiobooks for a different kind of inspiration and interest. There are so many podcasts about running , but some worth noting are Talk Ultra and Bad Boy Running, as well as this writer's own Wild Ginger Running for trail and ultra running advice and inspiration. The much-loved Marathon Talk has now finished after 600 episodes, but if you haven't yet discovered it this is a wealth of unbeatable information that is still available to scroll back through.
You could also listen to some of the best books about running as audiobooks. we recommend the inspiring trail running classic Born to Run by Chris McDougall, Running Like a Girl by Alexandra Heminsley, The Pants of Perspective by Anna McNuff and Depression Hates a Moving Target by Nita Sweeny. Also Try Scott Jurek's first ultra running book Eat & Run, and Running Home by Katie Arnold. These audiobooks will reignite your passion for running and get you home with more of a spring in your step.
The best running music for recovery
It's not all about using music to speed you up and get you going – it can also play an important part in recovery too, easing your mind and soul as you cruise those cool down miles, take a walk, stretch or actually do that yoga session you've been meaning to fit in. Everyone will have their personal favorites, from singing along to '80s power ballads to chilling out with an album by Morcheeba or gentle folk music from Kate Rusby.
This is the time to put on the songs you think are the most beautiful in the world, shove the kid's/dog's/partner's mess out of the way and dive into your own personal sensory pool of relaxation from the comfort of your living room. And if you find stretching a chore, do it while listening to a life-improving podcast or an audiobook to kill two birds with one stone. Ticking two items off your to-do list at once must be a good thing, right?
All the latest inspiration, tips and guides to help you plan your next Advnture!
The co-founder and former editor of Trail Running magazine, Claire now runs the YouTube channel Wild Ginger Running, creating films packed with trail- and ultra-running content. An award-winning journalist, writing for outdoor and adventure sports magazines and websites, her first book The Ultimate Guide to Trail Running 5k to 50k is out in January 2021. Claire also speaks and presents at events and races.