Best barefoot running shoes: for barefoot and natural runners who like to feel the trail beneath their feet
By Paul Barton
Our guide to the best barefoot running shoes and minimal designs for improving form, reducing rolled ankles and experiencing the addictive sensations of increased ground-feel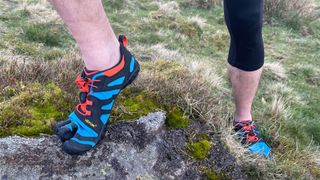 (Image credit: Future)
The best barefoot running shoes may not be for everyone – many people will be looking for the best trail running shoes with a bit more support – but there's a growing trend for more minimal designs.
It's been just over 10 years since the first wave of barefoot running enthusiasm swept across the world. Christopher McDougall's book Born To Run (published in 2009 and one of Advnture's best running books) inspired so many of us to ditch the cushioning, high heels and protection of traditional running shoes and try 'minimal'.
Early on, when running with a forefoot landing and a reduced stride length was the hot topic, the best barefoot running shoes were Vibram's FiveFingers, with their separate toe pockets. Fast-forward to 2021 and many running shoe manufacturers are still experimenting with minimal designs that relate back to 'that book'.
Some runners fully adapted to minimal footwear and never looked back. Some still use barefoot shoes occasionally as a weekly 'tune-up'. Some will have moved on to shoes that sit somewhere between minimal and regular designs, but which embrace other features that started with the barefoot movement: lightweight shoes, zero (or very low) drop from heel to toe, low stack heights, foot-shaped uppers and wide toe-boxes.
Here we have selected the best barefoot running shoes, mostly for the trails, that embrace some of these minimal design philosophies. We've tested them for comfort, grip and ground feel over long runs and short speed sessions to help you choose the best barefoot running shoes for you.
The best barefoot running shoes
Vibram FiveFingers V-Trail 2.0 Trail
The original minimal shoe that still turns heads due to its distinctive simian style
RRP: $120 (US) / £130 (UK) | Gender availability: Men's & Women's | Weight (per shoe, men's UK11): 221g/7.8oz | Colors: Blue & orange / Black & yellow / Ivy & black | Drop: 0mm | Compatibility: Great on all trails, with the exception of deep mud
Light
Well made
Grippy
Can be hard to put on (depending on toe shape)
Expensive
It's imperative to tackle the 'love it or hate it' looks first. FiveFingers look… unusual. There's pros and cons to that famous 'toe pocket' design. Pros are the natural, almost naked feel and the powerful toe-off delivered by five toes able to flex and splay independently over the terrain. Cons are mostly a design that won't suit everyone's foot shape – our testers' little toes didn't reach the little toe pocket and his big toes were a tight fit. The Vibram company are most famous for their outsoles, specified here their super sticky MegaGrip, which doesn't disappoint (deep mud being their only foe - they're not fell shoes!). Within the sole, 3D Cocoon technology (a plate of sorts) balances ground-feel with reduced ground pain cleverly. There's no midsole of-course, so they're zero drop, light and nimble. Heel striking is, by design, painful and so a fast cadence and short stride is almost automatic. Runners in very hilly areas will likely find hard packed or road descents tricky at speed. Overall comfort is impressive and the lacing system cinches up the mid-foot securely.
VivoBarefoot Primus Trail II FG
Top notch, tactile, rough-terrain creepers with excellent eco credentials
RRP: $160 (US) / £120 (UK) | Gender availability: Men's & Women's | Weight (per shoe, men's UK11): 285g/10oz | Colors: Obsidian (Black) | Drop: 0mm | Compatibility: All trails
Excellent trail feel
Light
Breath well
Made from recycled materials
Too minimal for some - you'll feel everything
Wider than some feet require
No choice of color
The FG in the name refers to 'Firm Ground', but Vivo say the Primus Trail IIs can cope with most sorts of underfoot conditions – wet or dry, rocky and rubbly or firm – with the FG sole (armed with 4mm lugs) offering multi-terrain traction and a sticky rubber compound for all round grip and durability. These claims really stood up on test, and the shoes inspired confidence on even the most slippery of surfaces. We found the Primus Trail let our feet breath really well, and was surprisingly good at keeping trail juice out (puddles need to be pretty deep before water gets in), but there was some tightness around the smaller toes. The tongue is longer than it needs to be, causing irritation, and not everyone is a fan of the quick-lace system. The shoes seem very durable so far (albeit with a few creases) and the fact that they are made entirely from recycled materials is a huge plus. They're also easy to transport, being light and easy to squish into a bag or pack.
Xero Shoes Mesa Trail
A dependable comfortable shoe that's adaptable over lots of trail types
RRP: $120 (US) / £105 (UK) | Gender availability: Men's & Women's | Weight (per shoe, men's UK11): 250g/8.8oz | Colors: Dark grey / Clay rust / Forest / Orchid | Drop: 0mm | Compatibility: Trails of all kinds
Good grip in soft conditions
Smart (if a little plain) design
Good value
Outsole compound quite hard
If you've ever opined that some of the bigger shoe companies spend too much on product styling you won't be similarly aggrieved at XeroShoes Mesa Trail. They are aesthetically functional. It's not really until they're on your feet that the excitement levels rise. They've chosen a subtly foot-shaped last to build these on that will please most runners. The upper is soft and comfortable and the eyelet chain, a mixture of punched holes and webbing, does a great job of securing the mid-foot. A combination of bonded overlays and a stitched toe bumper toughen up the upper where required. There's no midsole but there is a smartly specified insole that's made from a closed-cell foam (which won't gain weight when soaked) and is perforated for weigh savings and airflow. Multi-directional 3.5mm lugs provide decent grip over wet grass and soft ground. The rubber compound is not tacky; this can cause grip issues on hard wet surfaces but, as a positive, should result in a long lasting outsole. For a shoe with no midsole the Mesa Trail will suit a surprisingly broad set of runners.
Merrell Bare Access XTR
An excellent blend of familiar running shoe and barefoot trail ripper
RRP: $100 (US) / £95 (UK) | Gender availability: Men's & Women's | Weight (per shoe, men's UK11): 260g/9.2oz | Colors: Magma (Deep Red) / Black | Drop: 0mm | Compatibility: All trails
Uncontroversial recommendation for most people
Good value
Nice looking
Midsole could be livelier
Tightly spaced lugs limit mud grip
At first glance the Merrell Bare Access XTR have a distinctly 'normal' running shoe appearance, but delve a little deeper and their foot-shaped and minimal principals shine through. As an example you'd think there was a heel-to-toe drop, but your foot actually sits in the midsole, rather than on it, and more so at the rear. There's 17mm of stack, rear and fore, including a Vibram outer, which uses 3mm lugs for grip. It's not super sticky but performs well, only sliding around dramatically for our tester in some inappropriately deep snow and sticky mud. The midsole is firm but still provides comfort over rough terrain without muting ground-fell completely. The mesh upper is foot-shaped and broad but not super wide. The gusseted medium padded tongue helps with comfortable lacing; a good lock down and secure heel lock are easily achieved. Overlays, heel counters and toe bumper features are all subtle but present. The minimal design and lightweight encourage fast feet while the midsole adds a level of protection for worry free fast descending.
Altra Superior 4.5
Foot-shaped shoe with zero drop that's a fun and agile trail speedster
RRP: $110 (US) / £120 (UK) | Gender availability: Men's & Women's | Weight (per shoe, men's UK11): 302g/10.6oz | Colors: Black / Blue & yellow / Green & lime / Blue & lime / Yellow & port | Drop: 0mm | Compatibility: All trails
Light, fast and fun
Great all-rounder
Grip in sloppy mud could be better
Altra don't particularly associate with the barefoot 'movement' – their appeal is broader and less controversial. However, the Superior exhibits features that fit with our 'natural running' theme. Altra is appreciated for their twin design philosophies of foot-shaped and balanced cushioning. The former describes a shape that allows your toes to splay, especially during toe-off. The latter refers to their zero drop platform; this feels like extra 'cush' under the ball of your toes rather than less under the heel. As the most minimal shoe in their trail range, a considered line choice rather than a wanton blast is the best descending technique. The upper is a thin, soft and flexible engineered knit, lightly padded in the mid-foot, a little more around the heel collar. Like the padding, the midsole is  'just right' for a fast shoe, with 21mm of Quantic midsole and MaxTrac rubber giving responsive cushioning and dependable grip over most terrain. Only muddy conditions causing occasional slips. Under the 6mm insole is Altra's StoneGuard; a removable plastic layer that could save you 30 grams and increase ground feel although we left them in enjoying the protection they provide.
VivoBarefoot Primus Lite III
Barefoot-style road- or training shoe for that 'did I remember to put my shoes on' feel
RRP: $140 (US) / £115 (UK) | Gender availability: Men's & Women's | Weight (per shoe, men's UK11): 258g/9.1oz | Colors: Obsidian (Black) | Drop: 0mm | Compatibility: Designed for road running and training
Light
Very 'green' creds
Foot-shaped – your toes should thank you
Too minimal for some – you'll feel everything!
Wider than some feet require
Along with just a couple of other companies, VivoBarefoot are known for their foot-shaped shoes; which may leave many readers asking why all shoes aren't foot-shaped… Sadly many daily wearers of pointy office shoes may be past the point of needing such a healthy human foot shape. But if you've ever felt your big toe pushed over by an upper, give Vivo a go. The shape and width give your toes room to splay, becoming more active in the toe-off stage of your gait. Your feet are more part of the shoe's friction mechanism too, molding around terrain where normal shoes use midsole. This is a powerful and connected sensation but may feel tiring at first as your feet strengthen to this new challenge. Good form is encouraged when wearing these shoes, as heavy heel striking is essentially impossible. They seem well made and their vegan status and recycled materials will please many environment-conscious runners. A tough eyelet chain and solid welded construction should promote longevity, while smartly placed upper overlays should limit damage caused by big toes. Those with deep mid-foots should note Vivo's shoes volume is more from width that height.
Arc'teryx Norvan SL
Bafflingly lightweight minimal mountain racing shoe
RRP: $160 (US) / £130 (UK) | Gender availability: Men's & Women's | Weight (per shoe, men's UK11): 206g/7.3oz | Colors: Orange / Grey | Drop: 7mm | Compatibility: Trails
Crazy light
Durable high tech construction 
Hydrophobic
Expensive
Midsole firms up in cold conditions Too breezy in cold conditions
With 19mm of stack under the heel and 12mm under the forefoot, the Norvan SL place your foot in a more traditional running shoe position. But the weight, or lack of it, and nimble feel of these trail racers means they deserved a place on our minimal shoe list. Sub 200 grams for most feet is record breakingly light for a trail shoe. And they stay light too; there's no spongy insole (there's no insole at all) or padded upper to soak up water. They're designed to work without socks for that simple bare experience. The upper is a hydrophobic TPU mesh that breaths impressively for cool summer running. The fit is ergonomically foot hugging but not as narrow as you might first think, there's some forefoot room here. The Vibram outsole grips well on abrasive rock and fine on hard packed trails but isn't happy on wet grass or in muddy boggy conditions. If you're a trail runner who likes to take the occasional left turn and throw some serious grade scrambling into your run, the Norvan SL is well worth a look.
*At time of writing the Norvan SL are being subtly updated to version '2' with a more resilient midsole compound and a less controversial heel cup design. New colors include Venom/Elytron (acid yellow), Glade (sky blue) and Black.
Hoka One One Evo Jawz
Lightweight pared back aggressive trail and fell racing shoe
RRP: $130 (US) / £110 (UK) | Gender availability: Men's & Women's | Weight (per shoe, men's UK11): 239g/8.4oz | Colors: Cyan & Citrus | Drop: 3mm | Compatibility: All trails – especially on race day
Light
Very grippy
Surprisingly responsive 
Good value
Longevity concerns
While Hoka One One are more commonly known for maximally cushioned road and trail shoes, a cursory glance at a beefy look at a Hoka Clifton doesn't tell the whole story. Firstly, all Hoka are low drop – usually 4mm. Secondly they also make shoes like these Evo Jaws that are low drop (3mm) and low stack too, placing your foot securely close to the ground. This midsole, although thin, manages to balance foot protection with ground feel perfectly while adding comfort and responsiveness that's genuinely surprising. Vibram's MegaGrip provides impressive grip on hard surfaces where compound is key. Where the Jawz really shines is where mechanical grip is called for; 6mm multi-directional lugs bite into mud and bog delivering a confidence-inspiring ride that will encourage flat out off trail silliness. Above all it's the minimal weight that ensures the features all come together so successfully. The upper is a thin, single layer, hydrophobic rip-stop fabric. The tongue is un-padded. The heel cup, though comfortable, is just lightly padded. We think the Jawz is best reserved as a race-day shoe.
inov-8 X-Talon 255
Light weight but tough, low slung, fell-tearing race shoe
RRP: US155 (US) / £120 (UK) | Gender availability: Men's & Women's | Weight (per shoe, men's UK11): 304g/10.7oz | Colors: Blue and Green | Drop: 3mm | Compatibility: All trails
Tough
Ferocious grip
Decent value
Could be too much volume for shallow feet
Founded in 2003, inov-8 predates the Barefoot revolution – their shoes are minimal for different reasons (speed). But there's plenty of feature overlap, especially with this wide fitting version of their legendary X-Talon (pronounced Cross Talon, shoe pedant fans). The extra width brings plenty of toe wiggle room for those wanting to feel the strength of their feet through the toe-off stage of their gait. Lacing over the mid-foot and a secure fitting heel cup ensure a solid lockdown although runners with shallow or medium width feet may find there's more volume up front than required. They still manage to contour well – there's never any feeling that they're cumbersome. They feel light and nimble as you'd expect for a racing fell shoe. You'd also expect grip and Inov-8 do not let us down – 8mm sticky rubber lugs bite into soft terrain and stick to hard rock with equal tenacity. And when your trail takes you on short hard-packed sections the thin midsole, from 5mm under the forefoot to 8mm under heel, is compliant enough to carry you on comfortably until the route turns fell-ward again and the X-Talon's are back in their happy place. A tough upper should see you through a long lifespan.
What to look for in the best barefoot running shoes
The best barefoot running shoes – or best natural running shoes / best minimal running shoes, according to your preferred terminology – share certain very specific characteristics, yet, as evidenced here, they can also look very different to one another.
When selecting the best barefoot running shoes to test we went for quality first, but also chose a range that went from super minimal (for the true barefoot experience) to shoes featuring low stack designs with just a little midsole that still encourage natural running. We suggest that analyzing the differences between these shoes is a good tactic when you are shortlisting your next purchase. Ask yourself the following questions:
Do you want the extreme 'barefoot' experience?
If you're keen on the proper barefoot experience your shoe will need to be zero drop (with no difference in height between the heel and toe) and have no midsole. It might not even have an insole, and may have been designed to wear without socks. The outsole rubber could be surprisingly thin for maximum ground-feel. The shoe should be very lightweight and barefoot brands will often keep the bumpers and overlays to a minimum – simplicity is key. And there'll be no guide structures like medial posts or arch supports. Look for a wide and foot-shaped forefoot that will allow your forefoot to relax and your toes to splay. Many of the best barefoot running shoe brands are also proud of their eco-creds using recycled materials in manufacture and offer recycling programs when the shoes are worn out.
Or… Do you want a shoe that encourages natural running, but still offers some cushioning?
Many trail running shoes feature zero (neutral) or minimal drop between the heel and the toe, which encourages a natural running style instead of high-impact heel striking stride, but still have a little bit of a midsole. What you gain here is a little bit of cushioning, and what you loose is some trail or ground 'feel'.
A word of warning
If you're completely new to low-stack and low-drop/no-drop barefoot running shoes, they can cause increased calf strain at first, so transition carefully and read up on the best barefoot shoe running techniques. Try one short run a week to begin with. Listen to your body and increase mileage and frequency carefully. Our 'how to start barefoot running' guide will give you some pointers. Be warned, increased ground feel is strangely addictive.
Mid-pack fell-plodder Paul has been writing about his outdoor adventures for about ten years. Initiated by a move from Coventry to the Peak District in 2010, Paul quickly evolved from jogger, reluctant gym-goer and occasional camper to full-blown fell-obsessed trail runner and wild camping adventurer. Paul's 2016 attempt at the Cape Wrath Ultra was only curtailed (on day six!) by an infected big toe; the story of its Vesuvius style release, with supporting photos, is something Paul is too keen to share.
All the latest inspiration, tips and guides to help you plan your next Advnture!
Thank you for signing up to Advnture. You will receive a verification email shortly.
There was a problem. Please refresh the page and try again.