The best running gels 2023: convenient, tasty energy for the road or trail
The best running gels, aka energy gels, keep you going during longer runs, from half-marathons to ultras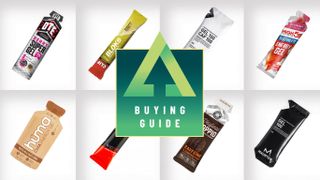 (Image credit: Future)
The best running gels can make a significant difference to your performance. For runners taking on long-distance events, one of the biggest causes of the dreaded DNF (did not finish) is a poorly planned or badly executed refuelling system – running with the best hydration pack is a crucial start but that's not the whole story. If you don't feed your muscles what they need to keep putting in the hard yards, you're going to suffer a hunger flat sooner or later, and when your body bonks, it's all over. You might drag yourself to the finish line, but your performance levels will be way down, and the whole experience becomes a sufferfest.
While running, you burn calories big time, and to keep going over longer distances, you need to remember to consume carbohydrates at regular intervals. The body stores carbohydrates as glycogen, and no matter how much carb loading you do in preparation for your event, after about 90 minutes of exercise, your supplies will be running low, and you'll need to refuel (see also what to eat while running for how eating and drinking at the right time can improve your runs).
You can consume various everyday foods to get energy levels back up, from trail mix, fruit and jelly babies to peanut butter sandwiches and chocolate bars. They all do a job, but each comes with its own set of annoyances too: bananas are heavy and get squished easily; chocolate bars melt and make a mess; sweets are sticky, and sandwiches are bulky and hard to swallow. Solid fuel also takes longer to digest, and the process can draw blood away from your all-important leg muscles to your stomach, which will lead to fatigue and cramp.
For many runners (and cyclists and multisport competitors), energy gels are the ideal during-activity refuelling solution. The best running gels are compact, sealed, lightweight, simple to carry, easy to consume, quick to digest and contain carefully considered ingredients to keep you going including glucose, fructose and electrolytes.
The best energy gels do, of course, differ in various ways, from price and packaging to flavor and contents. So below is our pick of the best running gels. You can also check out our guides to the best active nutrition, what to eat before running and what to eat after a run.
The best running gels for taste
Scientifically superior gels that deliver a big dose of energy and taste sensational
Specifications
Flavors:
Black Cherry Yoghurt / Orange & Banana / Apple Crumble / Cherry Bakewell / Lemon Drizzle / Strawberry Yoghurt / Raspberry Ripple / Rhubarb & Custard / Forest Fruits (with guarana) / Banoffee (with guarana) / Caramel Latte (with guarana)
Ingredients:
Maltodextrin, water, fructose, electrolytes, citric acid, natural flavor, preservative
Energy per sachet:
486kJ / 114kcal
Carbohydrates per sachet:
29g
Potassium per sachet:
11.5mg
Reasons to buy
+
Massive dose of energy per sachet
+
Huge range of tasty flavors
+
Electrolytes included
+
Litter-free tear tab
Reasons to avoid
-
No recycling program for packaging
An industry-leading sports nutrition brand, TORQ talk the science talk very well, providing exhaustive amounts of information about what goes into their gels and other performance-maximizing substances, and pointing to peer-reviewed research directly from Q-codes on each gel packaging.
At the crux of it all is the big injection of energy each of their gels provide. Each 45g sachet contains a whopping 29g of carbohydrates, and they claim the high fructose content (21.5%, used in a 2:1 blend with glucose-derivatives), means these carbs can be ingested at a much quicker rate (up to 90g an hour) than gels that simply rely on glucose ingredients – without the risk of gastro-intestinal disruption (which you do not want while running).
In addition, these gels contain crucial electrolytes (sodium, chloride, magnesium, potassium and calcium) to replace those essential minerals you lose while sweating your way around a course or trail. And importantly, all this tech doesn't take away from the taste – there are 11 ace flavors on offer (including some really tangy and interesting ones like Rhubarb & Custard, which properly perk you up when you hit a trough), all made with natural ingredients (no artificial sweeteners).
The consistency is smooth, and they're easy and enjoyable to consume. Three of the flavors (Forest Fruits, Banoffee and Caramel Latte) contain natural caffeine, which comes from guarana. One last excellent feature is the litter-free tear tab, which reduces the risk of accidentally dropping the top of the gel packet on the trail.
An easy-to-gulp, all-natural flavor explosion with chia seeds, but no gluten
Specifications
Flavors:
Blueberries / Strawberries / Mangoes / Apples & Cinnamon
Ingredients:
Fruit puree, chia seeds, brown rice syrup, cane juice, water, sea salt, citric acid
Energy per sachet:
425kJ / 100kcal
Carbohydrates per sachet:
21g
Potassium per sachet:
35mg
Reasons to buy
+
Super tasty
+
Large range of flavors
+
Easy to consume
+
Natural ingredients
+
Suitable for vegetarians and vegans
Reasons to avoid
-
Top tears off fully
-
Less carb uptake than some
Made with real fruit, and laced with milled chia seeds, the Hüma Chia Energy Gels were easily the most tasty gels on test, and I actively looked forward to reaching the part of my run where I'd promised myself one – not something you can say of all of the best running gels.
Like slamming a shot of runny, fruity jam, they go down very easily and don't clag in your mouth or throat, no matter how dry you're feeling (although, like all gels, they should be washed down with water). The chia seeds are in there as the super ingredient, as used by the Tarahumara (Rarámuri) people in Chihuahua in Mexico, known for their legendary ability to run enormous distances, as documented in Born to Run by Christopher McDougall (one of Advnture's best books about running).
The fiber content of these milled seeds helps facilitate a steady release of energy from the gel's carbohydrates, avoiding the spikes and crashes that unnatural sugars create, often blamed for bonking. These energy gels also contain vitamin C, calcium and iron.
One thing to look out for is the fact that the entire top often rips off when you open them, which means you need to be extra careful not to drop it as micro-litter.
Caffeine-infused versions are also available, with flavors including Raspberries, Chocolate, Lemonade and Cafe Mocha. There are also "plus" versions, with added electrolytes, with flavors including Berries & Pomegranate, Strawberry Lemonade, Lemon Lime and Blackberry Banana.
The best unflavored running gels
3. Maurten Hydrogel Sport Fuel Gel 100
Proudly non-flavored biopolymer matrix gel delivering 100 calories per sachet, made using natural ingredients with no preservatives
Specifications
Ingredients:
Water, glucose, fructose, calcium carbonate, gluconic acid, sodium alginate
Energy per sachet:
425kJ / 100kcal
Carbohydrates per sachet:
25g (all sugar)
Reasons to buy
+
High weight-to-energy ratio
+
Fructose & glucose mix facilitates high carbohydrate uptake
+
Natural ingredients
+
Suitable for vegetarians and vegans
Reasons to avoid
-
Tasteless
-
A bit lumpy and claggy
Made without the use of any artificial flavors or preservatives, with a complete focus on natural ingredients, Maurten Hydrogel Sport Fuel Gel, its makers proudly proclaim, is a biopolymer matrix as opposed to a bog-standard gel.
So instead of simply being a sticky, sweet shot of sugary carbs, it is a balanced blend of fructose and glucose (ratio of 0.8:1), which enables users to take in up to 100 grams of carbohydrates per hour.
On test we found this gel to be flavorless (unsurprisingly) and very gelatinous – it's a bit lumpy and claggy in the mouth, and needs to be washed down with a gulp of water. The packaging opens easily enough, without the top tab coming off and littering the trail/roadside.
It's not enjoyable to consume, so doesn't feel like a treat, but it does deliver a big shot of carbs, and you do feel the positive effect of this. One for performance-focused purists.
The best super-size running gels
A great big serving of great tasty energy for getting over the line during epic challenges
Specifications
Ingredients:
Maltodextrin, water, fructose, fruit juice concentrate (blackcurrant), natural flavoring, preservative, malic acid, sodium chloride, magnesium carbonate
Energy per sachet:
680kJ / 160kcal
Carbohydrates per sachet:
39.9g
Reasons to buy
+
Mega energy burst
+
Mix of maltodextrin and fructose to enhance uptake of carbs
+
Contains replacement electrolytes
+
Natural ingredients
Reasons to avoid
-
Too much to chug in one go
-
Limited flavors
Available in a hefty 66g package, and packing an enormous 40g of carbohydrates in each serving, the OTE Berry Super Gel is by far the biggest of the best running gels we tested (OTE do offer other versions, including standard 40g gel sachets with 20g of carbs, and others infused with caffeine).
It is a bit bulky, and is arguably better suited to cycling than running, but some people – especially ultra runners – will see a real benefit in having a couple of these in their pack, as it almost amounts to a small instant meal.
The danger with such a large amount of gel is that you're not able to quaff it all in one go, and have to try and stop the remainder spilling as you continue running or riding. However, if you can slam the entire contents, the carbohydrate uptake from the Berry Super Gel will really help power you through the next section of whatever challenge you're taking on – the contents features a mix of maltodextrin and fructose, so a large amount of carbs can be absorbed in short space of time, which will convert to energy.
It also contains electrolytes (specifically sodium chloride and magnesium carbonate), to replace the minerals you're sweating out.
In terms of taste and consistency, this gel ticks all the boxes – naturally flavored with real fruit juice, it tastes good and it goes down easy.
The best energy gels for people who don't like gels
5. Clif Bloks Energy Chews
Carbohydrate-loaded energy cubes for chewing on while running and racing
Specifications
Weight (per packet):
60g / 2.12oz
Flavors:
Black Cherry / Margarita Citrus / Mountain Berry / Strawberry / Tropical Punch
Ingredients:
Tapioca syrup, maltodextrin, cane sugar, citric acid, natural flavoring, black carrot juice, potassium citrate, sea salt, sunflower oil, glazing agent, carnauba wax
Energy (per packet of 6 cubes):
798kJ / 188kcal
Carbohydrates (per packet of 6 cubes):
46g
Salt (per packet of 6 cubes):
0.25g
Protein (per packet of 6 cubes):
0.6g
Fat (per packet of 6 cubes):
<0.25g
Fiber (per packet of 6 cubes):
0.7g
Potassium (per packet of 6 cubes):
42mg
Reasons to buy
+
Can be eaten over a period of time
+
Taste great
+
Non-sticky
Reasons to avoid
-
Bit claggy
-
Harder to build into a nutrition plan
Some people just can't get on with gels, and for those – and runners, hikers and bikers who like to mix things up – Bloks Energy Chews from Clif are a great new innovation.
Instead of slurping down a gel in one go, you can pop these chewy cubes in your mouth an either chomp them straight down, or let them dissolve as you run, ride or stride. Personally, we think they're better suited to hiking (especially fastpacking) than they are to running. The flavors are refreshing, and they deliver a good amount of carbohydrates per package, bestowing plenty of calories to keep you going when things get tough.
They are reliant on Maltodextrin, which will limit the carb intake you can usefully absorb, and might feel a tad tacky in the mouth for some people – you can chomp up to two packets an hour, but like gels, they should always be washed down with water to maximize their effect.
The Bloks are extremely easy and clean to carry, and allow you to consume carbs in a more staggered way if that's your preferred refuelling technique. They also contain an electrolyte (potassium).
Tasty, easy-to-slurp energy syrups best suited to mid-distance running events
Specifications
Flavors:
Blackcurrant / Berry / Orange / Citrus / Banana / Apple
Ingredients:
Glucose syrup, water, maltodextrin, fruit juice concentrate (1%), natural flavorings, acidity regulators, citric acid, preservatives, sodium chloride, Vitamin B6
Energy per sachet:
388kJ, 91kcal
Carbohydrates per sachet:
23g
Reasons to buy
+
Tasty
+
Vegetarian & vegan friendly
+
Packaging recycling program in place
Reasons to avoid
-
Too liquidly for some
-
Glucose based
HIGH5 energy gels are available in various iterations, including the Energy Gel Aqua with caffeine (66g sachet) and a version with slow release carbs (62g sachet), but we tested the standard Energy Gels, which come in 40g sachet and far better suited for runners.
In some respects, describing them as a "gel" is a bit misleading, as these are more of a syrup – much more liquidly than the other best energy gels we tested. This does make them extremely easy to slurp down and digest, with the 23g of carbs each packet delivers getting immediately to work, but some people might find them too sticky and easy to spill.
Unlike with the slow-release version, there's no fructose ingredient, which limits the amount of carbs you can ingest per hour. The flavors are lively and refreshing, however, and provide a good pick-me-up when you need it.
They're best used on shorter distance events such as half marathons, rather that full marathons and ultras. Brilliantly, HIGH5 supply a prepaid envelope with boxes of their products, which you can use to post empty wrappers back them, for recycling.
Best energy gels with caffeine
7. Maurten Hydrogel Sports Fuel Gel 100 Caf 100
A caffeine-infused, performance-focused gel with no artificial flavoring or preservatives
Specifications
Ingredients:
Water, glucose, fructose, calcium carbonate, caffeine, gluconic acid, sodium alginate
Energy per sachet:
425kJ, 100kcal
Carbohydrates per sachet:
25g (all sugar)
Reasons to buy
+
High weight-to-energy ratio
+
Fructose & glucose mix facilitates high carbohydrate uptake
+
Natural ingredients
+
Suitable for vegetarians and vegans
Reasons to avoid
-
Tasteless
-
Bit lumpy and claggy
Like Maurten's Hydrogel Sport Fuel Gel 100, this gel is made with natural ingredients and has no artificial flavors or preservatives. A performance-orientated biopolymer matrix, rather than a colorfully packaged shot of sugar, it offers a mix of fructose and glucose (ratio of 0.8:1), which enables users to take in up to 100 grams of carbohydrates per hour.
The difference here is that the Gel 100 Caf 100 cocktail also includes 100mg of caffeine, which is roughly the same as one and a half shots of espresso, or a one cup of brewed coffee – quite a hefty shot of eye-opener compared to many other caffeine-infused gels.
Much like Maurten's other gels, we found this gel to be flavorless (not that they claim otherwise), but also very lumpy and jellylike, which won't suit everyone. You do need to chase it down with water, and it's not something we found ourselves looking forward to eating. That said, like its sister gel, it packs a weighty dose of carbs, which does translate into extra energy on the trail/road. Again, the packaging is easy to open.
Proving good things can come in smaller packages, these lightweight all-natural gels supply good levels of energy while taking up less space
Specifications
Flavors:
Maple, Coffee & Guarana
Ingredients:
Unrefined brown rice syrup, date syrup, maple syrup, water, guarana extract, freeze-dried decaffeinated coffee, pink Himalayan salt
Energy per sachet:
375kJ, 88kcal
Carbohydrates per sachet:
22g
Potassium per sachet:
27mg
Magnesium per sachet:
7mg
Caffeine per sachet:
75mg
Reasons to buy
+
Small packet
+
Lightweight
+
Environmentally conscious brand
+
Gluten Free
+
Vegetarian and vegan friendly
Reasons to avoid
-
Taste is slightly bitter
-
Small dose of energy per packet
These gels come in a smaller, lighter sachet size than all the other products we tested, which is a bonus if you want to cut down on weight and bulk while running, while still having the option to regularly refuel.
They still pack a reasonably decent punch when it comes to delivering carbohydrates (22g per serve), but the amount of energy bestowed is a tad less than others. You can, of course, simply carry a few more, distributed around your pockets and pack.
The gel is made with decaffeinated coffee, but the guarana content supplies the 75mg of natural caffeine that each shot injects into your system (the equivalent of one large espresso). The award-winning, gluten-free, plant-based recipe is all natural, with no sulphites, additives, preservatives, artificial sweeteners, colorings or flavorings.
While using them, we found the taste to be a little bitter, but not unpleasant, and it did inject a palpable shot of energy. The top was easy to keep on once torn, which is good for avoiding accidental littering.
One of the downsides of using gels is the plastic waste produced by the packaging, but Veloforte are working in partnership with TerraCycle to enable you to recycle wrappers (turning them into things such as watering cans, planters & playground equipment), which gets a big tick from us (and means that they, and HIGH5 should join our list of best eco-friendly outdoors brands).
How we test running gels
We have tested out the best energy gels on the market, scoffing them down during trail- and fell-running races, and on longer training runs on and off road.
How to choose the best running gel for you
Finding the best energy gel for you is important. Different brands use a variety of ingredients, and a gel that one person swears by will make another runner gag. The golden rule is not to use a new energy gel on race day – make sure you try a selection of running gels during long-distance training sessions, to get any violent reactions out the way while no one is looking, and then settle on a brand and flavor you know works well for you.
Taste
You often hear people comment that "no one likes gels" – and while it's true that you're unlikely to want to sit in the cinema chugging them down, some are definitely a whole lot more enjoyable than others. It's a subjective thing. Personally, I like something citrusy to freshen my mouth; others love caramel latte- and chocolate- flavored gels. Go with whatever works for you. The tastier you find the gel the more likely you are to stick to your plan, and the bigger psychological boost consuming it will give you (which is very important in longer-distance events).
Consistency
Again, this is subjective – some people like extremely runny gels, like the HIGH5s, while others will prefer a substance with a smooth consistency, like the TORQs. If you can't get on with gels at all, consider the Clif Energy Bloks, which are more like chews.
Ingredients
As a general rule, natural ingredients with real fruit juice and less synthetic preservatives and flavorings make for tastier gels and better performance. Artificial sweeteners tend to create spikes of energy, quickly followed by a crash, which can quickly lead to bonking.
Carbohydrates
The primary objective of all running gels is to get carbohydrates and calories into your system, so you can maintain your glycogen and energy levels, and keep going. Glucose is great at delivering carbs up to a point, but after you've ingested about 60g in a single hour, your gut-to-blood absorption level will become saturated, which can lead to gastro-intestinal disruption (definitely not what you want). In order to increase the amount of carbs the human body can uptake in an hour, the best energy gels use fructose as well as glucose. Fructose goes into your system via a different intestinal transporter, and by using both you can uptake as much as 90g of carbs per hour.
Electrolytes
While running you will sweat, and that means you're losing salts and minerals that your body requires to function properly – the longer the event, the more of an issue this can become. The best running gels will contain electrolytes such as sodium, chloride, magnesium, potassium and calcium, to help replace these minerals.
Caffeine
Some of the best energy gels contain caffeine, often supplied via the guarana ingredient. While caffeine won't actually give you any extra energy, taken in the right dose it can make you more alert (good for running technical trails over long distances), improve your concentration levels and make exercise feel less strenuous. On the other hand, caffeine is also a diuretic, possibly leading to dehydration and upset stomachs, so this is definitely something to try during training runs, rather than on race day. You can also overdose on caffeine, which will make you feel shaky and horrible, so always heed directions on how many gels you should consume in one day. One idea is to alternate between caffeinated and non-caffeinated energy gels.
Packaging
Wrapped in single-use packaging, bits of which can get left all over the trails, running gels are generally bad news for the environment. However, if you choose a gel with a rip tab that doesn't come entirely off, you are less likely to accidentally leave little bits of litter in your wake. Also, some gels – for example HIGH5 – are now working with recycling partners – you can send your packaging back to them and they will repurpose it.
Tip 1
Make a plan about when you're going to consume a gel (for example, quarter of the way around the course, halfway and three-quarters of the way) and stick to it. And then take at least one more gel than you think you'll need – if you end up in the hurt locker and find yourself out on the course for longer than expected, that extra little shot can make a big difference.
Tip 2
Always read the recommended dosage, and adjust your intake to stay south of the maximum recommended amount of gels consumed in any one day – these things contain technical ingredients, and they can do funny things to your stomach if you scoff too many of them.
All the latest inspiration, tips and guides to help you plan your next Advnture!
Author of Caving, Canyoning, Coasteering…, a recently released book about all kinds of outdoor adventures around Britain, Pat has spent 20 years pursuing stories involving boots, bikes, boats, beers and bruises. En route he's canoed Canada's Yukon River, climbed Mont Blanc and Kilimanjaro, skied and mountain biked through the Norwegian Alps, run an ultra across the roof of Mauritius, and set short-lived records for trail-running Australia's highest peaks and New Zealand's Great Walks. He's authored walking guides to Devon and Dorset, and once wrote a whole book about Toilets for Lonely Planet. Follow Pat's escapades on Strava here and instagram here.