What are the most breathable fabrics?
No matter what time of year you're hiking, wearing breathable fabrics is the way to go. In this post, we explain why this is the case and provide the lowdown on the most breathable fabrics out there for outdoor adventurers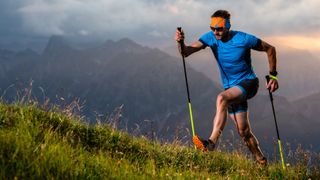 (Image credit: Getty)
If you're asking the question "what are the most breathable fabrics?," the chances are you've grown tired of suffering through sweaty hikes or nights at camp and are looking for a fabric that provides a little more airflow to help you keep cool on your outdoor adventures.
While the breathability of any garment largely depends on the thickness or "weight" of the fabric, certain types of fabric are intrinsically more breathable than others. Below, we've made a short list of different fabric types and how they perform in terms of breathability. Before we get down to that, however, let's first take a look at what "breathability" means and why it's so important in outdoor attire.
What is "breathability"?
In a few words, breathability is the ability of any fabric to absorb bodily moisture vapor and release it through the material to the garment's exterior, where it can then evaporate. Conversely, non-breathable fabrics are those that inhibit the transfer of moisture from the garment's interior to its exterior. For waterproof-breathable garments like the best waterproof jackets, this is covered in more detail in breathability ratings explained.
Why breathable fabrics are the way to go
Breathability is important for several reasons. First, when hiking in hot weather, breathable garments will allow you to avoid overheating by letting your sweat and body heat escape through the fabric from inside to out. Secondly, it mitigates the discomfort and potential danger entailed in doing your hiking in sweat-soaked clothing. While being wet isn't a problem in and of itself, water conducts heat away from the body much quicker than air, so if temperatures drop on your hike or you're forced to stop, your sweaty clothing could put you at risk of hypothermia. Thirdly, breathable fabrics are more likely to stay fresh over the course of a day or two's hiking than less breathable ones – because they release sweat through the material instead of soaking it up, they are less prone to developing funky odors. Finally, breathable fabrics can also help prevent blisters and chafing, particularly in socks and legwear. This is because sweat-soaked fabrics soften the skin, increase rubbing, and are rich in salt – which intensifies friction – from your perspiration. For more on this, see How to avoid chafing and How to prevent blisters.
Breathable fabrics
Cotton: Cotton is one of the most breathable fabrics out there but doesn't wick moisture away and can take a small age to dry when wet. This being so, it's generally regarded as inappropriate for use in outdoor activities, if not dangerous. Because cotton can hold up to 25 times its own weight in water, and because water conducts heat away from the body far faster than air, hypothermia could be on the cards if temperatures drop and you have nothing dry to change into.
Nylon and polyester: These synthetic fabrics are the two most commonly used in outdoor attire. While not as soft as cotton or merino wool, both wick moisture well and dry quickly when wet. The breathability of any garment made with either of these fabrics depends on the thickness of the yarn and tightness of the weave.
Down: Down isn't only the best insulator in the game, it's also a popular material in outdoor garments because it wicks and breathes well (see: Down vs synthetic insulation). That said, the breathability of any down garment will also be affected by the density of the down and the garment's face fabric and lining, which is usually some form of synthetic like nylon or polyester.
Merino wool: This natural fabric's popularity has skyrocketed in recent years, and with good reason. It's soft to the touch, wicks well, is naturally odor-resistant, and is highly breathable to boot. Most merino base layers and mid layers are also sold in varying "weights" (which actually refers to the thickness and density of the yard as opposed to heft), which allows you to choose garments that offer varying degrees of warmth and breathability for different seasons or types of activity. For more on this, check out our feature What is merino wool?
Bamboo: This relative newcomer to the world of performance fabrics is frequently touted as the world's most renewable material: it's naturally insect-resistant, can be grown without any chemical fertilizers or pesticides, grows very quickly, and can even help to rebuild eroded soil. Bamboo grass also absorbs 5 times more CO2 from the air than hardwood trees and releases 35% more oxygen. But what about breathability? Well, bamboo is a decent thermoregulator, meaning it boasts the ability to keep you warm when temps are cooler and keep you cool when temps are higher. However, it does neither quite as well as merino, which – despite its lofty price tag – is still our go-to for performance base layers.
All the latest inspiration, tips and guides to help you plan your next Advnture!
Former Advnture editor Kieran is a climber, mountaineer, and author who divides his time between the Italian Alps, the US, and his native Scotland.
He has climbed a handful of 6000ers in the Himalayas, 4000ers in the Alps, 14ers in the US, and loves nothing more than a good long-distance wander in the wilderness. He climbs when he should be writing, writes when he should be sleeping, has fun always.
Kieran is the author of 'Climbing the Walls', an exploration of the mental health benefits of climbing, mountaineering, and the great outdoors.