How to prevent blisters hiking
Learn the main causes of annoying blisters and how to prevent blisters hiking so you can keep logging miles, pain free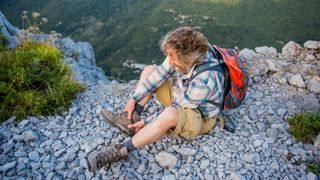 (Image credit: CasarsaGuru)
If you're planning on spending a lot of time on the trail this hiking season, you might be gearing up to avoid all sorts of calamities. Perhaps you're arming yourself with bear spray to protect yourself against a grumpy ursidae or investing in a bothy bag to prevent hypothermia if you get lost on a mountain. But while bear attacks and exposure-related conditions are real concerns for hikers, the most common hiking injury is fact something a lot more sneaky – the dreaded blister. And even though a blister can seem relatively innocuous next to a fearsome grizzly bear, if you've ever had one on a hike, you know how it can ruin your day and have you limping off the trail. Read on for our tips on how to prevent blisters hiking to ensure you can keep logging those miles, pain-free.
Why do I get blisters every time I hike?
According to the Cleveland Clinic, blisters are fluid-filled sacs under the most superficial layer of your skin, known as the epidermis. Though there are several types of blister and they can appear just about anywhere on your body, for this article we'll focus on friction blisters on your feet that are caused by rubbing. Rubbing can simply occur when your feet are moving inside your hiking boot or shoe, but it is exacerbated by moisture so blisters are more likely when your feet get hot and sweaty. Blisters on their own aren't a huge cause for concern, but they can be surprisingly painful, and if they get infected you might need to seek treatment.
If you're getting frequent blisters on your feet as a result of rubbing, there are a few probable causes:
Ill-fitting hiking boots or shoes
Improperly laced hiking boots of shoes
Non-breathable footwear
Improperly fitting socks
Socks that aren't moisture wicking
Walking longer than you're used to
The natural structure of your feet
Read on for our suggestions on different solutions you can try to prevent blisters hiking.
1. Choose the right hiking boots
Blisters can be caused by boots or shoes that are too tight, too big or the wrong shape for your feet. Fortunately, there are lots of different types of hiking shoes to choose from these days, and it's worth finding a pair that really work for your feet. Start by reading our article on how your hiking boots should fit and when you're trying on boots, make sure you're doing so wearing the socks you'll be hiking in. Also, remember that your feet will swell up when you hike, so they can't be too tight to begin with. Follow these three golden rules when choosing the right size make sure your boots or shoes:
Snug all over
Tight nowhere
Give you enough room to wiggle your toes
If you get sweaty feet easily, or are hiking in hot weather, look for hiking boots or shoes with breathable mesh panels. Finally, you'll of course want to break new hiking boots in by wearing them for short trips around town before heading out on a 15 miler in them.
2. Tie your laces properly
It's possible that you've chosen a perfectly fitting pair of hiking boots and they're still rubbing. Though there are a few reasons for this, which will get to below, the first port of call is to make sure you're tying your laces properly. Boots that aren't laced tightly enough can shift around and rub, while tying your laces too tightly in certain places might also be the culprit. There are a few methods you can try, depending on where you're having the problem, so read our article on how to lace hiking boots for starters, and if you're hiking in trail running shoes, make sure you use those extra lace holes to tie a heel lock.
3. Get great hiking socks
When you see the price of hiking socks, you might balk – after all, you've probably got a whole drawer-full of perfectly good socks at home. But not just any socks will do for hiking. Socks that are too big can bunch up which causes rubbing, while cotton socks aren't moisture-wicking, so once your feet start sweating they just get soggy and start rubbing. Trust us, it's worth paying a little extra for a pair of hiking socks made from merino wool that are meant for hikers and have extra cushioning in areas where you often experience rubbing – usually around the ankle, heel and toes. Save them just for hiking and they'll last longer too. Check out our list of the best hiking socks out there.
4. Use liner socks
If you're prone to blisters, have naturally sweaty feet or prefer less-breathable but more sturdy hiking boots for tough terrain, you'll want to seriously consider getting hold of some liner socks before your next hike. Liner socks can provide an extra layer of protection between your thick socks and your skin and they also reduce moisture from sweat. Liner socks for hiking are thin, lightweight socks similar to pantyhose and made from material like wool or a synthetic like nylon or polyester, and offer a very affordable and effective approach to blister prevention.
5. Try talcum powder or Vaseline
Two pretty easy blister-prevention tactics involve using items you probably already have kicking around the house. First, if you know the problem is that you get sweaty feet, you can dust your feet in a good dose of talcum powder before getting your socks and shoes on. This helps absorb moisture and cut down on friction, though for a long hike you may want to carry it with you and reapply.
If you tend to get blisters in the same spot all the time, you can also go in the other direction and lubricate the area with Vaseline. This does tend to get absorbed a bit by your sock and may need to be reapplied, but it is simple and effective.
6. Wear blister pads
What if you've tried all of the above and you can't seem to avoid blisters? It could just be the shape of your feet, especially if the blisters are always appearing in the same place. Though it's a pricier option in the long run, you really might just want to invest in some really good blister plasters and wear them in the places where you experience rubbing.
Place blister plasters like the Ultimate Performance Blister Plasters anywhere you typically experience rubbing before you even hit the trail, and bring extras with you. If you feel any hot spots, immediately cover that area up with a plaster, too – don't delay! These are usually very effective and a good blister plaster can stay on your foot for several days without needing replaced, which is ideal for backpacking and thru-hiking.
7. Use gaiters
Finally, blisters can be caused by lots of debris getting inside your shoes. If you're wearing shoes rather than boots and walking in dusty, rocky terrain, your shoes might be filling up with small particles of grime and pebbles that are causing the problem. You can stop to empty out your shoes every mile, or hike wearing gaiters to head the problem off at the pass. Check out our favorite picks of the best gaiters around for some rugged leg protection on rough trails.
All the latest inspiration, tips and guides to help you plan your next Advnture!
Julia Clarke is a staff writer for Advnture.com and the author of the book Restorative Yoga for Beginners. She loves to explore mountains on foot, bike, skis and belay and then recover on the the yoga mat. Julia graduated with a degree in journalism in 2004 and spent eight years working as a radio presenter in Kansas City, Vermont, Boston and New York City before discovering the joys of the Rocky Mountains. She then detoured west to Colorado and enjoyed 11 years teaching yoga in Vail before returning to her hometown of Glasgow, Scotland in 2020 to focus on family and writing.