Can you hike in Doc Martens?
Can you hike in Doc Martens? We set gear snobbery aside and weigh function over fashion to answer this common question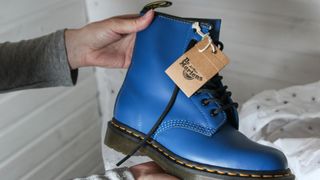 (Image credit: NurPhoto / Contributor)
Can you hike in Doc Martens? Let's be honest, a good pair of hiking boots are a big investment. If you're new to hiking, your Docs may be the sturdiest pair of boots you own, so it's fair to wonder if you can just spare yourself the expense of new hiking boots and hike in them instead.
In places like the UK, it's not totally unusual to see folk hiking in Doc Martens, and there are people out there who swear by them for rambles. But do they really provide enough traction for rocky paths? Or are they just a recipe for sweaty feet and painful blisters? Even though we love a good pair of hiking boots, we're not gear snobs so we decided to weigh function over fashion to answer this common question and it comes to wearing these stylish boots on the trail.
First off, the history of Doc Martens made us wonder if there might actually be some validity to the idea that Docs can be used for hiking. Did you know that these stylish boots actually started out as a work boot? The leather, mid calf, lace up boots were developed by a German doctor named Klaus Märtens in the 1940s as an alternative to his standard issue army boots and the initial run was hugely popular with housewives and for gardening.
By the 1960s, they had become the domain of the skinheads. In the 1970s, they adorned the feet of any self-respecting punk. In the 1980s and 1990s they were the favorite choice of footwear for those in the grunge scene. Today, Doc Martens are primarily favored by all kinds of fashion-forward individuals.
Can you hike in Doc Martens?
Because they're so fashionable and urban these days, they're simply not associated with rugged activities in the outdoors, but their original purpose certainly suggests that they might share some characteristics in common with the modern hiking boot. To get to the bottom of this question, we decided to put this question to the test using some of our criteria for how to choose hiking boots to determine whether Doc Martens actually make decent footwear on a hike.
Traction
Obviously a vital characteristic of a good hiking boot is that it provides great grip when you're walking on uneven, rocky paths that might be slick and wet, icy, snow covered or muddy. Soles are almost always made of rubber and have varying degrees of tread – kind of like your car tires – to provide traction. In addition to the type of rubber used, the deeper the tread, the better the grip.
Doc Martens do indeed have rubber soles, and theirs are made to resist water and oil, because they're meant to be slip resistant for people moving around on factory floors, so they actually do have a bit of an edge here, especially if you're hiking on a wet or icy trail. The soles are also meant to be puncture resistant, which is great if you're walking on sharp rocks, and they do have a decent amount of tread. Based on sole alone, they're a better choice than your plimsolls anyway.
Midsole
In addition to not slipping and falling, you want your hiking boots to be comfortable. The midsole of your hiking boot, which sits between the outer sole and the upper chassis, plays a major role in determining how comfortable your hiking boots are. You want a boot with good cushioning to protect you from rocks on the trail, and good arch support.
Though they definitely don't look as comfortable as a good pair of hiking boots, Docs are famous for their air cushioned sole that creates a springy feeling under foot. Dr Märtens actually created them to be more comfortable for his own injured foot. They don't have raised arches but the sole does provide some support and may even be better if you have flat feet.
Breathability
Next up is the issue of breathability. If you've only ever worn your Docs around town, you may not have noticed whether or not they allow moisture to escape, as you might never have worked up a sweat in them. The best hiking boots are made from breathable fabric, because your feet are bound to sweat in them and not allowing that moisture to escape can lead to unwanted boot rub and blisters, foot fungus and cold feet.
So how do Doc Martens hold up? It may come as no surprise to you that leather is in fact a naturally breathable fabric, which is why it has long been a popular choice for boots and shoes.
Comfort
So far, it's sounding like Docs are actually pretty comfortable. They're breathable and have a nice cushioned midsole. But are they comfortable enough for hiking? There's one other important aspect that will determine how comfortable your boots are when you're on a long walk and that is whether or not they rub.
Here is where you absolutely don't want to be on the trail in a brand new pair of Docs. Doc Martens are known for needing quite a bit of breaking in, even if they fit perfectly, and can cause nasty blisters on your heels plus the high top means that your calves are subject to rub. Again, there are people out there who hike in Docs and claim they don't experience any rub or blisters, but we wouldn't recommend hiking in a pair that you haven't worn in, and you'll definitely want to pair yours with high, thick hiking socks underneath (take a look at our guide to the best hiking socks for some good options).
Ankle support
Now, ankle support isn't required for hiking footwear necessarily, but it is good for uneven and rocky terrain where you might easily step wrong and turn an ankle. You can get it by choosing to hike in boots rather than the best trail running shoes, and by lacing them up properly.
On the face of it, Docs look like they'd provide good support as they come up quite high, but the leather uppers are thinner and less substantial than a really sturdy pair of hiking boots, so you could probably do better when it comes to ankle support.
Flexibility
Your hiking boots need a good amount of flex, so that they bend with your foot. Very stiff boots can be painful or affect your gait, while too much flex doesn't offer enough protection.
Docs generally offer quite good flex, as they are made from pliable leather with soft rubber soles, and newer versions have been built with pockets of cushioning to enhance this. Some of the ultra-tough models of Docs, however, won't provide enough flex to be comfortable for hiking in.
Toughness
As we've said, you want hiking boots with good flex but they also need to protect you against bashing against rocks and other obstacles on the path.
Docs offer a fair amount of protection underfoot and around your foot because they're meant to be work boots where you might drop things, and of course the ones with steel reinforced toes are even better. That said, they're a little lacking in cushioning around your ankle so it could be quite painful to bash up against a rock. Overall though, Docs are pretty tough shoes designed to withstand a good beating.
Weight
Needless to say, when picking out a pair of hiking boots, you don't want to be carrying too much weight on the ends of your legs. This is an area where Docs definitely lose some points as hiking boots.
Classic Doc Martens weigh 1 lb 9.6 oz (726g) per boot for an average men's size, whereas you can find a lightweight pair of synthetic hiking boots such as the Keen Explore boot for less than half that weight. You'll add more weight if you opt for leather hiking boots, but most are still lighter than a pair of Docs.
Waterproofing
And finally, comes the issue of waterproofing. Waterproof hiking boots are essential to keep your feet dry and avoid rubbing. Regular Doc Martens are definitely not waterproof, however you can certainly treat yours with a waterproof spray.
Can you hike in Doc Martens? The verdict
After weighing up all of these factors, we decided that while Doc Martens aren't the most optimal choice for hiking owing to their weight, lack of waterproofing, questionable ankle protection and tendency to rub, they're also not as poor a choice as hiking in jeans.
Though we don't recommend buying a pair specifically for hiking, if you're in a pinch, you could wear Docs on a hike as long as it wasn't a major distance or in particularly challenging terrain or weather. If you insist upon heading for the hills in Docs, it's good to abide by these rules:
Don't wear them for anything to strenuous. Think a woodland stroll rather than a steep climb.
Break them in first. Don't go hiking in new Docs. Make sure yours are well moulded to your feet.
Wear long, thick socks. Docs have a tendency to rub, which can ruin a hike, so wear thick, knee high socks.
Waterproof them. Docs aren't waterproof, so treat them with a spray first.
All the latest inspiration, tips and guides to help you plan your next Advnture!
Julia Clarke is a staff writer for Advnture.com and the author of the book Restorative Yoga for Beginners. She loves to explore mountains on foot, bike, skis and belay and then recover on the the yoga mat. Julia graduated with a degree in journalism in 2004 and spent eight years working as a radio presenter in Kansas City, Vermont, Boston and New York City before discovering the joys of the Rocky Mountains. She then detoured west to Colorado and enjoyed 11 years teaching yoga in Vail before returning to her hometown of Glasgow, Scotland in 2020 to focus on family and writing.