How to choose a pair of hiking boots: for challenging walks and epic backpacking escapades
Knowing how to choose a pair of hiking boots is essential for any outdoor adventure – buy wisely, and a good hiking boot will serve you well for many years to come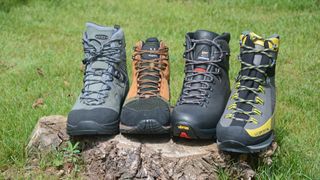 (Image credit: Pat Kinsella)
Knowing how to choose a pair of hiking boots, from the bewilderingly broad range of brands and styles that are available these days, can be daunting
On the one hand it's brilliant to have such a wide choice of technically advanced footwear – years ago, everyone just stomped around in stiff leather boots, regardless of whether they were going on a Sunday afternoon stroll or attempting to climb the Matterhorn, and if things got slippery they'd bang some nails through the sole for grip.
But, where on earth do you begin to sort through this embarrassment of riches?
We can help with that question. The best starting point is with an honest analysis about what you're likely to be doing in those boots, where you're most likely to be doing it, and when.
If the answer to those questions is 'countryside walking, in the summer months', then you do not need to invest in expensive, super-technical mountain-ready boots. You might think they look cool, but your feet will boil and people will snigger.
What to think about
Light hiking boots, or even trail shoes, are far more comfortable for fair-weather walking adventures, and they will also tread much more gently on your bank balance. This trail walking shoes vs hiking boots comparison explains the pros and cons of each
If you plan on venturing into low alpine areas, during the shoulder months, then a slightly more substantial pair of boots will be required, with some ankle protection, good grip, a breathable and waterproof uppers, and some cushioning to keep your feet warm when the mercury drops.
And if you're heading into the high peaks, then you'll need a fully technical boot that's crampon compatible, has decent rigidity across the sole, a high cuff and thermal lining.
There are also various more subjective considerations you might want to take into account when choosing the best boot for you. The following are all fundamental factors to consider before making a purchase. And if going ethical is a priority, you may want to check out our guide to choosing the best vegan footwear.
Design
Arguably the biggest consideration with the design of a boot is whether to go for a low, medium, or high cuff, which refers to the height the boot reaches around or beyond your ankles.
Low-cut boots (or trekking/trail-walking shoes) that sit just below your anklebone are ideal for fine-weather, low-level day walking on non-technical trails through forests, along coasts and even in the hills, up to a point. They will be light and comfortable, and cheaper to buy, but obviously you don't get any significant ankle support, so tread carefully, and be very wary about wearing these while carrying a backpack.
Mid-cut boots have a cuff that extends just above your ankle (the exact height varies from brand to brand, and according to the design of the particular boot). This is an increasingly popular style of boot for people who go hillwalking, low-alpine hiking, trekking and backpacking. They can still be relatively light, but do provide good support for ankles, will assist with balance and stability when you're carrying a pack, and protect your lower leg from trail hazards such as sharp rocks and aggressive flora and fauna (from thorn bushes to snakes) – and you can combine them with lightweight gaiters if conditions are particularly rough.
High-cut boots provide protection, warmth and support right up to the lower shin area and are excellent on alpine trails, especially if you are venturing beyond the snow line. They also offer full-cover insurance against the aforementioned trail hazards (or indeed off-trail dangers). They're heavier, however, run hotter (which can be both a positive or a negative, depending where you're walking) and tend to be pricier.
Beyond this you are in the realm of mountaineering boots, designed specifically for people who play in the higher peaks and/or in challenging terrain such as on glaciers and other icy areas. They're heavy and substantially more rigid, will take crampons and have various technical materials employed in their construction, including superior waterproofing and thermal cushioning, which make them both high performing and expensive.
Value
Typically adorned with three figure price tags, hiking boots can seem like a significant investment, and that's because they are – they're technical piece of equipment, and if they don't perform properly, your time on the trails and in the hills will be miserable, which defeats the entire object.
A well chosen pair of boots will last you many years – a decade or more, if you look after them properly – so consider your options carefully, and most importantly select the boot that is best suited to the kind of walking you like to do.
Comfort
Cushioning around the ankle area is important for comfort, and this is an area where it's best to try boots on to assess how snug they are to your foot. The lining of a boot is obviously important for maintaining warmth – a factor that becomes ever more crucial as you take on hikes in higher peaks and colder environments.
A good tip for trying on hiking boots is to wear a thin sock first, for a tactile check for any potential hotspots or areas of immediate discomfort. Although some boots (especially leather ones) might need some breaking in, if you straight away find that a boot is pinching or squashing an area of your foot – or, alternatively, that you're sliding around in the boot and can't get it laced tightly to your foot – then it's either the wrong design for you, or you need to try a different size (including a wider or narrower fit, if the brand offers that, which many do).
Of course, you also need to try the boot on with a thick hiking sock as well, to make sure they fit comfortably with that essential extra layer. Trying boots on later in the day is another good tactic, because your feet swell after you have spent some hours on them, just as they will when you're hiking on the trail.
Material: leather v synthetic
Many modern boots are made mostly or entirely from synthetic materials, but there are still plenty of leather models out there. Which is better? That depends largely on personal choice. Synthetic materials can be lightweight, high performing, durable and low maintenance, which is why they're increasingly popular. However, leather also works extremely well in all conditions and will last a very long time if you just apply a little bit of treatment every now and then.
If you do opt for cowhide, you'll have the option of boots made with full-grain leather and those made with nubuck leather. Full grain is the best in terms of durability and ruggedness, depending on how thick it is, and is really good for wet and harsh terrain. Nubuck is more buffed – it will take less time to break in, as there's more flex in it, but it's not quite as rough and tough.
Whether you choose a synthetic or leather upper, most good-quality boots will also have a breathable waterproof lining made from Gore-Tex (often the name of a boot made with Gore-Tex will have GTX as a suffix) or similar – for example eVent or one of the many proprietary technologies brands have developed. This is useful for all kinds of conditions, keeping your feet dry when walking through wet grass and undergrowth, deep mud, bogs, snow and stream crossings, as well as during rainstorms.
Many brands offer versions of their boots that do not have such a Gore-Tex (or other) lining, which are typically cheaper. Don't discount these if you only ever plan to go walking on fair-weather summer days, but equally, don't expect them to keep your feet warm and dry if you take them beyond their comfort zone.
The importance of the sole
A fundamental job of any hiking boot is to provide adequate grip for whatever type of terrain you're expecting to encounter while exploring. How good the boot is at doing this will come down to the materials used and design of the outer sole.
Rubber is the go to base product used to make outer soles, but the compounds employed differ widely. Very basically put, there is a trade off between softer, more clingy rubber compounds that will wear away quicker, and tougher compounds that will last longer, but are more prone to skidding on slippery surfaces such as slick, wet rock.
This latter issue can be mitigated by the use of 'lugs', which are the grippy bits on the bottom of the sole – it's helpful to think about these in the same way as the tread on the tyres of your bike or car. Like a mountain bike or a 4x4 vehicle will have tyres with a really pronounced tread, boots made for heavier harder hiking will have much more aggressive lugs, almost like studs on a football boot.
It's worth looking at how these lugs are arranged, too. If they're well spaced out, they're more likely to 'shed' (shake off) mud, so you won't find yourself walking around with heavy boots that have accumulated tons of turf. Sometimes you will also see lugs that are slightly reversed on the heel, to provide more control during steep descents. Lug design is an area that is constantly being refined.
Just as you will often find Gore-Tex used as a branded 'ingredient' technology in the uppers of boots, so you will find Vibram soles commonly used by many boot makers as a quality outer sole. The design of Vibram soles will still differ from boot to boot though.
Midsole
A hidden and often overlooked element of a hiking boot, which is still enormously important, is the midsole, which sits between the outer sole and the upper chassis. A big factor in determining how comfortable the boot is, you want to look for quality cushioning here – often supplied by multi-density EVA – plus good arch-support and some protection from the lumps and bumps of the trail (you don't want to feel the sharp stones beneath your feet).
EVA stands for ethel vinyl acetate, which is a kind of foam, and it provides both cushioning and rebound in a boot, softening the stress repeated footfall places on your joints (ankles/knees especially) and subtly propelling you forward with each stride.
An alternative to EVA is ortholite. Some boot brands will either include an ortholite insole (which you can remove) or sell such insoles separately, so you can buy one that you already know suits your hoof.
In terms of arch-support, the only real way to assess whether a boot is comfortable for you in this area is to try it on and walk around. Like all footwear, boots are made on a last (a fake foot) and the design of these lasts will differ.
One last thing to consider in the sole/midsole department is the level of rigidity a boot supplies. For low level hiking, flexibility can be your friend, but the higher you go and the more technical the trails become, the more important rigidity is in a boot – as it allows for 'edging' on rocky terrain, and can determine whether a boot can take a crampon or not.
Features
Other things to look for are a rand – a reinforced outer on the toe end of the boot that provides protection for your toes (and also for the boot) in the inevitable event that you stub your foot up against rocks, or in case you need to kick some snow steps in to ascend an icy slope.
Look at the quality of the lacing system – an area where boots can fail after only moderate levels of use (which is always disappointing, especially if the sole and chassis of the boot still have plenty of miles left in them). Ideally you will want a series of strong studded, closed lace loops at the bottom of the boot, and some quick lace hooks at the top.
Decent boots will usually feature an integrated tongue, which will keep grit and stones from entering the boot and maintain the waterproof capabilities of the footwear.
All the latest inspiration, tips and guides to help you plan your next Advnture!
Author of Caving, Canyoning, Coasteering…, a recently released book about all kinds of outdoor adventures around Britain, Pat has spent 20 years pursuing stories involving boots, bikes, boats, beers and bruises. En route he's canoed Canada's Yukon River, climbed Mont Blanc and Kilimanjaro, skied and mountain biked through the Norwegian Alps, run an ultra across the roof of Mauritius, and set short-lived records for trail-running Australia's highest peaks and New Zealand's Great Walks. He's authored walking guides to Devon and Dorset, and once wrote a whole book about Toilets for Lonely Planet. Follow Pat's escapades on Strava here and instagram here.