What is canyoneering? High octane underground adventure
What is canyoneering? We explain what this underground adventure sport entails and uncover everything you need to do it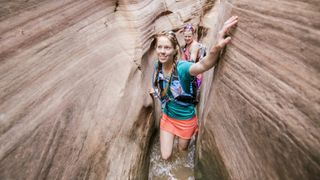 (Image credit: Suzanne Stroeer / Aurora Photos)
Are you looking for a way to get more of an adrenaline rush out of your hiking adventures? Look no further than canyoneering, where those with a healthy dose of curiosity and a knack for squeezing through tight spaces can adventure deep underground. So what is canyoneering? In this article, we provide an introduction to this high-octane adventure sport and everything you need if you decide to give it a go.
What exactly is canyoneering?
Much as it sounds, canyoneering is the US term for the activity of exploring canyons – the rest of the world usually calls it "canyoning". As a sport, it's a bit more adventurous than, say, walking along the bottom of the Grand Canyon, which you would usually just classify as a hike. No, canyoneering typically involves rappelling and rock climbing as well as scrambling and hiking, and if there's water in the canyon, it may also entail swimming, wading or even rafting.
One of the most famous locations in the world for canyoneering is Zion National Park, where there are many stunning slot canyons carved into the earth by water and wind. A popular canyon in the park is The Subway, which involves rappelling down into a narrow slot canyon for an underground adventure that includes more rappelling, scrambling, hiking and swimming through very cold underground pools before emerging above ground 9.5 miles later.
Not all canyoneering involves all of these activities, however. In canyoneering terms, there are five different classifications of canyon that you might encounter:
Technical: these require climbing and rappelling expertise and equipment such as a rope, harness and helmet to complete.
Non-technical: these canyons don't require any rappelling or climbing gear, though there may be scrambling involved.
Wet: these may be technical or non-technical, but they always involve water that you need to raft, swim or wade through.
Dry: these may be technical or non-technical, and they do not involve water.
Slot: often found in the Southwest, slot canyons are generally deeper than they are wide, and you cannot easily exit them any other way than travelling to the end.
What is the difference between rappelling and canyoneering?
Technical canyons usually involve rappelling to get down into the canyon, however once your feet hit the ground and you unclip the rope from your harness, you're no longer rappelling as you move through the canyon on foot. If you were only rappelling, you'd climb back up and rappel down again.
Is canyoneering a water activity?
Canyoneering is not always a water activity, but it can be. In the example of the Subway in Zion, you'll definitely be doing some swimming as there are always pools of water in that canyon and there's no way around them. However, there are canyons that don't contain water unless it rains, and these only involve activities like rappelling, climbing, hiking and scrambling.
Speaking of water, narrow slot canyons can fill up with water very quickly, even if it just rains a little, and during this time it is not safe to enter them. For such canyons, you should always check the weather forecast before you go. If there is any rain in the surrounding area, you should not enter the canyon.
What do you need for canyoneering?
Needless to say, once you're in the canyon there aren't always any opportunities to bail out until you get to the end so you have to be prepared and committed to the adventure. In terms of gear, you'll first need to know exactly what kind of canyon you're entering – is it technical or non-technical? Wet or dry?
For all types of canyoneering, you will need the following gear. Note that your gear is going to be taking a bit of a beating on your adventure, so bring old clothes and footwear that you don't mind getting scuffed up a bit.
Hiking boots: for all types of canyons, you want a really sturdy pair of boots with good grip. If there's water in the canyon, waterproof boots would be helpful.
Durable pants: you'll most likely be scrambling over and squeezing through tight, abrasive rocks, so keep your legs covered with some heavy duty pants.
Long sleeved top: even in summer, it's cold below ground and your arms will be brushing up against rough rocks surfaces, so wear a long sleeved base layer to cover your arms and keep the chill off.
Helmet: even if it's not a particularly technical canyon, rock fall is always a risk of canyoneering so wear a proper climbing helmet.
First aid kit: come prepared for scrapes and bruises with a first aid kit.
Backpack: carry a small hiking backpack with your first aid kit, water and snacks and durable layers (choose a fleece jacket over a down jacket) in case it's colder underground than you expected. Remember you might be squeezing through tight spaces so it can't be a big pack or you'll get stuck.
For technical canyons, there is sometimes an anchor drilled into the rock and sometimes even a communal rope, however you will need to confirm this before you go. You may need the following climbing gear to rappel down and build anchors where needed, and of course you'll need to know how to use all of this gear properly
Rope
Harness
Belay device
Carabiners or slings
For wet canyons, it's good to know how much water to expect, whether it involves swimming or just wading, and how close it is to the end. Sometimes you will want a full water kit to change into, and other times you'll be happy just to get a bit wet and change into dry clothes at the end. The following are some items you may need.
Dry bag and clothes: If you're going to get wet, carry a dry bag inside your backpack with a dry set of clothes for after, and anything else you don't want getting wet.
Water shoes: you might be OK wearing a pair of your best hiking shoes for the whole adventure if they're waterproof and have good tread, or you might want to bring a pair of water shoes for the wet parts.
Drysuit: for canyons with a lot of water, you should bring or wear a drysuit. This looks a lot like a boiler suit, and goes on over your hiking clothes, keeping you dry and warmer.
All the latest inspiration, tips and guides to help you plan your next Advnture!
Julia Clarke is a staff writer for Advnture.com and the author of the book Restorative Yoga for Beginners. She loves to explore mountains on foot, bike, skis and belay and then recover on the the yoga mat. Julia graduated with a degree in journalism in 2004 and spent eight years working as a radio presenter in Kansas City, Vermont, Boston and New York City before discovering the joys of the Rocky Mountains. She then detoured west to Colorado and enjoyed 11 years teaching yoga in Vail before returning to her hometown of Glasgow, Scotland in 2020 to focus on family and writing.