The benefits of meditating outdoors – plus how to get started
We discuss the benefits of meditating outdoors, plus tips and practices to get started when you're in the wild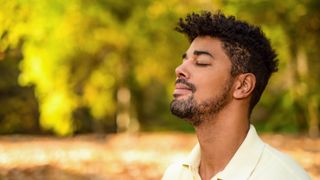 (Image credit: DjelicS)
For many of us, meditation is all about finding a quiet sanctuary in which to sit peacefully. An uncluttered, soundproofed yoga studio, perhaps, where you can block out all of those pesky distractions and just focus on your breath. Practicing meditation outdoors certainly provides a less controlled environment, but it can have a lot of benefit too. So, if you already like to adventure in nature, why not take your meditation practice with you?
Whether you're camping, on a hike, or even taking a break on a long trail run, stopping to sit quietly in nature can be really profound, and might even improve your running. In this article, we discuss the benefits of meditating outdoors, offer up tips and provide some practices to try when you're outdoors. You may also want to read our tips for doing yoga outdoors to make the most out of your practice.
Is it good to meditate outside?
Though a lot more research needs to be done to understand why and how meditation works, the studies so far on its benefits are persuasive. The National Center for Complementary and Integrative Health has listed research indicating meditation for pain relief, high blood pressure, digestive disorders, anxiety, depression and more. Then there's the benefits of spending time in nature, which we've previously discussed in articles on forest bathing and green exercise.
So can we just assume that combining the two is even better? Perhaps. The National Library of Medicine published a review and meta-analysis on the effects of nature-based mindfulness practices – or meditating outdoors and focusing on your surroundings – and found it to be moderately superior to mindfulness conducted in non-natural settings. The review pointed to both biological benefits, such as exposure to immune-boosting antigens and better air quality as compared to indoor environments, as well as subtler benefits, such as a natural environment providing "fascinating objects" to focus your mind on.
Tips for meditating outdoors
You can head outdoors to meditate, or incorporate meditation into a hike or other outdoor excursion, but either way these tips will help you to get the most out of your practice.
1. Pick the right spot
Whether you're planning to sit, lie down or walk, you'll want to scope out the right spot. Consider whether the presence of other people, who might be chatting or curious about what you're doing, will bother you. Though you won't have much luck finding silence, if you spend the whole time worrying about who is nearby, you won't likely get much stress relief, so move away from crowds if you need to and find a place where no one is likely to disturb you. If it's a sunny day, try to seek some shade and likewise, if it it's very windy, source shelter. You don't have to find a perfectly flat spot to sit on, but try to find something not too hard (consider sitting with your back against a tree for support) and definitely you should make sure you're not sitting or lying on a patch of poison ivy or an ant hill.
2. Embrace your surroundings
This one sounds kind of obvious, but it's easy to get wrong. If you're used to meditating in a sterile environment, you might find yourself bracing against all the unexpected stimuli such as bird calls, the breeze and curious bugs. Instead of retreating into a mantra to try to focus your mind internally, open your senses up to your naturals surroundings and let that be your focus. This, according the research, is what brings the benefits after all. You don't have to swipe away every fly or buzzing bee, but if something is crawling on your skin and you don't want it there, slowly and gently brush it off without too much drama.
3. Don't get too attached to your usual technique
If you already have a regular practice, you may want to loosen your grip on it, for now. If there's a particular technique that you find useful, such as repeating a mantra or practicing a loving kindness meditation, that's great, but in an outdoor setting you might actually miss some of the benefits and details of your surroundings. On a more practical level, you might not be able to sit exactly as you normally do if you don't have access to props like a meditation cushion, so be willing to try lying down or walking meditation instead.
Meditating outdoors: how to do it
In truth, you can do any type of meditation outdoors that you like, but below are some practices to get you started. The key for each of these is to tune into your surroundings and let them guide your experience, so you become totally absorbed in nature. You can practice any of these for as little as five minutes, or longer, any time you're camping or on a hike. Just kick your hiking boots off, find the right spot and lean into nature.
Forest meditation
Research reported by Harvard University found that spending time around trees and plants reduces stress and improves health. This technique works in any area with trees and wildlife, so a city park will do. Pick a soft, shaded spot and if you're comfortable doing so, close your eyes. Relax your body and breath and use your remaining senses to take in your surroundings. Listen to the sounds of trees creaking and birds calling to each other, and feel the breeze, sunlight and temperature of the air on your skin as well as the ground beneath you. Any time your mind starts to wander, use these physical sensations to come back to the present moment. Try not to label the sensations but do notice how the earth and trees make you feel.
Ocean meditation
In her book The Nature Fix, Florence Williams presents research showing that people in coastal areas tend to be happier than those inland. If you're lucky enough to be at the beach, try this meditation from my book Restorative Yoga for Beginners. Sit or lie down on the sand, relax and tune into the sound of the waves coming into shore. Notice how each wave has a distinct swelling, a peak of fullness, and a release that has to occur for the next wave to gather strength. Next, notice how your breath shares this same pattern, and try to match your breath to the rhythm of the waves.
River meditation
Even if you're far from a beach or forest, you can usually find a nearby river or babbling brook. The sound of running water has long been used as a relaxation technique, as it reduces your body's natural fight-or-flight response, according to Health. For this meditation, relax near a body of flowing water and tune into the sounds, noticing how they make you feel. If there anything that's been causing you worry or stress lately, you can imagine placing it in the waters and letting the currents wash it away. If not, even as thoughts arise and distract you, cast them off into the currents and imagine them flowing downstream to the ocean.
Walking meditation
Walking meditation is a technique from Buddhism that Health Promotion Perspectives found was successful in improving mood in young adults. Moreover, it works well in the outdoors where there's more space, if you can't sit comfortably or if it's cold. Find a relatively clear area that's big enough for you to walk in a large circle, or forward and back for about 15 paces – forest clearings and beaches are great, but don't block hiking trails. The meditation simply involves walking slowly with complete awareness on the act of walking. Pay attention to your foot lifting, moving forward and connecting to the ground in front of you. Notice your weight shifting forward and your back foot lifting to mirror that cycle.
All the latest inspiration, tips and guides to help you plan your next Advnture!
Julia Clarke is a staff writer for Advnture.com and the author of the book Restorative Yoga for Beginners. She loves to explore mountains on foot, bike, skis and belay and then recover on the the yoga mat. Julia graduated with a degree in journalism in 2004 and spent eight years working as a radio presenter in Kansas City, Vermont, Boston and New York City before discovering the joys of the Rocky Mountains. She then detoured west to Colorado and enjoyed 11 years teaching yoga in Vail before returning to her hometown of Glasgow, Scotland in 2020 to focus on family and writing.