Mental Health Awareness Week: 4 athletes and adventurers tell us how the great outdoors benefits their mental health
We spoke to award-winning outdoor blogger Fiona Russell, athlete and adventurer Sarah Outen MBE, and authors Lindsey Cole and Kieran Cunningham about how green exercise is beneficial to their mental health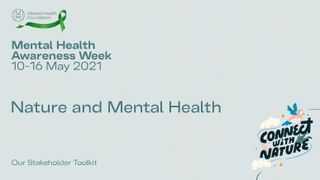 (Image credit: mentalhealth.org)
When the organisers of UK Mental Health Awareness Week (opens in new tab) announced that the theme for this year's event would be "nature and the environment," we reached out to a handful of adventurers and athletes to hear first-hand how their time in the great outdoors benefits their mental health.
Below, they share their insights into how green exercise mitigates the symptoms of anxiety, bipolar disorder, the menopause, and helps them cope with life's everyday stresses and struggles.
Here's what they had to say:
Sarah Outen MBE: athlete, adventurer and motivational speaker
"Swimming outdoors helps me ride the troughs and traumas of life."
I swim year round outside. It keeps me here, alive and connected – to myself, the world and others. Through the traumas and turbulence of unhealth and healing of mind, body and spirit, swimming outdoors has come to represent my life line. Whatever my internal weather, even if in crisis, I know that if I can just get into cold water I can get through that moment. In more balanced times, I know that my outdoor swims are my top ups, my plug ins to nourish my whole being.
My head might be full of negative chatter and my chest swirling on high alert....but as I shed my clothes, don hat and goggles, something inside of me drops. Drops into myself at the anticipation of entering the water, the shockingly soothing embrace of the cold. Breathing out, my attention turns inwards, listening to my breath, noticing my heart, feeling the burning tingle sting of cold water on bare flesh. In the water, I am home. Head underwater, I see the tattoo'd words "be here now", on my wrist next to my pause button tattoo. Be here now, be here now. Breathe. Here. Now. I pull myself through the water to this rhythm. I am present and connected. I am alive. My head is clear, if only while in the water.
I seek to notice the moments of glide, of release. Of holding. Of float and freedom. If the anxious self-battering negative chatter starts up again, I notice it and imagine it dropping away in the twirling bubble of my wake. I am more than my thoughts. I am healing, I am held. I am safe. I am well. These words have become mantra.
Sarah is the author of Dare to Do: Taking on the Planet by Bike and Boat (opens in new tab) and A Dip in the Ocean: Rowing Solo Across the Indian Ocean (opens in new tab).
Fiona Russell, outdoors and adventure journalist, and founder of Fiona Outdoors
(opens in new tab)
"Munro and Corbett bagging helps me to cope with the menopause"
The years of peri-menopause – the stage prior to full menopause – have been tough, with a long list of physical and mental difficulties. The main issues through my late 40s and early 50s have included painful muscle cramps and joints, migraines, poor sleep, fatigue, reduced concentration, memory problems, lack of motivation, anxiety and poor body image confidence.
But when I am walking or running in the mountains of Scotland I find my problems and worries dissipate. I have had to accept I am a bit slower and my recovery after a big day out will be longer, but I know that I still need my outdoors "fix".
The key to keeping going – and bagging the summits – even when I feel too low or lacking in motivation even to look at a map, is my walking friends and my husband. Making a plan with a good pal to do something at the weekend, or the following week or month, means I have something in my diary to focus on. If I have set a date, I will rarely let a friend down.
In addition, the concept of ticking off a list of mountains, whether it's Munros, Corbetts or trigs on local hills during the Covid lockdown, aids my motivation. I find this goal gives me purpose – and leaves me with less time to dwell on the side-effects of the hormonal roller coaster that comes with being a woman in her middle years.
As I walk or run, I look around and delight in the amazing views of our landscape and nature. As I climb higher, I remind myself of the benefits for my fitness and strength. As I chat with my friends, I sense the mental burden of not feeling quite as I used to lighten.
While the menopause can sometimes feel like a huge obstacle to getting outdoors, I always know it will be put back into perspective by the time I return home.
Fiona writes about the menopause for active women (opens in new tab).
Lindsey Cole, author and adventurer
"Swimming outside helped me overcome anxiety"
A few years ago, I caught up with friends in a London bar during a time when I was struggling. It was wonderful seeing them, but I just couldn't get involved in the conversations. They went from jobs to relationships and house renovations - normal topics for 30-somethings talk about, but they were landmarks I'd always found difficult to navigate and which made me feel inadequate. I'd moved around so much, I wasn't sure where I fit in the world. At the time I was living in a friend's shed in Spain, writing my first book. I was suffering with writer's block and was lonely and depressed. That evening, when a friend asked if I was okay, I erupted into a panic attack in the middle of the bar.
The following morning, I decided to try out a swim in the Serpentine. Someone saw me tentatively dipping my toe in, so grabbed my hand and gave me an encouraging tug. She dived under the water and re-emerged with a humongous grin. When I bounced up from my dunk I squealed from the pit of my stomach as my entire body tingled. It was like I was releasing all the stresses that I'd been harbouring inside.
Stephanie grabbed my hands and we started jumping around in circles, grinning and howling with laughter. You'd never have known we only met five minutes before. We continued swimming and chatting as swans glided past and Canadian geese took off over our heads. Despite tower blocks peering over the trees and hearing the occasional police siren, everything seemed still and my head was at peace. I felt alive and couldn't stop smiling.
The sun was shining, so I sat in my towel and processed the swim. Another swimmer sat beside me and asked where I was from. I cringed and told him about the Spanish garden shed.
"Oh, how wonderful. I lived in a friend's shed in Spain when I wrote one of my books. Those were the days," he replied, smiling. I sat beside the Serpentine talking to people I'd only known for two hours. Everyone was warm and welcoming and all so different, and soon I didn't feel so out of place or inadequate.
I was so inspired by this new community I'd discovered that later that year I cycled around Britain and Ireland connecting with anyone and everyone who swam outside. Every morning and evening for six months I was squealing with joy running into cold water with people I'd just met. Swimming outside doesn't just make you feel better, it creates instant friendships and makes you a part of a wide community, which is something I'd always longed for. I finally felt like I fit into something.
Lindsey is the author of The Mermaid and the Cow (opens in new tab).
Kieran Cunningham, climber, mountaineer, author, and Advnture's Channel Editor
"Climbing and mountaineering made life with Bipolar 1 worth living"
Over the years, I've learned that dealing with the various cerebral clusterf*cks and sh*tshows that Bipolar 1 is capable of cooking up requires having a full complement of rocks – the literal kind, the flesh-and-blood kind, and the small, orally ingestible kind that come in a blister package. Without any of these, I know, my life would be a whole lot less tolerable. Experience, however, has taught me that the ones I'm least able to live without for any length of time are the climbable ones.
There's a wealth of literature out there these days detailing precisely why outdoor exercise is good for our mental health, but very few of these really go into what I believe to be the two main benefits of climbing and mountaineering – awareness and perspective.
For me, climbing is a form of airborne meditation, something that grants me a degree of clarity and self-awareness that I'm simply unable to attain in any other way, even on the cushion (I've been meditating daily for 25 years). While a blessing in its own right, the main benefit of this is that I'm more attuned to changes in internal weather - episodes are largely self-starters, but having this buys me time to avail myself of the other rocks and, in most cases, turn full-blown episodes into minor ones or avoid them altogether.
The same applies with mountaineering – when all my energies are focused on the next step, handhold or foothold, and the consequences making a mistake are potentially grave, my mind enters the present moment as it never has to during my workaday life. Luckily, the effects of this "extreme mindfulness" feed into my workaday life for days after each climb, so it's as much about preemption as it is remediation.
Every time I head to the mountains, I also know I'm sure to be blessed at some point by a shift in perspective that lets me look upon all the struggles and stressors I've left at home – the ones that may have otherwise sparked an episode – and be able to chuckle at their utter insignificance. Then there's the joy, which is both a kind of compensation for damages accrued and a therapeutic that softens the blows of those to come.
Bipolar still holds a great sway over my life, but since I've made outdoor time a non-negotiable in my weekly schedule I've come to feel as though I'm in dialogue with it rather than being ordered around or at the mercy of its whims.
Kieran is the author of Climbing the Walls (opens in new tab), a memoir about mental health and the healing power of nature and outdoor exercise.
All the latest inspiration, tips and guides to help you plan your next Advnture!
Launched in July 2020, Advnture is the ideal destination for anyone who loves the great outdoors. Whether you're into epic hikes through the wilderness, camping trips with the family, climbing with your friends, or looking for a trail running personal best, our team of experts will point you in the right direction, with top buying advice and in-depth guides to help you get the most of your time in the backcountry.