Can running a negative split help you win your next race?
We chat with an elite runner about the theory behind negative splits, how they work and whether you really need to adopt this approach to racing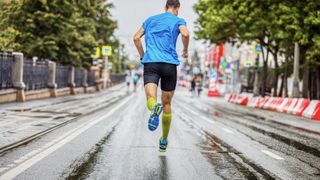 (Image credit: Getty)
When you're new to running, a common mistake is to go full pelt at the beginning of your run, blow a gasket after a few minutes then stop, doubled over with your hands on your thighs, wheezing. After a few goes of this, you either decide you're not cut out for it and trade your running shoes for some hiking boots, or you learn how to pace yourself so that you can sustain yourself over a longer period of time. Running slowly enough that you can keep going for an hour or longer is no doubt the simplest pacing strategy, but needless to say it doesn't get you very far (or fast, as it were) if you're aiming for a new personal best or starting to compete in races of longer distances.
A common pacing tactic used by elite athletes is called the negative split, but is it the right approach for you? We chat with an elite runner about the theory behind negative splits, how they work and whether you really need to adopt this approach to racing.
What is a negative split?
Simply put, a negative split means that you run the second half of a race, or training run, at a faster pace than your first half.
"You're just training your body and your mental ability to push harder and go faster, when it's tougher," explains Brian Sharp, an ultrarunner and running coach who founded the Dragon's Tooth Sky Race who says he'd employ this technique for a longer road race such as a 10k, half marathon or marathon.
To the novice runner, it might sound as though you start out an easy jog then suddenly transform into Forrest Gump in the second half, but Sharp explains that in real life, the technique can be a lot more subtle.
"Let's say you did the first half of a half marathon, so the first 10k, in 35 minutes and then you did the second half in 34 minutes and 50 seconds, you would still say that was a negative split, but it's only 10 seconds, you know?"
However it looks, this technique is essentially a way to make sure that you still have some gas in the tank once you cross over that invisible half way mark, when your mind can start to play tricks on you and tell you that you can't do this. Instead of dragging as the miles go by, you remain competitive, and there's even an argument that upon seeing you accelerate in the second half, however slightly, your opponents lose motivation, giving you an extra edge. It's not totally unlike the breakaway technique in the Tour de France come to think of it.
Negative splits are by no means the only pacing strategy out there, but they're probably the most common amongst elite athletes and marathon runners. You've also got positive splits, which are the opposite of a negative split, where you start out at a faster pace for the first half, then adopt a slower pace for the second half of your run. Though this method isn't nearly as widely adopted – or highly respected – the logic is that you get more miles underfoot in a shorter time when your legs are fresh, then you can slow down knowing you've put in some good leg work.
Then you've got your even pace, which just means maintaining a steady pace throughout a long run. Sounds easy, but of course it gets harder as time goes on.
Do negative splits work?
Negative splits almost certainly work, or elite runners such as Kenenisa Bekele Beyecha wouldn't use them, but Sharp is careful to point out that they're only useful in certain types of events.
"In a mountain race, it's nothing that would ever cross my mind because it has zero benefit, because the second half is incredibly different from the first half. So I would say negative splits is very specific to road running, where you know that you're going to be running in the same way in the same conditions for a length of time."
What negative splits can do it help you to manage your stamina because you run at an intentionally slower pace in the beginning stages of your race, meaning if the conditions are good, you'll have plenty left for the second half. That said, speeding up when you still have 13 miles of a marathon left definitely requires a degree of mental toughness that might be mostly in the realm of elite athletes.
"In short, I think it means that you're very fit and well-prepared if you achieve negative splits, but I don't think that it's necessarily the best way. Only really seasoned people can really achieve negative splits. I think that if you really achieve negative splits, it's very much a sign of experience and knowing your body more than being good at training."
When athletes slow down during a race rather than speeding up, it doesn't always spell disaster. In the 2022 New York City marathon, Evens Chebet lost between 30 seconds and a minute during each 5k split for the last three of the race. Then he won. There were other factors at play of course – it was extremely hot and Brazilian Daniel Do Nascimento fell then dropped out – but it can still be held up as an example that negative splits aren't the only tactic worth trying.
"I think the actual dream is to not have negative splits because I think there's an argument that, if your negative splits are too negative, then you could have tried harder in the first split," says Sharp.
Ultimately, negative splits are a training and race strategy for elite athletes, and not all techniques work, or are even necessary, for all runners. If you're chasing a personal best or hoping for a competitive finish in a race, the best way to find out if negative splits work for you is to try it during your training runs. Figure out what time you'd like to finish your race in. Then, get yourself a good GPS watch such as the Garmin Enduro 2, and figure out your best pace, when everything is going perfectly, and your slow pace, on days when you're tired or it's hot. Then try doing one of your longer runs at your slow pace for the first half and faster pace for the second half. See what your final time and overall pace is and compare it to your previous best, and you'll soon know if it's worth pursuing.
All the latest inspiration, tips and guides to help you plan your next Advnture!
Julia Clarke is a staff writer for Advnture.com and the author of the book Restorative Yoga for Beginners. She loves to explore mountains on foot, bike, skis and belay and then recover on the the yoga mat. Julia graduated with a degree in journalism in 2004 and spent eight years working as a radio presenter in Kansas City, Vermont, Boston and New York City before discovering the joys of the Rocky Mountains. She then detoured west to Colorado and enjoyed 11 years teaching yoga in Vail before returning to her hometown of Glasgow, Scotland in 2020 to focus on family and writing.