7 ways to beat pre-race nerves: top tips from elite runners
Make pre-race nerves a thing of the past. This expert advice will help you overcome start line jitters on the big day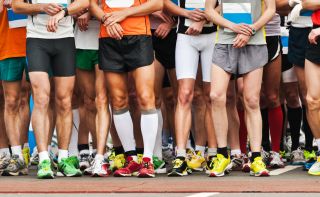 (Image credit: TommL / Getty Images)
Trail and ultra running events can be nerve-wracking, especially if you've signed up for something a little on the, er, challenging side – possibly after a few too many pints with your running friends in the pub, or seeing someone's fantastic race photos on Instagram.
But don't worry, because even elite athletes get the pre-race jitters. Below you'll find their best advice for overcoming your nerves to run your best on the big day.
1. Don't worry about nerves
Yes, you thought you'd come here for advice on avoiding that awful feeling of butterflies in your stomach altogether, but actually, being a bit nervous is not only nothing to be concerned about – it's also a very good sign.
"Nerves are fine, nerves are good," elite ultra runner Debbie Martin-Consani (from Team Centurion Running) tells Advnture. "You need nerves, I think it's a vital part of a race – if you didn't have nerves it's probably not a big deal to you. So the fact that you are nervous means that the race is important to you. I don't mind them. I know I get nervous, but once you start running the nerves are gone. It's just the buildup to it, I think."
2. Embrace those nerves
And we can go further than that first point! Nerves can even be helpful for your race according to Meg Mackenzie, coach and ultra runner for Team On Running. "I usually get really nervous," she says. "I always have and I always think that's going to change and one day, and the nerves are going to stop because I've done this for 10 years now. But they don't! But I think it's good because nerves are the body's natural performance enhancer, so I try and think of them like that.
"I also remember how when I was injured badly a couple of years ago and couldn't race – I missed the nerves! So now when they come I think, 'I should really embrace these,' because I really missed the feeling. It makes you feel so alive, even if it's a yuck feeling. It's all part of the game and you know it's not going to last; race day's going to arrive, you're going to start racing and then everything melts away. So don't try to fight race nerves, let them come. Treat your taper as a holiday – laugh and surround yourself with positive people and friends, that really helps."
3. Remember that you've done the training
So, you've done you're training. Or, at least, you might have…
Even if training hasn't gone to plan – maybe your toddler is torturing you with 4am wake ups that leave you exhausted, or a work/family/pet situation is taking up more of your time – adjust your expectations, but still give yourself credit for every time you did get out on the run against all odds.
"I still get nervous every single race even if I'm just racing for fun," says Team Salomon trail runner and coach Max King. "For dealing with it, you have to remember your training and feel comfortable in what you've been doing, then rely on that – say, 'Yes, I've trained for this and I'm ready for this.' That will help to calm you down and keep those nerves under control."
4. Practice racing
Feeling nervous before a race will be huge if it's something you hardly ever do, so get used to racing to ease those butterflies.
Top vet fell runner Helen Elmore points out that, "People do put all their energy one big race and feel it's really, really important. But if you've done lots of smaller races, like club races, cross country and parkrun, you get into that mode of how it feels to race. Like putting your number on, lining up with people, it being busy, people asking you how you're going to do which is always quite stressful. But then racing becomes second nature.
"I don't think it's good to over-race," she adds, "but if you've got an important one coming up, don't make it the only race you've done in six months because then the nerves probably will get to you."
5. Don't call it a race
Go one step further and rebrand your event entirely! For some, the word "race" is loaded with thoughts of competitiveness and negative emotions; perhaps bringing back bleep test trauma or nightmares about mandatory school cross country through the snow in tiny shorts.
Instead, rename your race as an "event" or a "challenge", or even a "picnic-hike" for long ultras (because that's basically what they are!) to make it feel more enjoyable and less nerve-wracking.
Talking about the grueling Glen Coe Skyline – 52km long with a whopping 4,750m of climbing – Elmore says, "I've not got the competitive nerves that I might get for a cross country or a short fell race because this one feels more like a challenge as it's pretty much on the edge of what I can do."
6. Run your own race
Forget what everyone else is doing, especially when they take off like rockets over the startline. "I get really nervous," admits Katie Kaars-Sijpesteijn from Team Salomon. "I didn't used to, but I do get really, really nervous now and I just try and think, 'You've done the training. Follow your routine of what you do, don't race anyone else – you've got a plan: eat, drink and you'll be alright. As soon as I get going I'm fine. I haven't met many people who don't get nervous, but I think it's a healthy thing. It's natural to feel nervous."
7. Take the pressure off
Why are you nervous? Have you heaped too much pressure on yourself? Remember, no one else cares how you do in your race apart from you. Everyone else just wants you to enjoy your hobby and stop complaining about things you pay money to do!
"You have to go through your inner mantra," says Keri Wallace, Director of Girls on Hills. "I just tell myself it's just a long day out in the hills. I'm just going out to enjoy it, it's going to be really fun, I don't have to achieve any particular thing, I just want to try and get round and do my own race. I actually find that it takes quite a long time to get into my own stride and find my rhythm, so I always feel pretty rubbish at the start. But I just tell myself I'm going to feel like that no matter what and it will come good."
All the latest inspiration, tips and guides to help you plan your next Advnture!
The co-founder and former editor of Trail Running magazine, Claire now runs the YouTube channel Wild Ginger Running, creating films packed with trail- and ultra-running content. An award-winning journalist, writing for outdoor and adventure sports magazines and websites, her first book The Ultimate Guide to Trail Running 5k to 50k is out in January 2021. Claire also speaks and presents at events and races.