Best running poles 2023: for long distance training runs, ultra marathon races and fastpacking adventures
The best running poles for tackling tricky terrain are lightweight, compact and easy to assemble, collapse and carry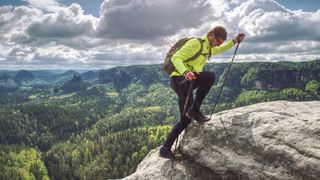 (Image credit: Getty)
Poles used to be for elderly hillwalkers or those with failing knees, but now that association is well and truly gone. Since the surge of interest in ultra-marathon distance running over the last decade, 'cheating sticks' (as they running poles sometimes called in the traditional fell running community), have become massively popular with longer distance and multi-day ultra runners.
And quite rightly so; the best running poles today are light and compact enough for runners to carry for miles and miles across the mountainside, helping them power up hills, balance on technical terrain and speed along on smooth, wide trails. They're even easy to unfold on the move and most running backpacks have dedicated external bungee cords to stow them away quickly when you need to use both hands on rocky scrambling sections or steep, technical downhills. Check out our trail running with poles explainer to see how they can improve your speed and endurance on the trails.
The only issue now is which of the best running poles to buy. There are so many different types – do you need a variable or fixed-length running pole and how light should you go without compromising strength and durability? Perhaps you'd fare best with a unique glove-like hand-to-pole attachment for effortless running like the Leki Micro Trail Vario, or maybe you're counting every gram and need the ultralight carbon fibre Mountain King Carbon Skyrunner at under half the weight of the heaviest. Or, maybe you're a newcomer to running poles or on a tight budget and need a great value option like the Harrier Helvellyn Carbon Z-Poles.
Whatever your needs – this guide to the best running poles available right now will help you choose.
The best lightweight running poles
Ultra lightweight, fixed-length carbon running poles for going fast and light through the mountains
Specifications
Weight (120cm pair):
224g/7.9oz
Sizes:
110cm–130cm/43–51in
Folded length:
30cm/11.8in
Compatibility:
Fantastic for fast and light ultra runners watching every gram
Reasons to buy
+
Ultra light
+
Carbon
+
Easy to assemble and re-fold
+
Compact fold into 4 sections
+
Large-sized mud baskets included
Reasons to avoid
-
Longer folded length may be harder to stow on your pack
-
Handle material not comfy
-
Not as strong as heavier poles
-
No medium-sized mud basket option
This incredibly low-weight Skyrunner is by far the lightest fixed-length collapsible running pole on the market right now at 224g/7.9oz per 120cm pair. They are very easy to put together and dismantle, however you are in charge of the connecting cord, with Mountain King's 'pull the cord out and hook the knot in the handle slot' design. It's very easy, and then you poke the end of the cord into the top of the handle to stop the excess cord dangling around. This slim, lightweight cord is unprotected within the pole so be careful with it. The handle strap is not adjustable, so you can't fine-tune the fit, but the material is soft and the loop size will cater for most hand-sizes without a problem. However, the mesh handle material is quite harsh and isn't very comfortable after a long, wet day, or during multi-day use with bare hands (it would be nice if it were made of a softer, brushed material, but wearing gloves solves this). They are the most compact pair of poles in the test, folding down into four sections (making it an M-pole) rather than the usual three (Z-pole). If you're looking to count every gram, these are definitely for you.
2. Alpkit Nanolite Twin Poles
These four-piece feather-light sticks are among the best running poles for fast-moving trail runners
Specifications
Weight (120cm pair):
292g/10.3oz
Sizes:
110cm / 120cm / 130cm
Compatibility:
Ultra running and lightweight fastpacking adventures
Reasons to buy
+
Great price
+
Small fold size
+
Quick assembly
Reasons to avoid
-
Basic handle
-
Non adjustable
A four-piece, M-design, folding carbon pole, Alpkit's Nanolite Twins are designed by trail runners for trail runners. They are super light, and have four sections, fold down nice and small for easy stashing on a running pack or race vest when not required. Although you can't adjust the length, they are available in three sizes, which go up in 10cm increments from 110cm – so you do need to ensure you get the best size for you. Assembly is easy and quick – you just yank the Kevlar-reinforced cord umbilicus that runs through the sections, pulling them all together, and then slip the knot in the cord through a purpose-built notch in the handle. The connection is actually a lot more robust and secure than we initially expected, given the fairly basic nature of that set up, but we wonder whether the cord might stretch slightly with use, which could impact that (no sign of that happening so far, it has to be said). The wrist strap and handgrip are robust and functional, but without any fanciness that would add ounces. There's no lower grip, which can make running along off-camber trails or tackling steep ascents tricky. They come with a removable rubber cover and basket, and have a carbide tip.
The best running poles for value
Incredible value, variable-length carbon running poles fantastic for beginners and those on a budget
Specifications
Weight:
418g/14.7oz & 446g/15.7oz
Sizes:
105–120cm/41–47in and 120–135cm/47–53in
Folded length:
36cm/14.2in & 37cm/14.6in
Compatibility:
Great value for beginner long distance ultra runners over muddy ground
Reasons to buy
+
Great value
+
Small folded length
+
Easy to assemble and re-fold
+
Medium-sized mud baskets included
Reasons to avoid
-
Heavy
-
Pole section comes apart if you if you pull it past the STOP line when adjusting
The Harrier Helvellyn Carbon Zs are available for a very reasonable price (especially for carbon poles). They're the cheapest of the best running poles here, which is fantastic news for anyone on a budget, and beginners. They are very simple to assemble – the lock clicks into place well, and you can adjust the height with the quick-lock easily. Take care not to over-extend your pole beyond the stop line though, as it will come apart. It's easy enough to slide it back on again, but you just don't want to go butter fingers and drop a section of pole while running. The handle is super soft yet grippy, extending some way down the shaft so you can use it with both hands for crossing rivers or snow patches. It's easy to collapse the pole with a press of the lock button, and inside, the poles are held together with a strong metal cable rather than a rope cord like the others here, which is then protected with a plastic cover, making them very durable. Folded, these are a compact 36cm long. They have all the features you need at a fraction of the price making them a very attractive option.
The most innovative running poles
Top quality, super strong adjustable-length running poles with a unique, efficient hand-to-pole connection for effortless running
Specifications
Weight:
390g/13.8oz & 404g/14.3oz
Colors:
Grey & Red/Grey & Yellow/Black & Red
Sizes:
100–120cm/39–47in & 110–130cm/43–51in
Folded length:
39cm/15.3in and 42cm/16.5in
Compatibility:
Super durable and comfortable for long distance training runs and ultras
Let's not beat about the bush here – these are the most expensive poles you can buy, but what are you paying for? In short, extreme comfort, exquisite quality and durability, plus a unique and efficient hand-pole attachment. They're very easy and quick to assemble and re-fold, and the inner cord is protected with durable plastic. They also extend without you being able to pull the sections apart like budget poles tend to do.
And then there's the unique hand-to-pole attachment, the Trigger Shark 2.0 System: this is essentially a very comfortable Velcro glove (available in sizes XS–XL) that you hook onto the handle of the pole which allows you to use them with a different technique to all other poles. You don't have to worry about always gripping the poles – you can let them swing out in front of you with momentum and plant them on the swing back down, saving you energy. However, being so securely attached, it is more difficult to extricate yourself from the pole quickly – if, say, you take a fall. And, if you were to lose one of your unique Leki gloves during a run or race, the pole would simply turn into a top-quality walking stick.
Light, fixed-length and durable carbon running poles for long days out and mountain adventures
Specifications
Weight (120cm pair):
330g/11.6oz
Sizes:
105cm-135cm/41-53in
Folded length:
42cm/16.5in
Compatibility:
Strong and durable for long distance and multi-day ultras
Reasons to buy
+
Very comfortable handle
+
Easy to assemble and re-fold
+
Large & small mud baskets included
+
Replacement carbide tips included
Reasons to avoid
-
Longer folded length may be harder to stow on your pack
-
No protection on inner woven cord
-
Tensioner prone to rattling when folded
The Ultimate Direction FK Ultra has a unique tensioning system within each pole and it claims to be one of the strongest carbon fiber poles on the market due to its tapered design. There are also an excellent number of lengths available – seven sizes from 105–135cm/41–53inches in 5cm/2inch increments. Collapsed into three sections, they are one of the longest here at 42cm/16.5in long, so take that into account and make sure it's workable with the way you want to attach your poles to your running pack or waist belt (if you want to have them horizontally across the back of your pack, they can be a little on the wide side).
The handle is dreamily smooth, with slight grip grooves that don't grate against your bare hands. It's also long so you can use it with both hands for river and snow patch crossings. The strap doesn't have a hugely long piece of velcro at the wrist loop for adjustment, but should fit most hands fine and the material is also wonderfully smooth. They come with an extra large mud basket, and there is also a pair of replacement carbide tips, which is a nice touch for longevity.
The best alloy running poles
6. Black Diamond Distance Z
Good quality, robust aluminium running poles with great features at a very reasonable price
Specifications
Weight (pair 120cm):
344g/12oz
Sizes available:
100cm / 105cm / 110cm / 115cm / 120cm / 125cm / 130cm (39–51in)
Folded lengths:
33–43cm/(13–17in)
Compatibility:
Running long distances in remote mountains
Reasons to buy
+
Robust aluminium
+
Available in many sizes
+
Small folded length
+
Easy to assemble
+
Interchangeable rubber or carbide tips
Reasons to avoid
-
A little heavy
-
Non adjustable (bad for sharing)
-
Only small mud baskets included
-
Hand-strap size not very adjustable
The Black Diamond Distance Zs are sturdy aluminium poles that aren't adjustable, but come in plenty of different lengths (be sure to purchase the right size). They're easy to put together and re-folding them is equally simple once you know how (initially it's a little tricky). Inside, the Distance Zs are held together by a strong cord protected by robust plastic, and a groove in the mud basket clips onto the other pole nice and tidily for easy stowing. The strap material is comfortable over longer distances with a good swing action from the cord connecting it to the top of the handle. There isn't much room for adjustment with only a short strip of velcro, but the standard sized loop is fine for most hand sizes, male and female. The handle foam is also extended so you can grip one pole with both hands to cross a river or a snow patch. Deep horizontal grooves improve the grip, but do make them slightly less comfortable with bare hands over longer distances than a handle made of smooth foam all the way up. At the sharp end, the carbide tips bite into the ground nicely, and it's good to have a small mudguard to stop your poles sinking into boggy ground (you can attach a larger Z-Pole Snow Basket, available separately for £7.50/$10).
How we test the best running poles
Our selection of the best running poles has been tested on a wide range of wild running outings – ranging from training runs to races – across a huge variety of terrain in all sorts of conditions.
What to look for when buying the best running poles
There are plenty of poles out there to peruse, and the prices vary wildly. Depending on the type of trail adventures you predominantly do, the best running pole for you might be the lightest one, or the strongest, or the one that packs down the smallest. Before you make your choice, consider the following features and factors.
Weight
It's an obvious advantage to have a lighter weight pole for long distance runs and ultras, but this also comes with (to differing extents) reduced strength and durability so it depends how careful you want to be with them and how much weight you want them to bear. For example if you prefer the poles to take your full weight on river crossings, maybe the lightest version is not for you.
Type
There are three types of running pole – the lightest but least convenient to carry are fixed-length non-collapsible poles; the best of both worlds once you know your size and you don't wish to ever vary it is the fixed-length collapsible, which folds across either three (Z-poles) or four (M-poles) sections. Finally there are variable-length collapsible poles which are handy should you want to change the length for uphills and downhills, or lend them to friends and family of differing heights.
Sizing
Poles generally range from 100–135cm/39–53inches in length and you can find the right size for you by standing up straight with your elbow bent at 90 degrees, hand out in front. The distance from your hand to the ground is the running pole length you need.
Material
Most lightweight running poles are made of carbon, and a few from aluminium. Carbon poles are very lightweight and have great strength, but they are not as durable and are more likely to crack or break under stress (and you can't mend them). Aluminium, although heavier, is highly durable and can withstand a bit more of a battering and even slight bending before it becomes irreparable.
Handle
Most commonly, handles on the best running poles are made from EVA foam or perhaps cork, which are both very comfortable depending on what grooves and textures are patterned into them. Deeper grooves seem grippy but are not as comfy as a smoother finish. Look for a pole that has a longer handle area so you can use one with two hands for river or ice-patch crossings.
Handle straps
It's handy if the handle strap (or glove in the case of the Leki Trigger Shark 2.0 system) has a large range of adjustment to cater for bare hands to thick gloves.
Top tip
We store a few pre-cut 20–30cm lengths of gaffer tape, wound around the upper shaft of our poles under the handle. This is very handy for all sorts of kit and equipment repairs mid-run in the middle of the wilderness, or at camp on a multi-day adventure.
All the latest inspiration, tips and guides to help you plan your next Advnture!
The co-founder and former editor of Trail Running magazine, Claire now runs the YouTube channel Wild Ginger Running, creating films packed with trail- and ultra-running content. An award-winning journalist, writing for outdoor and adventure sports magazines and websites, her first book The Ultimate Guide to Trail Running 5k to 50k is out in January 2021. Claire also speaks and presents at events and races.