The psychology of injury: expert tips for mental recovery
The psychology of injury can be more limiting than the injury itself, so we ask a sports psychology expert what you can do to support full mind-body recovery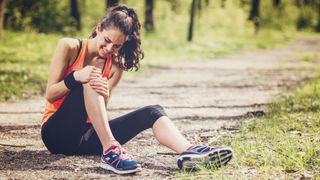 (Image credit: pixelfit)
In the world of sports, the conversation around the psychology of injury has been heating up in recent years, and not a moment too soon. One common and major downside of participating in outdoor adventures is the increased likelihood of getting injured while you're doing it. Whether you just like to hit the trail in your best hiking boots or best trail running shoes, go for something more precarious like rock climbing, or love high intensity pursuits like cross country skiing, the risk of getting hurt is much higher as compared to almost any other pastime.
Hiking injuries range from mild blisters to frostbite and the most common trail running injury is plantar fasciitis but hiking, climbing and skiing can all result in more serious trauma such as torn ligaments, concussions and broken bones. Treatment might entail anything from rest to major surgery, but, even for professional athletes, the mental collateral of injuries is frequently ignored and psychological support is often missing. The repercussion of this is that without help, you may not return to the trail, the crag or the ski slopes ever again.
The psychology of injury
According to a 2016 study by the CDC, there are an estimated 8.6 million sports and recreation related injuries in the US each year. In response, a whole sports medicine industry exists now to help us deal with the physical fallout of adventure mishaps, and many of us are getting much better about offsetting injury with regularly scheduled recovery, whether that's through yoga stretching, pilates, massage or foam rolling.
But when injury does occur, physical rehabilitation only gets you so far, and the psychology of injury is often overlooked. After sustaining an injury, athletes can experience symptoms like fear, anxiety and depression. When left untreated, this can turn out to be a major obstacle when it comes to making a full recovery and returning to your sport of choice.
"I thought I was going to die"
Former US Ski Team athlete Kirsten Cooper knows this story all too well. During her ski career, she sustained a mind-boggling catalog of injuries including multiple concussions, five labral tear repairs in one shoulder, eight stress fractures, three disc herniations and a spinal fusion, just to name a few.
"I remember very vividly flying through the air (later to find out without my helmet which broke off on the first impact), knowing I was going to fall, and looking ahead of me and seeing rocks and ice. I thought I was going to die. My career ended in that bloody pool on the side of a mountain with a brain injury, no skin on the right side of my face and broken identity," recalls Cooper.
Though she received comprehensive physical rehabilitation to get her performance ready again after each injury, no attention was ever paid to her psychological injuries by her doctors or coaches. The result was that she fell into prolonged depression that included intense mood swings, suicidal ideation, using drugs and alcohol and other impulsive behaviors that ultimately ended her career.
"How much will it affect my life, relationships, identity?"
Cooper's story is, sadly, all-too common. For many, the psychological impact of injury ends up being far greater than any new physical limitations acquired as a result of the offending incident. Fortunately, the growing field of sports psychology is delivering trained scholars and professionals into the world of sports and recreation to help tackle this issue.
Dr Mark Aoyagi is the director of sport and psychology at the University of Denver's Graduate School of Professional Psychology department, a program that focuses on the psychological factors that influence human performance. He explains that psychological injury often occurs as a result of tying our athletic performance up in our own identity.
"The first two things that generally happen with an injury are immediate questions and regrets about the past, such as how the injury occurred, what could I have done differently, was it my fault? The next is jumping to the future – will I perform again? If so, at the same level as I was previously? How much will it affect my life, relationships, identity?"
In addition, he explains that psychological trauma can be magnified by the feeling – real or imagined – of losing your friends, peers and community when you are unable to go skiing and climbing with them.
"Many meaningful relationships are formed through performance, and injured athletes can quickly lose touch with their fellow performers and feel like an 'outsider' or worse, simply forgotten," says Aoyagi.
How do you mentally come back from an injury?
After finding yoga, meditation and psychotherapy on her own, Cooper decided to pursue a doctorate in performance psychology, studying under Aoyagi. It was here that she was introduced to Acceptance and Commitment Therapy. ACT outlines a mindfulness-based framework for initiating psychological repatterning based on the concept of "psychological flexibility" which presents the idea that we do not need to get rid of fear or anxiety or sadness, but rather that those emotions are inevitable parts of our lives that we can allow space for and still choose to engage in life meaningfully.
"If I had found this work when I was competing, perhaps the attempts to fill the void I experienced when my athletic identity shattered would not have felt so consuming and led me to self-destructive behaviors," reflects Cooper.
While Cooper's commitment to recovery is certainly thorough and impressive, you don't have to pursue a doctorate to tackle the psychological residue of your injuries. According to Aoyagi, the following are some simple strategies that you can employ if you do find yourself on the bench and want to make sure you're mentally ready to return to the trail once your physical wounds have healed.
The psychology of injury: tips for recovery
Use your post-injury downtime to build an identity outside of your performance.
Connect with fellow rehabbers and friends that have been through similar experiences.
Reconnect with other aspects of your identity that are oftentimes overlooked during the intensity of performance, such as relationships, hobbies and spirituality.
Emphasize the parts of your practice you can participate in – for example, you may not physically be able to race right now, but you can practise breathing, meditation and mindfulness to work on your mental stamina.
All the latest inspiration, tips and guides to help you plan your next Advnture!
Julia Clarke is a staff writer for Advnture.com and the author of the book Restorative Yoga for Beginners. She loves to explore mountains on foot, bike, skis and belay and then recover on the the yoga mat. Julia graduated with a degree in journalism in 2004 and spent eight years working as a radio presenter in Kansas City, Vermont, Boston and New York City before discovering the joys of the Rocky Mountains. She then detoured west to Colorado and enjoyed 11 years teaching yoga in Vail before returning to her hometown of Glasgow, Scotland in 2020 to focus on family and writing.