Great escapes: the transformative power of the outdoors
For Dwayne Fields, outdoor adventure was an escape route from a life of gang violence and crime. Now he leads at-risk kids on life-changing experiences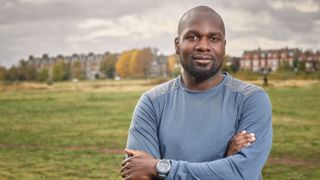 (Image credit: Michael Wharley)
''I'm proud of you, son!''
Sounds like a simple enough sentence, but hearing these five words evoked a deep emotional response in me, even though they were not aimed in my direction, but instead spoken to a young man who had spent much of his 18 years living in inner city London, with little to no time in the outdoors.
At the time I was too caught up in the moment, watching this young man struggle to process the words and the sentiment he was hearing for the first time from his father.
It meant a huge amount to me – all the more so because, like this young guy, I had never heard those words coming from any male role model, least of all my dad. I was experiencing something I'd merely heard about before – I suddenly knew what living vicariously through someone else meant.
Streets to summits
I met this young man on a street corner not far from where I grew up in East London. On the surface he was just like many of the boys I grew up with, but for some reason I saw him and thought of myself. I pulled over, stepped out of my car, handed him my card and simply asked if he had ever considered climbing a mountain.
That may seem like a strange thing to do, but let me explain: at the time I was organizing an expedition to the top of Ben Nevis, Britain's highest peak, with a group of underprivileged kids, as part of a 'Street to Peak' programme.
He looked at me with all the doubt and skepticism you'd expect in the face of a streetwise teenager who had just been approached by a random stranger, with an even more random question. Perhaps sensibly, the young man refrained from answering, but he did take my card. And to my surprise, less than an hour later he called me up.
We spoke for about 30 minutes, if not longer. He had so many questions, about who I was, why I was doing this, what it would cost him, what would the benefit be and so on. By the time I'd satisfied his exhaustive list of queries, he was onboard.
I understood that the thought of this adventure – simply the concept of being in the outdoors, and in an unfamiliar environment – was hugely daunting to someone from his background. And if the idea of doing something like climbing a mountain was mind-blowing, the reality of the experience was even bigger.
The expedition had a profound impact on this unlikely mountaineer, and an even more profound impact on those around him. As they witnessed something new in their child, their feelings and expectations were being altered as fast and as much as his were. They could now take pride in this young man, whose actions may have only disappointed or worried them in the past. They could now see him in a new light, as his ambition and courage to venture into the unknown revealed some of his true characteristics, possibly for the first time.
This is the power of the outdoors.
Life chances
And this brings me to someone else who was also part of this particular expedition. It appeared as though this young woman had all odds stacked against her. She had been removed from mainstream education, been in trouble with the police and her job prospects were slim, due to not having any applicable skills or experience.
Putting this young person in a leadership position where they had to successfully learn and then demonstrate how to plan and navigate routes and activities for the team, while maintaining team morale as well as overcome obstacles, gave them the confidence to apply these skills to everyday life.
For the first time in this young person's life, she was able to spend time in an environment where all was equal – there was no one to impress, and no one passing judgment. And she thrived. I later learned that she found a job the week after the expedition, and during her interview all her examples and responses were based on the short time she spent in the outdoors.
So when I'm asked the question: does the outdoors have the power to transform lives? I unhesitatingly say yes. I know it does. Being outdoors offers an experience that can completely change your mindset, which is the first step to transforming your life.
Dwayne Fields escaped a circle of violence in innercity London by embracing a life of adventure, and subsequently became the first black Briton to walk to the magnetic North Pole. Along with Phoebe Smith he is co-founder of the #WeTwo Foundation which works with underprivileged young people to change their lives through adventure.
All the latest inspiration, tips and guides to help you plan your next Advnture!
Dwayne came to the UK aged six and spent his formative years in inner-city London where, wrapped up in the world of street gangs, he became a victim of both knife and gun crime. After a life-threatening incident, Dwayne decided to change his life and reconnect to nature and the outdoors, which he'd enjoyed in his early life in the forests and hilltops of rural Jamaica. In 2010, Dwayne successfully set out to become the first black Briton to walk over 400 miles to the magnetic North Pole. Ever since he has lived a life of adventure and exploration, inspiring young people nationwide to explore the 'great outdoors' which has earned him the City of London's highest honour, the Freedom of the City.