Diversity in the outdoors: the people making sure the countryside really is for everyone
Do we really have diversity in the outdoors? Sadly, the answer to that question is staring us in the face every time we venture out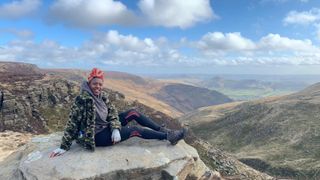 (Image credit: Steppers UK / Cherelle Harding)
If you're reading this article, it's probably because you already know the power the outdoors has to make us feel happier and healthier, to help us manage our wellbeing, develop our confidence and sense of purpose. A connection to nature, and time spent outside is therapeutic. And it's a right that belongs to us all, not a privilege for the few.
In 2019, Julian Glover published a searing report on the state, and future, of the National Parks and designated national landscapes in the UK. In it, he identifies the fact that young people, old people, people with disabilities and people from ethnic minorities don't always feel comfortable or able to reach countryside areas. Both people from ethnic minorities and white people think of the countryside as 'white', and if you're not already part of 'the club', learning about these places and finding out about what you're allowed to do and where you're allowed to go is tricky.
The outdoor landscapes of Britain make me proud, and I'm profoundly grateful that I've had a chance to explore so many of them. I'm aware that I feel safe and confident in them, that they are 'my' kind of place. It's uncomfortable to think that some people don't have that experience, and that it's because of disadvantage, discrimination or fear.
But what's the problem? The countryside is free! No one's stopping you…
A recent Ramblers report showed that, in reality, people don't have equal access to outdoor spaces. Only 57% of British adults questioned said they lived within five minutes' walk of green space. That figure fell to 39% for people from an ethnic minority background. And if you don't have a car or readily disposable income (for public transport, the right footwear, the laundry facilities so you can get wet and muddy and not worry), the chances of you being able to reach an outdoor space you want to spend time in diminish further.
If you're not sure whether the transport or facilities will be suitable for your access requirements, you might not risk it. If no one else in your family or community goes mountain biking, fishing, hiking or trail running, it's less likely that you'll stumble across the opportunity to try it and see if you like it, or find people to share experiences and have fun with while building skills. Turning a one-off experience into a lifetime of enjoyment requires relationships – with places and with people.
But what's the problem? The countryside isn't racist! No one's stopping you…
In terms of demographics, the British countryside is white. Just 1.9% of Black people and 2.6% of Asian people live in the countryside.
"For many people of colour, journeying into the countryside means navigating a new environment," anthropologist Beth Collier explains in a piece for The Ecologist. "Many [people of colour] feel an apprehension about stepping into nature, especially in more remote and open spaces, wondering how they are going to be received. A sense of vulnerability increases with increased visibility."
And that's true of all communities who are visibly not the majority.
I could trot out the line, 'the hills don't care who you are'. But I can only say that because I – heterosexual, cis-gender, able-bodied, slightly off-white, middle-aged person wearing Gore-Tex – can pass by anonymously without having to explain or be scrutinised. No one sees me and wonders what I'm up to. The times when someone has commented on my racial heritage (my mother is Indian, my father is Polish) I've either felt on the back foot, or like I then needed to step forward as role model and spokesperson.
Another response that people offer is that black and other ethnic minority communities just don't have outdoor activities in their culture or traditions. Firstly, we can't lump multiple, diverse people into a homogenous culture or 'tradition'. Secondly, some early generation immigrants may well have focused on – and drilled into their kids – priorities that didn't include outdoor recreation, but then the vast majority found themselves living in urban areas, without the means of escaping the concrete jungle very easily. Early pioneering individuals who broke the mould and went hiking/biking/climbing might have received derisive feedback – or overt hostility, from both their own and outdoor communities. But the fact that we've inherited these historical inequalities doesn't mean they're fixed, or that they're ok.
Representation matters
When you see people who come from a similar background to you doing something cool, it unlocks the potential of you doing it too. It also reminds other people that your participation in outdoor activities is legitimate, and it shouldn't come as a surprise if they come across you on the trail, river or crag.
Cherelle Harding is the founder of Steppers UK, a walking group focused on increasing participation from people with black and Asian backgrounds. "Everyone is welcome," she says. "I want the group to reflect the diversity of the community. It's not that people aren't interested, it's just they might not have been exposed to the opportunity. Or they went on a school trip once, but didn't know how to take the next step.
"Our current project is to visit the 46 AONBs (Areas of Outstanding Natural Beauty). We've got a video about the group, and people write reviews so others know what to expect and what it'll be like. Language is important – I don't say we're going 'hiking' or 'hillwalking' – I say we go on walks with good views and good vibes. You can't argue that they're beautiful things!"
A safe and supportive space, or group isn't necessarily a group that's only for people like you. But groups exclusively for people who are otherwise in the minority are important to achieve the end goal, which is equitable access to the outdoors. "I first joined Black Girls Hike [a group for black women]," says Cherelle. "Honestly, if there wasn't BGH, then there wouldn't be Steppers."
Specific spaces: safe, or divisive?
There's something very powerful about not being a minority for once. I hadn't quite realised how true this was, until I went on a women-only mountaineering course with the National Outdoor Centre, Plas y Brenin.
I'll admit that I was a little hesitant. "Why should it matter, that it's women only?" I thought, "We're all equals. I don't need special treatment. And anyway, all women are different – it's not the only thing I am."
But after five days spent with a group of other outdoorsy women – and, crucially, two fantastic female instructors – I think I understood. It was a huge benefit to be able to look up to and feel inspired by my instructors, Sam Leary and Louisa Reynolds. Having your identity reflected back in the faces of people in positions of authority is hugely inspiring. The women on the course were all different – race, age, sexuality, socio-economics, religion, health – but there was also a thread of shared identity. "You look like you're all having so much fun," a man in one of the other training groups said to me one evening. "I want to be in your group!"
So, is it divisive that he wasn't 'allowed' in our group? This brings us to a crucial issue: equality versus equity.
Equality is offering everyone the same opportunities, regardless of their needs, or existing advantages or disadvantages. Sounds reasonable, right? But it means that equal outcomes are only actually achievable if everyone starts on a level playing field. A more useful term is 'equity'. Equity is about fairness of outcome, having taken into account existing and historical inequalities. So that might mean some individuals or groups should be offered specific support, or additional opportunities (like funding for BAME ['Black, Asian and Minority Ethnic'] or working-class applicants to complete instructor training). The aim of equitable approaches is to 'level up' the playing field so that it really does become fair in future.
We need to create spaces where all people feel welcome, and are confident to build skills and relationships. Groups and courses for people who've been historically marginalised in the outdoors (women-only or black-only, for example), are not racist or sexist, they level an otherwise very lumpy playing field.
The organisation Our Shared Outdoors explains the situation very well: "Ideally, the need for equity groups will one day be unnecessary as we become a more equitable, welcoming and fair society. Unfortunately, we are a far way off from this ideal, so groups like these are still very important."
Building traditions
If you don't have a history of finding the outdoors a familiar, fun or positively challenging place, if you don't have a sense of identity or belonging linked to that place, then it's no surprise that you might not choose to take a chance on a trip to a hill in the rain. But here's the thing. That's not fixed. You can be the first – in your family, in your community – to foster familiarity with the outdoors, build a positive sense of place, and a treasure trove of memories.
Next time you see a school or youth group out on the hills, or at an outdoor education centre, look twice. Ask yourself – are these kids, in terms of ethnic diversity and perhaps socio-economic background – a representative selection of all the other people you'll see today on the hills? No? Then we have a leaky pipeline. The kids on that trip are living demonstrations of how confidence-building and life-changing time in the outdoors can be. But you have to try it to like it.
Haroon Mota runs the online community group Muslim Hikers. "As a British Asian Muslim, it was never in my family traditions to get away to enjoy outdoor spaces. In my childhood summers I only ever remember going to theme parks or beaches, even though the Peak District was just a two-hour drive away. For me, had I not joined that residential trip to North Wales in my final year at school, or the hiking trip from my Mosque to the Lake District, I would never have had that catalyst to really build up an appetite for getting outdoors."
Haroon is one of a growing group of diverse outdoorsy people visible on social media, offering support, advice and inspiration. But representation needs to be evident in the faces in ads and mags too.
"It doesn't help the stigma when the majority of adverts and promotional material from outdoor brands feature white people," says Haroon. Female hikers who wear hijab and walking boots? Wheelchair users who love the mountains? Queer women smashing bouldering problems? Yep – they're all out there, doing what they love. But scroll around your favourite gear shop, magazine, training provider website and you might not realise it.
What should organisations do?
I'm a hillwalking ambassador for the British Mountaineering Council (BMC). The organisation has been around for 76 years, and is more diverse now than the original cohort of male, white and wealthy summiteers. For example, 48% of members are now women, another 1.5% is non-binary. But only 3.9% of members are from ethnic minorities (compared to 14% of the UK population).
BMC President Lynn Robinson acknowledges that the organisation, like most other outdoor organisations, still has a long way to go. 'I know how much the outdoors and mountaineering has shaped who I am and how I live my life, and it's something I want to open up to everyone, no matter what their background. In recent years I became the first female President, and before me Rehan Siddiqui was the first President from a BAME background. Yet there is still under-representation in both the organisation and in the activities we represent."
The BMC has targets to improve representation in membership and media campaign material (a minimum of 15% of people from ethnic minorities in images, for example) and within the organisation itself. They're actively developing partnerships with grassroots and national organisations to support leaders from underrepresented groups, help group leaders secure training and qualifications, and they champion events like the Paraclimbing Series and Black Dog Outdoors mental health walks.
What's clear is that there's no magic bullet. Diverse communities need to be built through relationships and trust. The BMC, the National Trust, the Ramblers, the National Parks – all of them can't just add a few targets and ticklists and then sit back. Grassroots organisations need supporting, both financially and strategically. People who aren't yet represented on the boards, in the membership and in the wider outdoor community need to be proactively found and invited in to 'the club'. You can't tell someone they should want to go hiking, or fishing or paddleboarding, but you can make it possible for them to want to. And crucially, we all have a responsibility to ensure that if people venture out, their experience is positive.
Diversity and inclusivity need to be at the heart of an organisation's activities. We need to change what 'business as usual' looks like. We need to shake up – or perhaps disband - those traditional bubbles of 'people like us'. While they remain overwhelmingly in charge, consulting with other people just like them, in order to best represent and meet the needs of other people just like them, then the problems will perpetuate. Real change needs systemic change – from top to bottom
As discussed in a recent John Muir Trust event, 'projects' don't cut it. The funding runs out, and individuals who might have had a first taste of outdoor activities don't know where to go next. Nothing has actually changed, the same people are still the gatekeepers of 'the Club'. The key is to help individuals and families build skills, familiarity with the environment, and independence. Then they become part of 'The Club'. 'The Club' can grow and change as the UK does. We need to foster a positive cycle of visibility, confidence and opportunity.
The Glover report calls for a comprehensive re-structure of the National Parks and AONB system so it can better serve the public. They want every child to spend a night in a national landscape. They want a national ranger service that will create a network of friendly, well-informed people to welcome us into these landscapes, and help us understand and enjoy them. They want to see a 'burning desire' for better representation rather than what they see now, which is 'an interest'.
How can you love and protect something you don't know? The more people we have invested in the future of the countryside the better it is for everyone. Better mental health. Happier, stronger, fairer communities. More talent recruited to becoming outdoor instructors, rangers, ecologists. It's win, win, win.
What should I do?
Check in with your preconceptions, and change them if you don't like what you find
Act in a way that gives more people more opportunity (invite that friend who isn't 'outdoorsy' for a walk/ride/paddle)
Be the person you'd like to meet on the trail
Don't ignore racism or other discrimination, always speak out
Donate to support campaigns and organisations that are helping to level the playing field and increase access for underrepresented groups of people
Volunteer with community organisations like the scouts, guides, cadets, John Muir Trust and Duke of Edinburgh award schemes. You can genuinely change people's lives!
Give attention – and business - to people and brands that use their platforms to celebrate a diversity of people in the outdoors, and urge them to follow through to make real change, not just gestures.
Ours can and must be the era when the outdoors really is available to everyone, equally. Let's get to work.
Mary-Ann Ochota is a hillwalking ambassador for the British Mountaineering Council and a patron of The Tony Trust, which awards funding to underprivileged young people to attend outdoor education courses @MaryAnnOchota
All the latest inspiration, tips and guides to help you plan your next Advnture!