A guide to different types of sports bras
Learn which types of sports bras are the right ones for you, whether you're running, hiking or doing yoga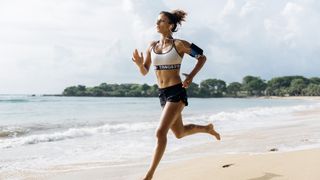 (Image credit: Getty Images)
A sports bra is an essential item of kit for women, especially if you are a runner or hiker. Breast support, whatever your chest size, is required when doing sports to prevent injury and to reduce the stretching and weakening of import muscles and ligaments.
There are different types of sports bras to suit a range of sports, from low impact for exercise such as yoga to high impact for runners. Sports bras also have a range of looks, designs and features and they are made in a variety of fabrics. Find out more with our guide to types of sports bras.
Sports bra impact levels explained
Most sports bras are sold with a performance or impact rating and usually come in three levels:
Low impact: The support of a low impact sports bra is aimed at women taking part in less vigorous physical activities such as yoga, pilates, swimming and stretching. Many women wear low-impact sports bras for general activity such as camping or relaxing at home, too.
Medium impact: These sports bras will be best for activities that are classed as moderately physical such as hiking, road cycling and skiing.
High impact: Running, trail running, triathlon, aerobics, dancing, boxing and racquet sports are more vigorous types of exercise and require a high-impact sports bra.
Different types of sports bras

There are a range of types of sports bras. These include:
Compression sports bras: This style of bra is the type that you pull over the head and doesn't usually have built-in cups. It looks like a supportive crop top. Compression sports bras are usually best suited to low or medium-impact activities but they are sometimes designed to be supportive enough for high-impact sports.
Encapsulation sports bras: These types of sports bras are usually for high-impact activities. They offer good support and usually have inbuilt cups and may be underwired as well. Encapsulation sports bras for women with a smaller chest size may also be lightly padded.
Underwired and wired sports bras
Underwired: Wires under the cups of a bra give a sports bra structure, so as to offer more support. An underwired style bra also provides a more defined and separated shape compared to non-wired styles.
Non-wired: These types of sports bras are usually made with a firmer fabric that has less stretch. They are designed to offer compression to keep the chest still during activity. You might hear these bras described as "mono" because they do not separate the chest but compress it to form a mono shape.
A range of sports bra designs
Sports bras are designed for support and also for "looks". While most bras are worn under another top, some types of sports bras can be worn on their own, especially when the weather is warmer.
Racer back sports bra: This type of sport bra has shoulder straps that join together between shoulder blades to create a Y-shape. Racer back bras usually give good support for high impact activities and offer good freedom of movement and high comfort levels. Some women choose a racer back to wear as a stand-alone sports clothing item.
Criss-cross back sports bra: This type of sports bra has a back that forms a cross. They are good for firm support and they are also popular because they look good if worn without a top on warmer days.
A pull over sports bra: The name makes this design of sport bra fairly obvious, in that the wearer pulls it over their head. They might also be called crop tops. The pull over bra is usually for lower impact sports and it's recommended that it is worn by women with smaller chests because the level of support is rarely enough for women with larger breasts.
Bras with a clasp: Many women will know how difficult it can be to pull on a supportive sports bra and many bras, whether compression, encapsulation or pull over will have the additional feature of a a back or side clasp to make it easier to get it on. The clasp is then affixed after the bra is on.
A chest clasp is also part of sports bras that look more like ordinary bras. Instead of the sports bra being a pull-over type, it has a more traditional fixing with hooks or clasps.
Sports bra fabrics
Since a sports bra is worn against the skin and for exercise, it is likely it will end up damp or wet with sweat. Potential issues with sports bras including skin sores, chafing (see: how to stop chafing) and simply feeling cold and damp.
To keep you cool and to avoid that chilling effect of wet fabric when you sweat, most sports bras are made from blends of moisture-wicking fabrics, such as nylon, spandex, polyester and merino. It is best to avoid cotton because it tends to hold moisture and that means you will end up with a wet sports bra against your skin.
All the latest inspiration, tips and guides to help you plan your next Advnture!
Fiona Russell is a widely published adventure journalist and blogger, who is better known as Fiona Outdoors. She is based in Scotland and is an all-round outdoors enthusiast with favourite activities including trail running, mountain walking, mountain biking, road cycling, triathlon and skiing, both downhill and back country. Her target for 2021 is to finish the final nine summits in her first round of all 282 Munros, the Scottish mountains of more than 3,000ft high. Aside from being outdoors, Fiona's biggest aim is to inspire others to enjoy the great outdoors, especially through her writing. She is also rarely seen without a running skort! Find out more at Fiona Outdoors.