6 common ultra running mistakes – and how to fix them
To err is human, but rest assured lots of other runners are making the same ultra running mistakes as you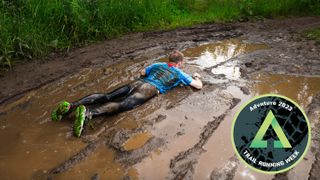 (Image credit: Getty / Future)
Making mistakes is part and parcel of life and ultra running is no different. You'd be mad to think you can get through without making a single one and sometimes the only way to learn is to drop a few clangers, preferably of the non-deadly kind.
However, if you're keen to avoid mishaps and have slightly fewer amusing stories to tell the grandkids (or someone else's – there's no reason they need to have sprung indirectly from your loins) then have a gander at these six common ultra mistakes that most of us 'normal' runners keep making – with tips on how to fix them.
1. Setting off too fast
If we could fill all six of these mistakes with this one we would! Famous ultra running coach Ian Sharman says, "This is the most common of all the ultra running mistakes we ever see and although it sounds like a really, really easy error to correct, it's actually one of the toughest!" At the start of an ultra you have usually tapered, rested and eaten well so you're just raring to go. Combine this energy with the extra excitement of the start line and boom! It's a recipe for speeding off into the sunset and over egging it on the first 10 miles, which you then pay for later on into the race.
Fix it: Allow yourself to run however you feel for the first few minutes of your ultra, leaping and bounding over the start line and even nipping the heels of the race leaders if you like (we're assuming no pros are reading this for advice…). Then after a few minutes have passed and the initial excitement has faded, ease off until you feel you have reached a comfortable chatting pace. Chat to the person beside you to confirm this. Now you're pacing it right. Have a great race!
2. Using new kit on race day
Ohhhhhh dear. The unknown. Using any new kit or fuel on race day is to be avoided at all costs. Ultra coach Tim Pigott from HP3 Coaching says, "New shoes can give you blisters, new packs can chafe, new food can turn your stomach into a washing machine. You can put up with a lot of these things on a short trail race, but on an ultra that water bottle is going to be hard to reach for miles, that strap is going to be flapping about annoyingly for hours and that blister might even put an end to your race."
Fix it: Try out your kit on all your long runs in the months leading up to the race and don't be tempted to swap in anything unknown the day beforehand. Find out what food, drinks and sports nutrition will be provided at checkpoints, if any, and use them on your long runs to test if you can stomach these delicacies.
3. Bunking off strength training
We're runners, we get it, we all love running and if ever we get any spare time that's what we want to do. However, podiatrist Nick Knight from NK Active says, "The latest research suggests that if you do even 20 minutes of strength training three times a week this will drastically reduce your chance of injury and improve your running efficiency." This is something that's especially key in ultra running with high mileages and increased time on feet leading to more chances for niggles to build up and bite.
Fix it: Find out how best you can fit strength exercises into your life and stick to them. Is it doing 10 minutes per day at home with a weighted rucksack in front of the TV or an hour in the gym? There are loads of great, free strength workouts for runners on YouTube, start with this one here.
4. Giving up too early
"Don't necessarily quit the first time you think about quitting," is the advice of celebrated ultra runner and double Bob Graham Round record holder and inov-8 ambassador Nicky Spinks. "In long distance races there will be highs and lows, but the lows don't stay forever. It doesn't always get worse."
This is especially true during ultra running where you might just need to have a snack, patch up a blister or have a power nap on the side of the trail to pep you up and get you going strong again.
Fix it: Before you race, think of all your potential DNF (did not finish) reasons and have a plan ready for solving each one. Unless you're injured or in danger, rather than quitting focus on just getting to the next checkpoint, breaking your race down into smaller, more manageable chunks. Snack and sip your drink regularly to avoid energy dips, address hot-spots and chafing before they become a problem.
5. Not enjoying it
Okay, so you might not be grinning from ear to ear and singing "The hills are alive" at 2am on a dark, windswept path 80 miles into your first 100-miler. But whenever possible, try to remember to enjoy the whole training process and the race itself. "If you're not enjoying your training or your race then ease off the pace until you feel okay again," says multiple World Skyrunning champion Emelie Forsberg. This does rather assume you're not panic-fleeing from checkpoint cut offs (see mistake 6 if this is you), but remember we sign up for these on purpose to give ourselves a bit of a challenge.This is what we came here for, so suck it up!
Fix it: If you can't ease off the pace and start enjoying yourself in the immediate moment, bring to mind the saying, "It's type 2 pleasure". This means you might be hurting and not enjoying it right now, but knowing this achievement will give you a lot of pleasure once you've finished will help a lot.
6. Making no mistakes
All the best ultra runners make mistakes and even DNF (Do Not Finish) races regularly. They bonk (succumb to a sugar low) and drop out, they get injured and can't finish, they get the navigation wrong and get timed out, they have stomach problems and can't do it, they sometimes just don't feel good on the day. Yes, it sucks, and they post long reports on Instagram saying how gutted they are, and listing the reasons why things didn't go to plan, and so can you! Making mistakes, DNF-ing and learning from things that went wrong is one area where you can actually be the same an elite athlete.
Fix it: Treat yourself like a total pro when you DNF and consider what the problems were; have a think about what you would do differently next time, then crack on! Mistakes are nothing to be ashamed of – even if you gave up because of lack of mojo or what you consider to be a rookie error, it's all a learning experience. Maybe you need to pick a race that inspires you more, or you prefer a different distance, climate or time of year. Use it as an opportunity to learn more about yourself and better your future performance.
This article is part of Advnture's Trail Running Week 2023 (running from Monday 27 March to Sunday 2 April), our in-depth look at how to train smarter, choose the right gear, and have fun when things get muddy.
All the latest inspiration, tips and guides to help you plan your next Advnture!
The co-founder and former editor of Trail Running magazine, Claire now runs the YouTube channel Wild Ginger Running, creating films packed with trail- and ultra-running content. An award-winning journalist, writing for outdoor and adventure sports magazines and websites, her first book The Ultimate Guide to Trail Running 5k to 50k is out in January 2021. Claire also speaks and presents at events and races.