Type 2 fun: what is it and is it good for you?
Understanding type 2 fun and the Fun Scale gives you some insight into exactly why your best adventures don't always seem so fun at the time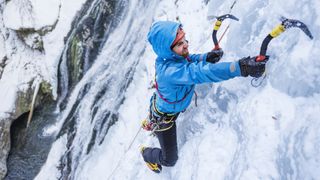 (Image credit: AlexSava)
Whether you're exploring the outdoors on foot, bike, ski or belay, you probably do it because it's fun, right? But how often have you endured a gnarly encounter with an endless scree field, a snow-covered tent, a crumbly crag or a deep snow drift and genuinely wondered why on earth you do this? Chances are, once you got back to the safety of your car, warmed up and maybe had a beer and a laugh over it, you started to recall it as fun after all.
Fun, as it turns out, is an entirely subjective matter, and this is particularly magnified when it comes to outdoor fun. For this reason, the so-called Fun Scale was created, which divides fun up into three categories, and type 2 fun might give you a pretty good understanding of exactly why your adventures don't always seem so fun at the time.
Let's take a look at the three types of fun so you can understand why you keep going back to the trail, again and again.
Type 1 fun
Type 1 fun is just fun from beginning to end. At no point do you feel totally out of your comfort zone. For outdoors lovers, this probably means the weather is perfect, the drive is easy and you get the trail, crag or piste all to yourself (plus your favorite people, of course). Your hiking boots don't rub, at no point do you faceplant, nobody whines, the views are unparalleled, and there's probably a really good happy hour involved afterwards. Type 1 fun is fun while you're doing it and leaves you with a warm, rosy glow afterwards. These days are good for your body, mind and spirit.
Type 2 fun
If your idea of fun is adventuring outdoors, chances are that you've had your fair share of type 2 fun days. Unlike type 1 fun, these outings are generally not all that fun in the moment. Perhaps the climb to the top of a rugged peak is quite a bit more challenging than you expected, or a gale blows in when you get near the top and you end up huddling in a bothy bag for hours.
Some sports are generally more type 2 to begin with, either because they're hair-raising, like ice climbing, or they involve a greater degree of suffering, like ultra running. Then there are those that start out great – say, a bluebird powder day that falls on a Monday when all the tourists have left – but quickly go downhill when you find yourself side stepping down a black diamond run you didn't mean to end up on.
None of these experiences are fun while you have them, but what makes them type 2 fun is that in retrospect, they do seem kind of fun. Maybe it's partly the adrenaline of having survived, but there is something satisfying about knowing you really pushed your own boundaries, and when you look back on these days, you recall the good parts and forget about the misery. Because of that, for many outdoor enthusiasts, type 2 fun is often what we seek out. It's a place where – if you survive – growth happens and you become a better athlete because of it. If you constantly live here, your nervous system might become as frayed as your gear, but occasional type 2 fun can certainly be character building.
Type 3 fun
Type 3 fun is a little confusing because, well, basically it's not fun at all. It's not fun while you're doing it and you never look back on it and think, "well, that was fun." Type 3 fun is harrowing, intrinsically stupid and will make you question ever setting foot outdoors again. Maybe you get lost on a mountain or fall through ice.
The best way to enjoy type 3 fun is probably from the safety of your couch, by watching one of the best climbing movies like Free Solo or 14 Peaks and living vicariously through the world's best alpinists and mountaineers while you munch on popcorn and occasionally comment on how stupid it all is.
All the latest inspiration, tips and guides to help you plan your next Advnture!
Julia Clarke is a staff writer for Advnture.com and the author of the book Restorative Yoga for Beginners. She loves to explore mountains on foot, bike, skis and belay and then recover on the the yoga mat. Julia graduated with a degree in journalism in 2004 and spent eight years working as a radio presenter in Kansas City, Vermont, Boston and New York City before discovering the joys of the Rocky Mountains. She then detoured west to Colorado and enjoyed 11 years teaching yoga in Vail before returning to her hometown of Glasgow, Scotland in 2020 to focus on family and writing.