Winter hiking tips: expert hacks for cold weather walks
Our winter hiking tips include simple hacks to keep you protected from cold weather and other hazards, so you'll be amply prepared for walking in chilly conditions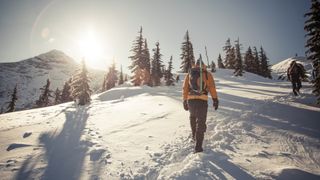 (Image credit: Christopher Kimmel)
The hiking trails don't need to be out of bounds once the weather turns colder, but a little savvy can go a long way in terms of your safety. Our winter hiking tips include simple hacks to keep you protected from cold weather and other hazards, so you'll be amply prepared for walking in winter conditions, and even have a good time while you're doing it.
Cold weather hiking does require more preparation and precautions than summer hiking, and you'll definitely want to start with our guide to dressing for winter hiking as it takes more than just a good pair of hiking boots, and you may want snow-friendly footwear such as Yaktrax or microspikes or even a pair of snowshoes for deep snow. Naturally all of the standard hiking safety rules apply, but there are also measures you should take that are specific to cold, icy and snowy conditions.
Winter hiking tips: before you go
As with most things in life, a little preparation goes a long way. Here are a few tips specific to winter hiking that can make life easier, and more comfortable.
Use zip ties
Fiddling with zippers on your jacket, pockets and backpack can mean you keep having to take your best hiking gloves off, which can be dangerous in subzero temps. Attach zip ties to any of your frequently accessed zippers to make it easier to open and close them with your gloves on.
On a related note, it's also helpful to wear gloves rather than mittens if you are going to be fiddling with gear a lot, so that you can easily move your fingers.
Prehydrate
You're just as likely to get dehydrated through sweating and breathing heavily as when you're hiking in warmer weather, but you may be less likely to feel thirsty. In addition to drinking water during your hike, it's a good idea to drink a bottle full of water before you set off to help offset dehydration.
Pack winter friendly drinks and snacks
In addition to not feeling as thirsty in cold weather, you're less likely to want to sit down and languish over a picnic than you do in the summer months, but of course you need to stay fueled. In addition to water, pack a thermos with a warm beverage like tea or hot chocolate to help boost your body temperature and bring snacks that won't freeze easily – think jerky and nuts over power bars and peanut butter – and stash them in a pocket close to your body to keep them warm.
Prevent your water from freezing
The last thing you want is to pull your water bottle out of your bag and discover it's frozen solid. For winter hiking, it's best if you can pack warm or lukewarm water in an insulated bottle, and place it in your backpack closer to your body. Pack it upside down since if it were to freeze, the water at the top would freeze first – this way you'll still have access to the liquid portion towards the top.
If you prefer a hydration pack to a bottle, get an insulated cover or insulate the tube yourself using foam, and each time you take a sip, blow back into the tube to force the water back into the bladder where it's less likely to freeze and cause a blockage.
Avoid tight clothing
In cold weather, your blood vessels constrict, which means that blood flow is restricted. Don't make this worse and increase your risk of frostbite and hypothermia by wearing clothes that are so tight fitting they feel restrictive. Avoid overly tight cuffs on gloves or sleeves, tight waistbands and leggings and too-small hiking hats and headbands.
Keep your phone dry
Though we're all for enjoying solitude on a walk, it's not a bad idea to bring your phone in case of emergencies. That said, unless you have a phone meant to withstand cold and wet conditions, you've probably found that yours tends to power down 20 minutes into your hike if the temperatures are low enough. Buy a weatherproof case or pack your phone inside a ziploc bag, then carry it in a pocket close to your body for warmth. This goes for your GPS device, best headlamp and any other electronic gear that might fail in cold weather.
Carry lithium batteries
If you're carrying gear that's battery dependent, such as a flashlight, headlamp or GPS, bring lithium batteries rather than alkaline ones as these hold up better in extreme cold.
Winter hiking tips: on the trail
Once you set off, there are a few winter hiking tips that will help protect you from the cold and other winter hazards.
Cover your skin
Frostbite can occur any time the temperature falls below freezing and in these cases, especially when it's very windy, the best course of action is to cover your skin as much as possible. Though you're probably already thinking about winter clothing, make sure you've got gloves that aren't so warm they need to come off, a hat or headband to cover your ears and a neck gaiter that you can pull up over your face.
Drink plenty of water
As we said earlier, you don't feel as thirsty when you're cold, even you're dehydrated and researchers from the University of New Hampshire might have worked out why: when you're cold, your body pulls blood to the core to conserve the temperature around your vital organs and this means that your body doesn't recognize a lack of fluids and initiate its normal thirst response. For cold weather hiking, you may need to override your body's signals and sip water as frequently as you do in hot weather, even if you don't feel like you need it.
Avoid trail hazards
Generally speaking, it's a good idea to avoid trying to cross frozen streams and lakes. Not only is the risk of slipping and injuring yourself high, but you don't know how thick the ice is, how deep the water is beneath it, and therefore how far through you might go if it gives way underneath you.
It's also helpful to avoid walking under rocky overhangs covered in ice or snow that could slide off and hurt you.
If you're planning on hiking in the backcountry in deep snow on a slope that's 30 degrees or more, read our avalanche safety guide before you go.
Add heat
If you're heading out in extreme cold temperatures or have poor circulation to begin with, there may be only so much your clothing and exertion can accomplish. Carry hand warmers that you can place inside your gloves, and even your boots, to add a little heat.
Winter hiking tips: in case of emergency
In the case of an emergency, such as getting caught out after dark or having to spend a cold night in the wild, there are a few items in addition to your regular first aid kit that you should carry and know how to use to help you stay alive.
Bring a headlamp
The reason it's colder in winter is because the days are shorter and we get less sunlight. Though you don't ideally want to be out on the trail after sunset, if you do misjudge things, carry a good headlamp to light the way and make sure you don't get lost or stumble over a rock or tree root.
Build an emergency shelter
Again, the last thing you want is to be spending an unplanned night out in the cold, but if it does happen, you're going to need shelter. Carry a bivvy sack or tarp and read our guide to building a shelter in the wild to stay protected from the elements while you wait for sunrise or help to arrive.
Start a fire
If you do end up spending the night, or longer than you'd intended, you'll want the ability to light a fire to huddle by. Definitely carry matches or a lighter in a ziploc bag, and read our guide on how to build a campfire in winter as it is a little trickier, though not impossible, and an important winter hiking skill to have.
All the latest inspiration, tips and guides to help you plan your next Advnture!
Julia Clarke is a staff writer for Advnture.com and the author of the book Restorative Yoga for Beginners. She loves to explore mountains on foot, bike, skis and belay and then recover on the the yoga mat. Julia graduated with a degree in journalism in 2004 and spent eight years working as a radio presenter in Kansas City, Vermont, Boston and New York City before discovering the joys of the Rocky Mountains. She then detoured west to Colorado and enjoyed 11 years teaching yoga in Vail before returning to her hometown of Glasgow, Scotland in 2020 to focus on family and writing.