What is rewilding, and why does it matter to you?
By Julia Clarke
A progressive approach to conservation called rewilding aims to restore the earth's ecosystems to their original condition. But what is rewilding and why does it matter to you?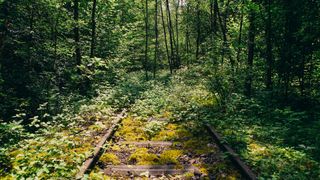 (Image credit: Alex Walker)
A conservation technique known as rewilding has been gathering steam in recent years in response to devastating impacts of climate change. Advocates argue rewilding is our best defense against climate change, while opponents argue that meddling with already fragile ecosystems might make an already bad problem worse. So what is rewilding, and why does it matter to you?
In recent years, you may have noticed some of your favorite hiking trails have been closed or diverted to help restore the natural ecosystem in the area. Maybe you've even seen an abandoned lot in an urban area that's been allowed to turn to seed instead of being landscaped or redeveloped. Many of these small shifts are part of a larger movement called rewilding to undo the damage to our environment that's being caused by everything from industrialization to where you tread in your hiking boots.
What is rewilding?
First defined in 1998 by American conservation biologists Michael Soulé and Reed Noss, rewilding is a technique of conserving and restoring the Earth's natural ecosystems so that they once again become self-sustaining environments that thrive without the interference of humans.
Rewilding may involve active measures such as reintroducing species to their natural habitat, or passive strategies like allowing rivers to take their natural paths without dams or reinforcements and simply leaving sections of the land to develop and flourish on its own without any human intervention.
Some high profile rewilding projects include the reintroduction of wolves to Yellowstone National Park and Colorado while there are numerous efforts in the UK that involve practices like removing non-native trees from areas to allow woodlands to return to their original form.
Why is rewilding important?
Proponents of rewilding say it is important because it supports the health of all living organisms on the planet. Every feature of the landscape – be it a tree, a mountain or a river – supports countless interdependent organisms large and small that all play into the health and functioning of the greater global ecosystem. When we deforest an area, we don't only remove trees; we also displace all the wildlife that live in and rely on those trees which in turn disrupts the food chain, and it even alters the chemical make-up of the soil.
Rewilding may also help to slow down climate change. Human behavior like agriculture and industry is responsible for the majority of greenhouse gases being released into the environment which are contributing to global warming and destabilizing the Earth's fragile ecosystems. Rewilding aims to support cleaner air and water and healthier soil, which benefits human health as well as that of wildlife and plants. We are only as healthy as the air we breathe, the water we drink and the soil in which we plant our crops after all.
Proponents of rewilding assert that natural ecosystems will be more adaptable and resilient to the effects of climate change than barren, over-farmed lands are. This form of conservation advocates for nature's intelligence and ability to restore balance to the environment.
Why is rewilding controversial?
Leaving an abandoned building site to become a wild urban garden can seem relatively innocuous, but some more active forms of rewilding have sparked controversy. Some residents of Colorado were strongly against proposals to reintroduce wolves to their suburban neighborhoods and many of the two million tourists who flock to manmade Lake Powell each year are resistant to suggestions it be drained to alleviate water shortages in the West. A rewilding mission held up as a major failure occurred in Holland in 2018 when an attempt to repopulate an area of marshland with deer, cattle and horses ended in mass starvation of those animals in 2018.
Perhaps the most controversial form of rewilding is called Pleistocene rewilding and involves the reintroduction of large mammals that are closely related to extinct species from the Ice Age in an attempt to restore ecosystems of millenia ago, leaving some wondering if we really have the knowledge required to make such severe alterations without causing further, albeit unintended, harm.
Why does rewilding matter to you?
Though it remains to be seen how rewilding might impact outdoor adventuring, it's certainly possible that we might have to sacrifice some of our access to the wild in order to keep it healthy.
If you hike in an area where predators like wolves are being reintroduced, you'll start to have to practice more precautions on the trail. If rewilding takes root one a wide scale and begins to influence policy, areas that we've used for recreation may no longer be accessible, or may be less accessible. Hopefully you already tread lightly on the trail during your hikes and runs, but these activities still impact the soil and disturbs the surrounding wildlife and overcrowding on the trails is becoming an area of concern amongst environmentalists.
Crowded hiking trails may be diverted to protect fragile ecosystems while manmade lakes we've used for recreation might become rivers again. In short, this means you may not have the same access to the wild you've always enjoyed, but the idea is that we improve our relationship with nature so that we can continue to enjoy it, respectfully. Ultimately, rewilding should strengthen our connection with nature, making all of us healthier in the end.
Julia Clarke is a staff writer for Adventure.com. She is an author, mountain enthusiast and yoga teacher who loves heading uphill on foot, ski, bike and belay. She recently returned to her hometown of Glasgow, Scotland after 20 years living in the USA, 11 of which were spent in the rocky mountains of Vail, Colorado where she owned a boutique yoga studio and explored the west's famous peaks and rivers. She is a champion for enjoying the outdoors sustainably as well as maintaining balance through rest and meditation, which she explores in her book Restorative Yoga for Beginners, a beginner's path to healing with deep relaxation. She enjoys writing about the outdoors, yoga, wellness and travel. In her previous lives, she has also been a radio presenter, music promoter, university teacher and winemaker.
All the latest inspiration, tips and guides to help you plan your next Advnture!
Thank you for signing up to Advnture. You will receive a verification email shortly.
There was a problem. Please refresh the page and try again.