What to do if you see a bobcat while hiking
By Julia Clarke published
We take a look at some characteristic traits of this elusive creature, and explain what to do if you see a bobcat while hiking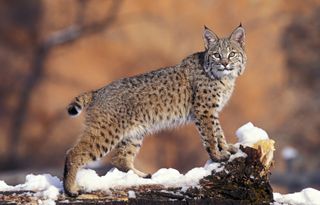 (Image credit: Kevin Schafer)
Wildlife encounters are kind of a double edged sword when it comes to spending time in the outdoors. On the one hand, part of the reason you get your hiking boots on in the first place is to increase your chances of getting up close to rare wildlife like moose and mountain goats, but on the other hand, lions, tigers and bears are a bit scary.
Big cats are certainly account for some of the most alarming prospects when it comes to potential trail mates, and while there are only thought to be somewhere in the vicinity of 20,000 - 40,000 mountain lions in the US, making a sighting unusual indeed, a far more common variety of big cat is the bobcat. But are bobcats actually dangerous? And what should you do if you see one?
In this article, we take a look at some characteristics of this elusive creature, and explain what to do if you see a bobcat while hiking.
You may also want to check our articles on how to use bear spray as well as what to do if you see a mountain lion or snake on the trail.
What exactly is a bobcat?
A bobcat is a medium sized wild cat, also known as a red lynx, that is native to North America. Bobcats are found in relatively large numbers from southern Canada all the way down to southern Mexico and in most of the United States in between those two points.
Unlike the far larger and scarier mountain lion, bobcats grow up to four feet long, about double the size of an average house cat, and weigh up to 30lbs. In comparison, a North American mountain lion may grow up to almost eight feet long and weigh over 100lbs, making a daunting opponent. Most bobcats are brown or brownish red with a white underbelly, black markings on their legs and a short, stubby black-tipped tail.
Bobcats are nocturnal and as such, even though they exist in large numbers – reportedly up to one million in the US – in habitats as diverse as desert, forests, swamps and suburban areas, it is not common to see them. Bobcats are hunters, and they like to prey on small game like squirrels, mice and birds.
How dangerous is a bobcat?
Unlike a mountain lion, which may well decide to stalk you on the admittedly rare occasion you might encounter one, bobcats are shy, elusive animals and are not known to attack humans when they are healthy. Generally speaking, they really do not pose a significant threat to you and you are very unlikely to encounter one on the trail.
Bobcat attacks on humans only tend to happen if the bobcat is protecting nearby cubs or is sick, and many reported bobcat attacks have been found to be due to rabies infection. Bobcats might, however, attack smaller pets if they have been deprived of natural food sources so you should keep your dog on a leash on the trail.
What to do if you encounter a bobcat
In the very unlikely event that you encounter a bobcat on the hiking trail, you should take the following precautions to protect yourself and any children and pets with you:
Don't approach it. Respect all wildlife by keeping your distance. Remember, you're a guest in their house, not the other way around.
Don't turn your back on the bobcat. Keep facing it and back away slowly and deliberately to make space between you.
Don't run. We know, this is hard, but it may provoke the bobcat into instinctively pursuing you.
Start making a lot of noise. Use your voice, bells, bash your camping pots and pans together, beat your hiking pole against a tree, blow the whistle on your backpack – basically whatever you have at your disposal.
If you have water, throw or spray it at the bobcat. Cats dislike water!
If you see a bobcat hanging out in a developed neighborhood, notify animal control.
Julia Clarke is a staff writer for Adventure.com. She is an author, mountain enthusiast and yoga teacher who loves heading uphill on foot, ski, bike and belay. She recently returned to her hometown of Glasgow, Scotland after 20 years living in the USA, 11 of which were spent in the rocky mountains of Vail, Colorado where she owned a boutique yoga studio and explored the west's famous peaks and rivers. She is a champion for enjoying the outdoors sustainably as well as maintaining balance through rest and meditation, which she explores in her book Restorative Yoga for Beginners, a beginner's path to healing with deep relaxation. She enjoys writing about the outdoors, yoga, wellness and travel. In her previous lives, she has also been a radio presenter, music promoter, university teacher and winemaker.
All the latest inspiration, tips and guides to help you plan your next Advnture!
Thank you for signing up to Advnture. You will receive a verification email shortly.
There was a problem. Please refresh the page and try again.