Why taking a trip to Yosemite National Park is the closest thing to hiking heaven
Take a trip to Yosemite, where granite mountains carved by ancient glaciers provide wildlife with a safe haven, for a life-changing experience in the outdoors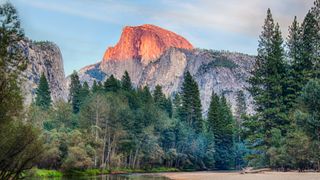 (Image credit: Getty)
No one comes away from a trip to Yosemite without thinking they have visited a unique and special place. Part of the Sierra Nevada mountain range, this high-elevation park is known for its geology. The rocks in Yosemite today were shaped by ice that formed a million years ago. Glaciers are essentially frozen rivers that flow very slowly. They erode the landscape as they do so, and leave tell-tale landforms that remain long after the ice has melted. The famous Yosemite Valley is U-shaped, resembling a rounded tunnel through the mountains. This is the path left by thousands of years of ice flow. The glacier responsible for the formation of Yosemite Valley was 1,200 meters (4,000 feet) deep and its enormous weight scraped the rock away. Two remaining glaciers still adorn the peaks of the park's mountains and their seasonal melting is a vital source of water for the entire ecosystem in the warmer months.
Yosemite is famous for its waterfalls and contains the highest falls in mainland North America. Water pours off a hanging valley forged by glacier activity. Visitors with their heart set on seeing cascading water should visit in May as many waterfalls slow to a trickle by late-August. The water that flows from the melting glaciers picks up nutrients on its journey down the mountain that enrich the habitat. The plant life flourishes and the park is lush and green as the start of summer. The arrival of autumn brings a dramatic transformation when the leaves turn vibrant amber. October and November combined account for only 13 percent of park visits, so guests can enjoy the fall foliage in tranquility.
Yosemite is a world-renowned rock climbing destination. It takes some serious skill to shimmy up some of the park's more drastic inclines created by ancient rivers of ice. Climbers train for years to tackle El Capitan, a sheer rock face extending 914 meters (3,000 feet) vertically into the sky. The current world record for scaling the granite monolith is held by a pair of American climbers. It took them only one hour and 58 minutes to reach the top. Competitive climbing is enjoyed by spectators all year round, so be sure to check famous climbing spots for a free show.
There are accommodation options to fit any budget, ranging from camping to lavish apartments. Visitors can rent kayaks, ride horses or go out rafting. Zipline through the stunning scenery or play a quiet game of golf in nature. Yosemite really does have something for absolutely everyone.
For more articles like this, sign up for the Advnture newsletter and get a FREE World's Greatest National Parks ebook.
Giant sequoia forests
More than 500 of these stand in Mariposa Grove near the park's south entrance. Also known as giant redwoods, these are some of the longest-living trees on the planet. The oldest ever identified had been growing for 3,266 years just 120 kilometers (75 miles) from Yosemite's boundaries. Visitors can walk through the grove among trees that could grow as high as 95 meters (311 feet). Their bark is fibrous and thick, protecting the tree from fire damage. Mature sequoia can disperse 400,000 seeds per year and were once widespread throughout seven counties of California. Logging activity in the past has impacted the tree's distribution, but guests at Yosemite can enjoy the grand trees at their leisure.
All the latest inspiration, tips and guides to help you plan your next Advnture!