Why you should carry binoculars on every adventure
Whether you're walking, cycling, kayaking or wild camping, binoculars can seriously enhance your experience of the outdoors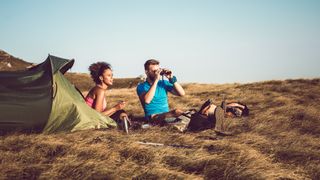 (Image credit: Getty)
The patent for the first telescope was submitted in the Netherlands in 1608. The following year Galileo build his own version and began to study the craters of the moon. It wasn't until 1854 that the first prism binoculars appeared thanks to the inventor Ignatio Porro (hence Porro prism binoculars).
Modern binoculars benefit from incredible advances in technology that make them light, durable and remarkably affordable, while delivering incredibly sharp, bright, crisp images. It's one reason we reckon you should carry binoculars on every adventure.
Aspiring bird watchers
You may not be able to name every species of warbler in the UK, or know your sanderlings from your little stints, but that doesn't matter. Watching wildlife is one of the great joys of spending time outdoors and it's open to anyone. Even if you think you are a complete novice, you might be surprised by just how much you already know and how quickly you begin to recognise common species.
Every trip outdoors is an opportunity to develop your knowledge and a pair of binoculars will allow you to see species and behaviour that you would otherwise miss.
Pack a pair of binoculars on a coastal walk and you might spot dolphins and porpoises cresting out to sea, or watch peregrines stooping on prey before returning to their clifftop nests. Heading into mountainous terrain and you may watch raptors circling at height, while river walks promise views of preening kingfishers or mating damselflies and otters.
The local rambler
Just setting out on a local walk? Then there's even more reason to pack a pair of binoculars with you, because they will help you to develop an intimate knowledge of your local patch and the wildlife that you have to hand. I have taken to carrying a pair on my morning dog walk and, in the past couple of months, I've been treated to views of green woodpeckers, peregrines, kestrels, ravens, flocks of goldfinches, bull finches, redwings and fieldfares.
Watching wildlife gives you a reason to stop, to slow down, to think differently about the landscape you are walking through. There is something quietly meditative about the act of raising a pair of binoculars to your eyes to observe and take in the natural world.
It's also an excellent excuse to stop halfway on a long ascent, when your legs are burning and your lungs ready to burst: "No I'm sure that was a rare <insert species here>. Thank goodness I brought my binoculars!"
Wild campers
When is the next full moon? If you'd asked me that question a year ago, I genuinely wouldn't have known, but since I've been using a pair of dedicated stargazing binoculars, I've been tracking our nearest celestial neighbour as it waxes and wanes through the month.
There is no better time to marvel at the night sky than on a wild camping trip and the moon is an obvious candidate for your attention. Sit outside your tent, far from the light pollution of cities and towns, and a pair of binoculars will give you incredible views into its lunar landscape.
The Moon is an impressive 240,000 miles away, but binoculars can take you even further than that: Mars (33 million miles away), Jupiter (403 million miles) and Saturn (746 million miles) are all worth your attention. You can explore constellations, like the instantly recognisable Orion, or distant galaxies such as M81 and M82 (both located in the constellation Ursa Major).
Time your trip right and you might see the International Space Station zooming overhead (you can trace the Space Station's location online) or witness the spectacular Perseids meteor shower that peaks in August.
Climbers
When you're actually climbing there's seldom time for binoculars. You either need your hands on the rock, or if your attention on the belay. But a pair of compact binoculars can be invaluable on the approach to a crag. They can help you identify different routes and potentially challenging sections of a climb. A pair of binoculars can help you identify the start of a route and will give you a view of climbers already on the route.
Using your approach to a climb to assess the conditions and make sure you are heading to the right start point can save you a lot of time. And then when you do get to the top – on the odd occasion that the clouds lift and views open up – you can pull the binoculars out again to put together a bucket list of climbs and ascents on the mountains around you.
Cyclists
Some of the greatest adventures of all time have been inspired by missions in search of rare species, from birds of paradise to South American orchids. You may not be setting your sights quite so high, but there's nothing stopping you from going in search for rare and exotic wildlife.
This year I have racked up over 1000km on my bike in search of six new species of butterfly (well new to me at least). I found a colony of silver-studded blue on a round trip from Bristol to Dorset; a Duke of Burgundy on a 120km trip to Stroud, spotted marsh fritillaries, a Duke of Burgundy, Adonis and Large blue. On other bike trips, I've had chance encounters with badgers, foxes, tawny, barn and little owls. Packing a pair of binoculars means I'm not travelling quite as light as I normally would, but they are always worth packing just in case.
Walking with kids
If you've got young kids, then hand the binoculars to them and let them take control. Better still: get them their own pair (like the Kowa YF30). That way they'll may be the ones dragging you out the door to put them to use. Binoculars give them a reason to explore and to way to discover wildlife for themselves. Again, you don't need to be an expert… let them provide the motivation and you can both learn more about the natural world together.
Kayaker
Paddling out to sea gives you the potential for some incredible wildlife encounters from seals and marine mammals to migrating birds. And while most paddlers carry binoculars for the wildlife, they can also be useful when you are scouting out potential landing points, safe passages and even to check out interesting debris on a shoreline.
Undertake a wildlife adventure
There are genuine miracles out there waiting to be discovered, that give you a reason to visit places you've never been before, and many of them are improved with a pair of binoculars to hand. Some of the most dramatic include starling murmurations – great swirling flocks of birds as they come in to roost at night – and red deer rutting in autumn. Ospreys hunting over reservoirs, red squirrels feeding in Lake District pub gardens, seal pups on beaches in Norfolk and black grouse lekking on the Yorkshire moors should all be on your bucket list. And no matter where you live, get out this spring to really experience the Dawn Chorus; that wondrous orchestra of bird song that takes place in parks and woodland or to hear tawny owls hooting in autumn. Whatever you set out to see… pack a pair of bins with you.
All the latest inspiration, tips and guides to help you plan your next Advnture!
Former Editorial Development Director for Lonely Planet, editor of Trail and BBC Wildlife magazine, and editor-in-chief of Trail Running magazine, Matt got the outdoor bug as a teen on gruelling UK Ten Tors events around Dartmoor. He has hitch-hiked to Egypt, cycled through India, enjoyed the delights of the High Atlas, slept on volcanoes while living in Central America, climbed in the Alps and tackled some of Scotland's really big routes, from Tower Ridge and the Cuillin to the Aonach Eagach. He's got a passion for butterflies and ukuleles. If you see him in a campfire situation… approach with caution.