How to stargaze: a beginner's guide to ogling the night sky
Our guide on how to stargaze provides the lowdown on the when, where, how and why of observing and digging the night sky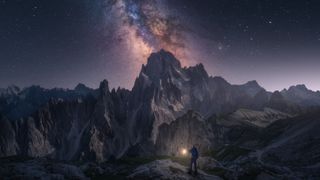 (Image credit: Getty)
Learning how to stargaze is a great way to add a whole new element of interest and fun to your nights at camp or nocturnal hikes.
But how's it done?
While we'd recommend taking along something comfy to sit in or lie on – like one of our best camping chairs or best sleeping pads – the beauty of stargazing is that it requires nothing more than decent eyesight, a bit of patience and curiosity, and an ability to identify a few of the more notable stars and constellations in the night sky. In this guide, we'll explain how the last of these is done.
How to stargaze in four simple steps
Step 1: gather your gear
While stargazing can be done without any paraphernalia, there are a few tools that can make it a lot more interesting. These are a star chart, a camping chair, binoculars and/or a telescope.
Star charts are useful reference tools that give you a simple, at-a-glance overview of the whereabouts, shape, and scale of all the major constellations, planets, galaxies, and stars. Some models can even be rotated to adjust for seasonal variations. Stargazing apps like Star Walk (opens in new tab), SkyMap (opens in new tab), and Stellarium (opens in new tab) are, essentially, digitized versions of star charts that have interactive maps of the night sky. Most also have astronomical calendars that give you a heads up on any forthcoming celestial events. It's also worth checking out Space.com's frequently updated list of Best Night Sky Events (opens in new tab) and AstroPixels (opens in new tab)' overview of stargazing dates to fix in your diary.
Because stargazing requires staying stationary for long periods of time, we recommend you be kind to your behind and invest in a comfortable camping chair. Our favorites are the GCI Outdoor MaxRelax Pod Rocker (opens in new tab) and the Kelty Low Loveseat (opens in new tab) for camping couples.
The best binoculars can seriously enhance your stargazing experience by allowing you to see everything above in a little more detail. While specialized stargazing binoculars with deeper focus are available, and a telescope will let you see a little further still into the starry firmament, for beginners or amateur stargazers a pair of regular binoculars will provide more than enough "zoom".
Step 2: know thy constellations
The name of the game in stargazing is identifying different stars and constellations in the night sky. While knowing the names of the stars won't make them shine any brighter or any more awe-inspiring, it will help you identify other stars and constellations by using whatever you're looking at as a reference point.
In the northern hemisphere, the most easily identifiable constellations are Ursa Major and Ursa Minor, within which, respectively, you'll find the Big Dipper and the Little Dipper, as explained in our guide on how to navigate by the stars.
The Big Dipper is visible in the northern sky most of the year. It looks like a giant pan with a crooked handle.
The Little Dipper is less distinct than the Bid Dipper and is also shaped like a large, celestial pan or ladle. The star at the tip of the ladle's handle is Polaris, which is also known as the North Star. The North Star can also be located by tracing a line upward from the two stars on the outward of the "pan" formed by the stars of the Big Dipper.
Other easily locatable stars in the northern sky include the W-shaped Cassiopeia, which is located on the other side of the North Star from the Big Dipper, and the Summer Triangle. To find Cassiopeia, draw an imaginary line from the outermost star on the "panhandle" of the Big Dipper to the other side of the North Star. The Summer Triangle isn't actually a constellation, but its trio of stars are usually among the most visible at sunset and are just as easy to spot as the Big and Little Dipper. Further celestial highlights to look out for when learning how to stargaze are listed in our guide to the northern hemisphere night sky.
Step 3: choose a location
The best locations for stargazing are those with minimal light pollution, cloud-free skies, and wide-open expanses where the horizons are not abbreviated by forest or towering peaks (though if you're halfway up the latter your view of the heavens should be considerably more awesome than at sea level).
Some of the top stargazing locations in North America include:
Death Valley National Park, California
White Sands National Monument, New Mexico
Owyhee Canyonlands, Oregon
Grand Canyon National Park, Arizona
Joshua Tree National Park, California
Bryce Canyon National Park, Utah
Capitol Reef National Park, Utah
Canyonlands National Park, Utah
Great Sand Dunes National Park, Colorado
Cherry Springs State Park, Pennsylvania
Whiteshell Provincial Park, Manitoba
Charleston Lake Provincial Park, Ontario
Jasper National Park, Alberta
Grasslands National Park, Saskatchewan
Mont-Mégantic International Dark-Sky Reserve, Quebec
Garibaldi Provincial Park, British Columbia
If you are new to stargazing, or simply looking for a way to get into it, groups like the Night Sky Network (opens in new tab) and Earthysky.org (opens in new tab) are good sources of info, and some national parks have annual star parties or astronomy festivals.
Step 4: get your gaze on
Hike to a spot where you have a clear view of the sky
Stay up late
Let your eyes adjust to the dark by turning off your phone and headlamp (though some of the best headlamps have a red light option that doesn't impair your night vision) 15-30 minutes before you plan to stargazing
Dress in warm clothes (see our best down jackets) so you don't have to use a headlamp or flashlight to find them mid-session
Kick back and enjoy the show!
All the latest inspiration, tips and guides to help you plan your next Advnture!
Former Advnture editor Kieran is a climber, mountaineer, and author who divides his time between the Italian Alps, the US, and his native Scotland.
He has climbed a handful of 6000ers in the Himalayas, 4000ers in the Alps, 14ers in the US, and loves nothing more than a good long-distance wander in the wilderness. He climbs when he should be writing, writes when he should be sleeping, has fun always.
Kieran is the author of 'Climbing the Walls (opens in new tab)', an exploration of the mental health benefits of climbing, mountaineering, and the great outdoors.