How to watch wildlife and appreciate the natural world
How to watch wildlife when you're camping, hiking, biking, running and partaking in pretty much any outdoor adventure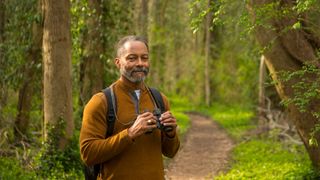 (Image credit: Getty)
Those who know how to watch wildlife know all the tricks to secure those magical moments, when Mother Nature's finest forms put on a dazzling show. Whether it's the electric blue of a kingfisher as it zips over the surface of a river, seeing the first orange tip butterfly of spring, or hearing the deep bellow of a male red deer during their autumn rut, the natural world can deliver moments that will stay with you for life.
For many people, a lack of confidence stops them from making the most of these opportunities, but you don't need specialist knowledge to start nature watching and appreciating wildlife. You've pitched your tent, you're feeling at one with nature, now it should be time to seek out and witness something spectacular. So, here's our guide to building your wildlife watching knowledge.
How to watch wildlife: start with a local patch
Most people will find a surprising number of species within easy reach of their front door. You will be amazed at how much you do know already and just how many birds, for example, you can identify. Get out early or late in the day, as this is when many birds tend to be most active.
How to watch wildlife: use your ears
Each bird has a distinct call and you will often hear them before you see them. During winter in the UK, the bird you are most likely to hear is the robin. When you've learnt its high-pitched call you can move on to the great tit with its distinct 'tee-cher, tee-cher' (although it has a much wider range of calls than this). Birds like the wren (surprisingly noisy for its size with its 'tics' and churrs), song thrush (with its complex calls) and blackbirds (making a sound that will remind you of the summer evenings of your youth) will follow next.
How to watch wildlife: find a local reserve
Many species are habitat specialists, so learning what to expect in different environments can quickly build your confidence and introduce you to a host of new species. I grew up next to RSPB Arne in Dorset and here we saw birds such as oyster catcher, godwits, spoonbills, and avocets out in Poole Harbour. A short walk away, we would see species such as Dartford warbler, stonechat and night jar out on the nearby heathland. Adopt your nearest reserve and visit it regularly during the year.
How to watch wildlife: carry binoculars with you everywhere
You don't need a lot of kit to be a birdwatcher or animal spotter, but a pair of binoculars can seriously enhance your enjoyment. It can help you to zoom in on behaviour that would be difficult to spot with the naked eye, such as the elaborate mating display of a great crested grebe. Or it can help you to differentiate between similar species, such blackbird, song thrush, redwing and fieldfares.
Look for a good pair that offer at least eight times magnification with a 42mm objective lens and read up on how to use binoculars if you are unsure.
In addition, you need an ID guide that will cover species in your country. If you're interested in butterflies and insects then it's worth buying a specific book. A local wildlife guide can introduce you to some hidden areas that you probably never knew were on your doorstep.
How to watch wildlife: be patient
If you are heading out to see wildlife, then you need to be prepared to wait. It's not like the nature shows on TV. You may spend hours seeing very little of any great interest, but waiting quietly in a woodland or a bird hide is surprisingly meditative and relaxing. It forces you to experience the natural world in a different way.
How to watch wildlife: be ready
Whether you are walking, kayaking, climbing or cycling, it's a good idea to have a compact pair of binoculars to hand. A pair like the Opticron Explorer can easily be stowed in a jacket pocket or daypack ready if you do see something. My hit list with this type of binocular this year has included little owls and badgers while cycling at night, clouded yellow butterflies walking the Devon coastline and a beautiful goshawk in the Forest of Dean.
How to watch wildlife: keep a nature diary
To really build a bank of knowledge, it's a good idea to keep a diary and to record what you see and where you spot it. This is the best way to reinforce your ID skills and knowledge of different species. It also encourages you to notice more, to get a better sense of how nature is connected and appreciate how geology encourages certain plant life, that feeds particular insects, that encourage particular birds. Starting to see these connections offers a very different sense of your place in the natural world.
How to watch wildlife: butterflies, bees and dragonflies
Birds can be tricky to ID but butterflies offer a really accessible way into nature. There are 59 species in the UK and you can easily tick off the first 12 of these in your local area, if you start in early spring.
The larvae require certain food plants. Common blues and burnet moths feed on bird's-foot trefoil, while Adonis blues require horseshoe vetch and many species feed on nettles. As the adult butterflies tend to nectar on particular plants, they give you a way to learn about wildflowers and even trees (you'll find purple hairstreaks in oak trees, for example).
Before you know it you've built enough confidence to get into spotting solitary and bumble bees (there are around 270 species in the UK ) and dragonflies that are bewilderingly beautiful masters of the air. It can be a dangerously addictive hobby.
How to watch wildlife: find an expert
Find a local club or someone who is willing to share their interest in nature, and you will really accelerate your learning. You'll also find a host of experts on social media, so follow them on Twitter and you'll quickly get a sense of what you should be looking out for at different times of the year.
How to watch wildlife: go in search of miracles
There are real natural wonders to be seen: so make a tick list of displays and behaviour you want to see this year. The dawn chorus (the symphony of noise made by birds as day breaks – a morning alarm call for campers the world over) is potentially the most accessible. International Dawn Chorus Day happens on the first Sunday of May, so put it in your diary.
You have to get up surprisingly early to really appreciate this incredible natural orchestra (ideally you want to be out at 4am) – but just spend a night out in your one-person tent, and you can't miss it. Large-eyed species such as robins and blackbirds sing long before sunrise, while species such as blackcap, song thrush and dunnocks tend to join later in the morning. By the time most people have woken up it's all over.
Spring offers a host of wonders from bitterns booming, black grouse lekking and hen harrier's skydancing displays, and summer promises influxes of species like painted ladies and clouded yellow butterflies and the chance to see fireflies or pods of dolphin cresting on coastal walks. Autumn sees the arrival of globe-trotting migratory species of bird, such as redwing, fieldfare, knots and short-eared owls, while winter – when the trees are denuded of leaves – offers great sighting of hardy robins, blue tits and blackcaps – and look for hypnotic murmurations of starlings making shapes in the sky.
Why not take the time now to plan a year of outdoor adventures to coincide with the best of what nature has to offer?
All the latest inspiration, tips and guides to help you plan your next Advnture!
Former Editorial Development Director for Lonely Planet, editor of Trail and BBC Wildlife magazine, and editor-in-chief of Trail Running magazine, Matt got the outdoor bug as a teen on gruelling UK Ten Tors events around Dartmoor. He has hitch-hiked to Egypt, cycled through India, enjoyed the delights of the High Atlas, slept on volcanoes while living in Central America, climbed in the Alps and tackled some of Scotland's really big routes, from Tower Ridge and the Cuillin to the Aonach Eagach. He's got a passion for butterflies and ukuleles. If you see him in a campfire situation… approach with caution.