How to avoid backpacking back pain: 7 tips for pain prevention
Our guide to how to avoid backpacking back pain helps you adjust your gear and your gait so you can keep hiking pain-free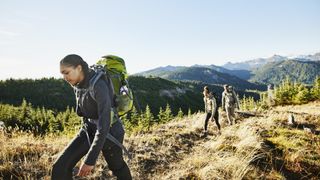 (Image credit: Thomas Barwick)
When you get home from a walkabout in the wild, it goes without saying that you're hoping to feel more mentally rejuvenated and physically robust than when you set out. That's why there's nothing worse than coming home from a hike with an aching back. If the nagging pain of your back is starting to outshine the memory of your outdoor adventures, you'll want to read our guide to how to avoid backpacking back pain that helps you adjust your gear and your gait so you can keep hiking pain-free.
Why does my back hurt when I go hiking?
There are lots of reasons your back might hurt when you go hiking and nothing in this article is intended to be a replacement for proper medical advice. If you suspect it's the actual hiking that's giving you back pain, however, there are three common culprits:
Your backpack doesn't fit your body correctly.
Your posture when you're hiking is putting strain on your low back.
The impact of hiking on the downhill in addition to the weight of your pack is causing undue compression of the discs in your low back.
Can a backpack cause lower back pain?
Yes, your back pack might be causing the problem and your backpack is what we'll primarily focus on in our recommendations here. There are a couple of possible issues that could be causing pain when it comes to your backpack.
First, you could be using a backpack that isn't ideal for hiking and backpacking, i.e. it isn't really designed to contour to your body and carry heavy loads for long distances.
The other possible issue is that you bought a perfectly good backpack, but either it's the wrong size, or you aren't using or adjusting the straps properly, so the weight of your backpack is being transferred to your low back instead of your legs.
If you're now in the market for a new backpack, check out our guide to the best backpacks for your adventures.
How do I stop backpacking back pain?
Though it depends on how and where the pain is originating, the following are good tips for all hikers when it comes to preventing and alleviating back pain caused by hiking:
1. Buy a good backpack
A good quality backpack that's intended for hiking is key. It should contour to your body and have adjustable straps that fasten across your chest and waist. Backpacks come in different sizes (small, medium and large) so you'll want to get the measuring tape out and measure your torso length and hip circumference to make sure you pick the right size.
Ideally, you should try on a few backpacks before you make a final decision. Bring a couple of heavy books with you when you go shopping, put them in the backpack and walk around the store wearing it to get a feel for how it performs. Learn more in our article on how to choose a backpack.
2. Adjust the straps properly
Once you've found your backpack, make sure you adjust the straps properly. The goal is to transfer most of the weight of your pack off your shoulders and low back and onto your legs.
The shoulder straps should be snug but not so tight that they're carrying all the load. The shoulder strap anchor points should sit 1-2 inches below the top of your shoulders. Take care not to over-tighten the chest strap. More importantly, cinch the waist strap tightly so it sits above your hips bones to transfer the weight of the pack onto your legs instead of your low back – your hips should carry about 80% of the weight of your pack.
3. Pack properly
The key to packing your backpack is to pack the heaviest items at the bottom of your pack, closest to your body. If they're further from your body and higher, the weight will pull you backwards and could strain your spine.
You also want to make sure that the load in your pack is evenly distributed left and right if you're using the side pockets. Learn more in our article on how to pack a backpack.
4. Focus on your posture and technique
The most common hiking posture contributing to back pain is hunching over to stop the weight of your pack from pulling you backwards, which places the strain directly on your low back. Sorting your backpack out should help with this, but once you've adopted your poor hiking posture it may take a little conscious effort to undo it.
Focus on staying upright on the flat and downhill. On the uphill, lean into the hill but don't round your back or bend at your waist to do so, and use the strength of your legs to climb. Use your hip flexor muscles to lift your leg and step forward, and once it straightens fully and moves behind you, squeeze your glutes to power you forward. Glute strength has been proven to decrease back pain in a study by the Journal of Physical Therapy Science and hiking, when done properly, is a great way to strengthen your glutes.
5. Use hiking poles
A study in the International Journal of Exercise found hiking poles to be effective in reducing discomfort in individuals with chronic low back pain. Buy a lightweight pair of foldable trekking poles that you can keep in your pack and use them on the downhill, where there's more impact per step, compressing the discs of your low back. Using poles allows you to use your arms as well as your legs to reduce the impact on your low back. Learn more in our article on how to use trekking poles.
6. Get a good sleeping pad
When it comes to gear, one other item to consider is a good quality sleeping pad. If you're on an overnight adventure, sleeping on a less-than-optimal pad on hard ground can be a contributing factor to a stiff, sore back in the morning. In addition to keeping you warm, a good sleeping pad will provide comfort at camp and on the trail the following day. Learn more in our article on how to choose a sleeping pad.
7. Stretch out
Finally, if you still get home from your hike feeling a bit stiff and sore, some gentle stretching can be really beneficial, especially if the back pain you're experiencing is the result of normal disc compression and fatigued muscles. Try our yoga for hiking sequence next time you get home from the hills and hopefully you'll feel good as new afterwards.
All the latest inspiration, tips and guides to help you plan your next Advnture!
Julia Clarke is a staff writer for Advnture.com and the author of the book Restorative Yoga for Beginners. She loves to explore mountains on foot, bike, skis and belay and then recover on the the yoga mat. Julia graduated with a degree in journalism in 2004 and spent eight years working as a radio presenter in Kansas City, Vermont, Boston and New York City before discovering the joys of the Rocky Mountains. She then detoured west to Colorado and enjoyed 11 years teaching yoga in Vail before returning to her hometown of Glasgow, Scotland in 2020 to focus on family and writing.