How to carry water while running – and when do you need to?
For long runs and hot weather, learn how to carry water while running so it doesn't slow you down or throw you off your game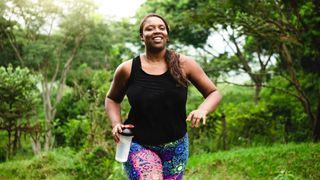 (Image credit: Igor Alecsander)
Hydration is an important part of adventuring, but you don't always have to carry water on a run. In fact, for shorter distances and cooler weather, it's generally best not to since carrying water can be burdensome and adds unwanted weight. But for those times when you do need it, it's helpful to know how to carry water while running so it doesn't slow you down or throw you off your game.
In this article, we explain when you need to carry water and hacks to avoid carrying water on a long run as well as methods for carrying water so that whenever you get your trail running shoes on, you're never worried about dehydration.
Should I carry water while running?
Research published in the journal Biology of Sport shows that dehydration does impair your performance and cognitive function, so staying hydrated is indisputably important. That said, slight dehydration won't impair your performance and is even normal during exercise and so don't overthink this.
For a short run, you can definitely get away with drinking water before and after your run. For long runs and hot days when there isn't going to be water available, you need to carry your own water. Though there's not hard and fast guidance about when a run is long enough to need to carry water, a general rule of thumb is that for runs that will take much more than an hour, you should start thinking about carrying water with you. This need is intensified during hot weather, when you perspire more and dehydrate faster.
How much water should you bring on a run?
Again, there's no exact formula for how much water you should bring since it's difficult to account for how much you weigh, how long the run is and how warm the weather is. But practically speaking, you can't easily carry more than one full bottle or reservoir of water, so that should be your max and if you need a lot more, you'll need to plan to refill.
The best approach is probably to fill your bottle or reservoir the first time, then after the first hour, take a sip or two every 15-20 minutes or whenever you're thirsty. If you still have a lot left at the end of your run, you'll know to cut down by that amount the next time. Moderate to severe overhydration can also impair your athletic performance, according to a review article in the journal Nutrients, so don't overdo it just because you brought it – you can always pour it out if you're not thirsty and it's weighing you down.
How to carry water while running
So how do you carry water on a run? There are three obvious ways to bring fluids with you:
1. Hand held bottles
If you don't mind carrying weight in one hand, you can use a good old fashioned water bottle. However, you'll want one that has a valve not a screw top and is molded to fit in your hand with good grip. If possible, find one with a strap to keep it in your hand, and you should test it at home to make sure the valve doesn't leak when you're moving your arm.
Obviously, the downside of this method is that it's asymmetrical which feels imbalanced, so make sure you change sides frequently. Once you start drinking the water, the sloshing also might get annoying. The upside is that they're a relatively cheap solution, the water is readily available and you don't have to break stride every time you want a sip.
2. Hydration packs
For a more hands-free approach, try running with a hydration pack. These can range from light vests to small backpacks that can carry a reservoir of water or hydration bladder and have a hose you can sip from while running.
The clear advantages of these are that the weight is distributed evenly across your back and these packs have room for other items you might need to carry like snacks, keys and your phone. The water also doesn't slosh around as much since the reservoir is held tightly in a pocket. The downsides are that these are more expensive, and running with a pack can increase the risk of rubbing and chafing.
3. Hydration belts
Perhaps a nice happy medium to the water bottle and hydration pack is the hydration belt, which is basically a holster for your water bottle. Some are designed to carry one larger bottle while others come equipped with several small bottles and these usually also have storage for smaller items.
The advantages of these are that they allow you to move your arms naturally and they don't rub your chest or shoulders. However, the downsides are that they can bounce while you're running which can be distracting or affect your gait and they can rub or chafe around your waist and hips. Plus, it can be more difficult to extract and return your water bottle each time you want to take a drink.
How can you avoid carrying water on a long run?
If you're absolutely determined not to have to carry water with you on a longer run, there are some possible ways around it. First, you can prehydrate by drinking a couple of glasses of water a couple of hours before you head out. You should also make a habit of checking the color of your pee before you go to be sure you're not setting off dehydrated.
You might be able to plan a route where you know there are safe sources of drinking water, whether that means natural or drinking fountains, however, note that the latter sources are much more scarce since the pandemic began.
Finally, if you're running near water sources, one option is to carry a micro water filter like the Lifestraw which is not much bigger than a pen and filters water from a stream or lake instantly into your mouth.
Then when you get home from any length of run, make sure you drink lots of water to rehydrate.
All the latest inspiration, tips and guides to help you plan your next Advnture!
Julia Clarke is a staff writer for Advnture.com and the author of the book Restorative Yoga for Beginners. She loves to explore mountains on foot, bike, skis and belay and then recover on the the yoga mat. Julia graduated with a degree in journalism in 2004 and spent eight years working as a radio presenter in Kansas City, Vermont, Boston and New York City before discovering the joys of the Rocky Mountains. She then detoured west to Colorado and enjoyed 11 years teaching yoga in Vail before returning to her hometown of Glasgow, Scotland in 2020 to focus on family and writing.